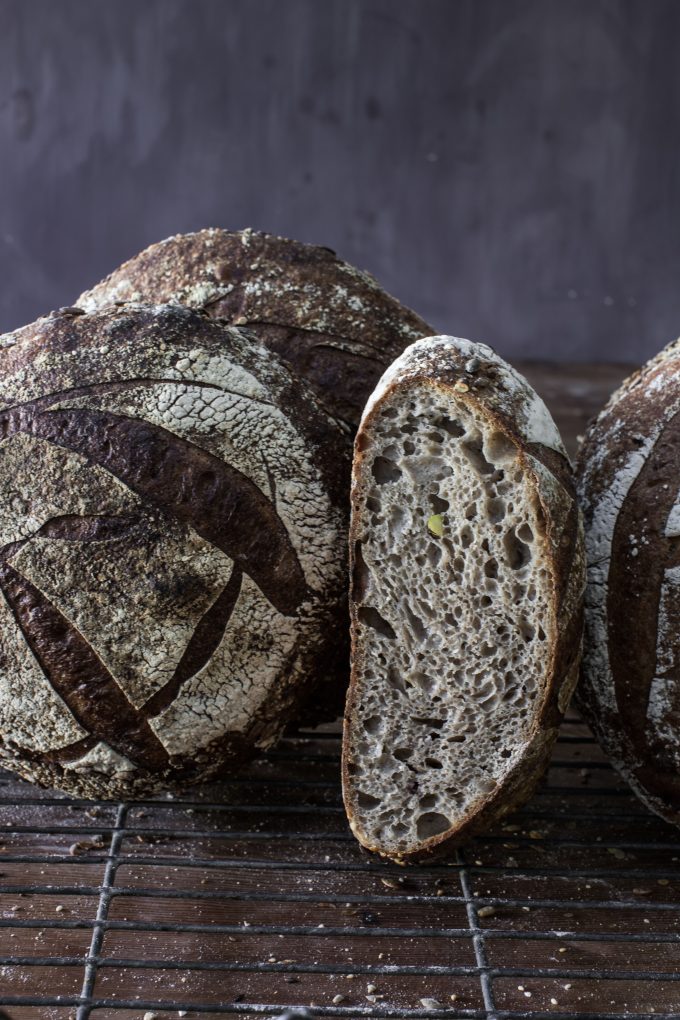 In general, the healthiest bread is a wholegrain sourdough loaf. The wholegrain provides fibre to nourish your gut microbes, while the long, slow fermentation process of sourdough increases the bioavailability of nutrients within the bread, meaning your body is able to access more of the goodness the bread contains. Slow fermentation also reduces the gluten load, making the bread is easier to digest, while simultaneously increasing resistant starch, which controls blood sugar levels. If you buy your bread, it is hugely important to work out if it is true sourdough, as this is key to understanding how healthy the loaf is. You also need to find out whether your loaf contains white flour, wholegrain flour, or a mix of the two.
At the Sourdough School and the Sourdough Club, we teach according to our seven core principles:
increase fibre
increase diversity
ferment
increase levels of antioxidants
increase probiotics in your bakes
reduce refined sugar
make lifestyle changes that support the body as a whole
A recipe for the healthiest bread would follow these seven core principles, and in particular would pack in as much diversity as possible, as this is so important for nourishing your gut, and therefore your body and mind. Our Muesli Sourdough Boule is an incredibly healthy bread that contains a whopping 37 different ingredients, due to the inclusion of a Botanical Blend and a nutrient-rich muesli blend. Ezekiel bread might just be the healthiest bread of all, as it contains sprouted grains and legumes with a vast diversity of ingredients.
Thinking about what you eat and drink with your bread will also determine how healthy it is as part of a meal and a balanced diet. You can find out more about this on the Sourdough Club, including specific recipes and information on how they benefit your health. There are some that are particularly good for sufferers of IBS, for example, or those recovering from cancer. Of course, there is no 'one size fits all' answer to what the healthiest bread is, as it depends very much on your own body and health, but by exploring the options available and understanding your own body's needs, you can maximise the health benefits of your sourdough loaf.