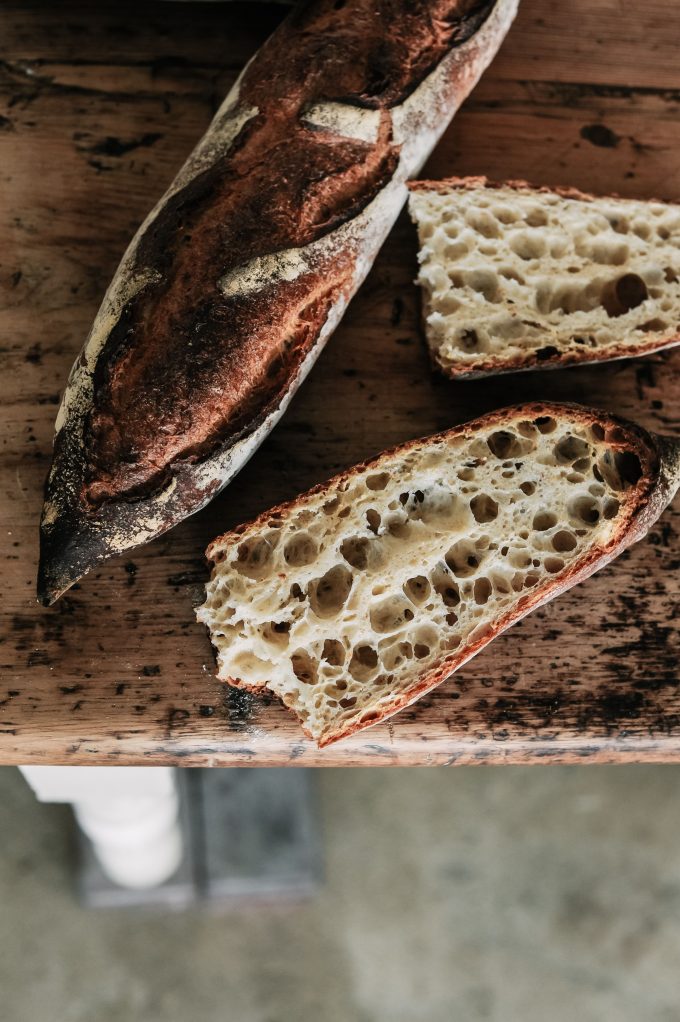 Looking after your family
If you are reading this, then good on you – I teach healthcare practitioners to prescribe Baking as Lifestyle Medicine
In turn the doctors prescribe Baking to their patents to help improve health. So if you are reading this feature, then it means you have started asking the right questions – because not all bread is created equally. You can listen to Tim Spector in this video, who is one of the worlds leading experts in gut health chatting with me, Vanessa Kimbell about bread. You can also learn more about bread in this podcast and do check out Zoe and the work Tim and the team does.
If you have grown up just eating white bread, then this will be the kind of bread that seems normal to you – but when you take a closer look and ask whether white bread is healthy, you are considering the long-term health implication of feeding white bread to your family. My hope is that when you read this, you might change your mind about feeding it to the people you love.
Why White Bread is bad for your mood
Let's start with a simple fact – most refined white bread is absorbed by the body fast, so it raises your blood sugar. Your body uses insulin to take the sugar out of your blood, and this in turn can lead to low blood sugar. At this point, a stress hormone called cortisol can kick in. It's terrible for mood and concentration and for managing hunger levels.
White bread starves your microbes of essential fibre
We're really only just beginning to understand that your gut microbiome is the centre of your immune system. What we do know is the significance of fibre. Fibre is central to your gut working correctly and so we don't recommend making or buying bread with 100% refined white flour. The processing white roller milled flour goes through means it is devoid of fibre and stripped of the nutrients that nourish the gut. What is more, a diet high in refined carbohydrates such as white bread is associated with non-communicable diseases, including diabetes, obesity and bowel cancer.
Can you make white bread healthier?
Yes, you can make white bread healthier. Using stoneground white flour is an improvement: it is healthier, as it contains more fibre and vitamin E. At the Sourdough School and the Sourdough Club, we never make 100% white bread. Although we still use organic white flour, we blend it with wholegrain and other flours and our Botanical Blends to increase diversity in our bakes. Having diversity in the grains you eat is good for your microbiome, providing it with more fibre and more variety.
Sourdough is a healthier way to make bread
Another thing to consider is the method of production of your white bread, especially if you buy it. If you do want to eat white bread, we recommend you use stoneground white flour and make your own white sourdough bread, because this will be healthier than white yeasted bread (meaning a loaf containing commercial yeast).
This is because sourdough bread does not include potentially gut damaging emulsifiers, goes through a long, slow fermentation process, which makes it more nutritious than a yeasted loaf. The fermentation process in sourdough reduces the gluten load, meaning sourdough bread can be digested more easily, and it also increases resistant starch, which is responsible for controlling blood sugar.
Live longer
Regular consumption of wholegrain foods has been associated with a reduction in both cardiovascular disease and diabetes, reductions in cancer mortality at certain sites, and an overall reduction in premature death. It is interesting, too, to learn that children who consume whole grains have significantly higher intakes of fibre and magnesium compared to children who do not.
Slowly does it – our advice on how to move away from yeasted white bread
If you've always eaten white bread, then it's worth increasing the percentage of wholegrain you eat slowly, so your body has time to get used to – otherwise, you can end up with bloating and wind. At the Sourdough Club, we teach our members to introduce wholegrain flour to their bakes slowly, as they work their way through the lessons. This is a great approach, because you gradually get used to baking with wholegrain flour, while your body gets used to eating it – and it's much better for you and your whole family than white industrial bread.