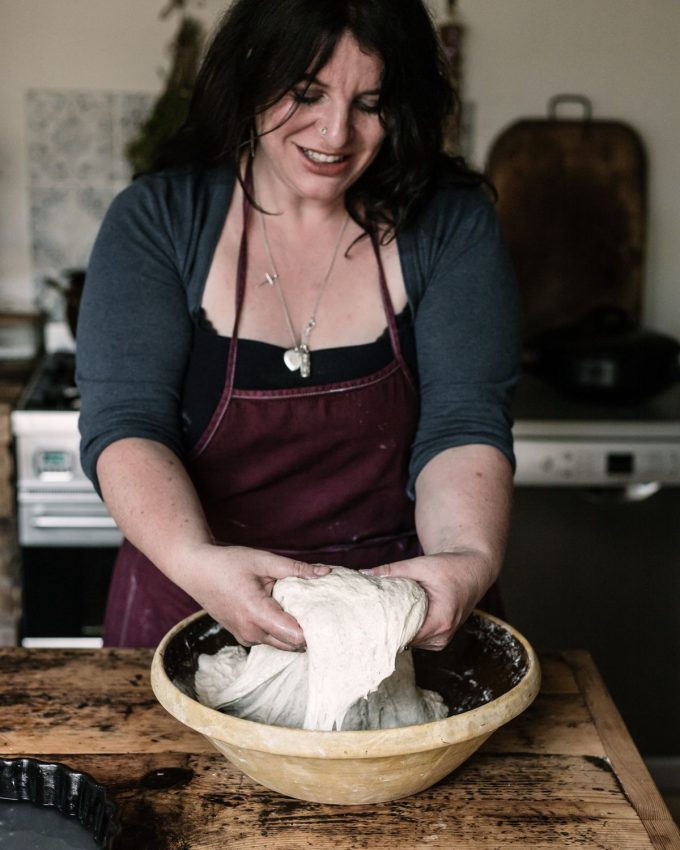 I've included some external videos tips, and techniques in this post because there are many ways that you can bake sourdough.
There are several steps and different techniques and options for making sourdough bread. Different bakers and bakery schools will have different methods, but this information is based on our style of bread and our teaching.
First you need a sourdough starter
You will need to acquire or make a sourdough starter and learn how to work with it. Depending on what you want to bake, you might have a white, wholegrain, rye, sweet, or chocolate starter, or you may build up to having several in your fridge.
Decide your sourdough process
Then you will need to decide whether you want to use an ambient method or a retarded method and pick a relevant recipe. The ambient method is quicker and is left to ferment overnight in a warm environment to bake the following day. Alternatively, the retarded method allows for longer, slower fermentation and a sourer taste by finishing proving the loaf in the fridge, so can be fermented for up to 36 hours but although it takes longer to make a loaf, this method allows for a more flexible schedule. We would recommend starting with the basic loaves, repeating the same recipe several times and monitoring with a loaf schedule. Then you can move on to more advanced bakes once you're more familiar with the sourdough process.
Choose a recipe
We have a Basic Sourdough Tin Loaf recipe on The Sourdough School, but for an in-depth understanding and to develop your sourdough baking, you would be better off joining one of our courses. There are different ways you can learn to make bread with us:
The Sourdough Club – an online membership with a one-off joining fee and monthly subscription. As a member, you will be able to follow online video tutorials, work through lessons and recipes at your own pace, access our supportive and lively forum, ask questions and get advice from Vanessa Kimbell and the team, and watch our live 'in conversation' series with health and baking experts, read our regular online magazine, access regular new recipes
The Sourdough School Online Diploma – a 12-month online course in Nutrition & Digestibility of Bread. This is more than just learning to bake, as it includes a structured monthly syllabus to accompany a Sourdough Club membership, with lectures, live sessions and monthly tasks.
The Sourdough School Bread & Guts Diploma – this follows the same format as the Online Diploma, but also includes a week of baking at the School.
Books – The Sourdough School and The Sourdough School Sweet Baking