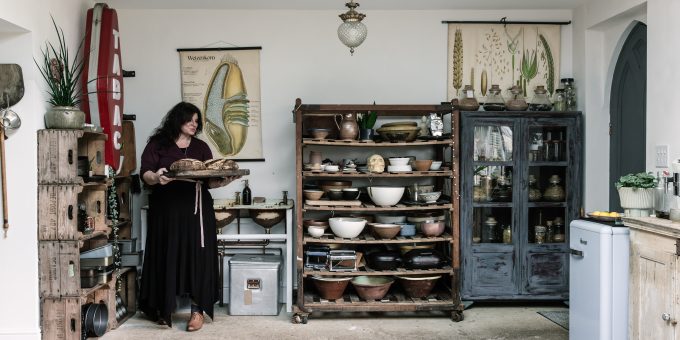 It is time to love your gut.
I know, it is valentines day, and it's all about love today, but never before has sourdough been more relevant than it is right now in supporting the nutritional value of our food, especially when it comes to those who are more vulnerable in our society – when every bite counts. While this last year medics at the front line have been battling to save lives, I have been reminded that we each have a duty to contribute to the greater good, and it is not about making grand gestures. It is often the humble daily things that change the world, and while sometimes we feel overwhelmed, we are certainly not powerless to help ourselves and the people we love. I believe that nourishing ourselves through our most basic food, bread, is a quiet, beautiful defiance to the control of our food systems. My daily anarchy is in sharing this knowledge and understanding of the role of sourdough in supporting health and wellness. Making bread, and sharing bread that nourishes, makes you a food activist.
A change – understanding the gut microbiome & immune health
I've noticed more and more people shifting, over the past decade or so, to look beyond just bread – but never more so than in recent months. It's not surprising, given that the last time the world faced a pandemic was 100 years ago. Many things have changed since then, especially our bread. Of course, a lot of these changes have been for the better, including sanitisation and medical understanding, but one thing that has especially changed in recent years is our knowledge and understanding of the gut microbiome.
The gut contains a collective of microorganisms, collectively known as the gut microbiome. The positive microbes in our gut thrive on fibre and diversity, and help regulate and support our immune system, which in turn promotes and supports health. Given the percentage of calories that we eat each day as bread, the kind of bread we choose to eat is a major opportunity to deliver fibre to our microbial allies.
How does the gut microbiome protect us?
Our gut health expert Miguel Mateas says: 'Our own microbes work throughout our bodies, both internally and externally, as our allies. Our gut microbes provide two important forms of protection against pathogens. First, they compete directly with the pathogens for space and nutrients. If we eat foods that promote a healthy population of beneficial bacteria, they can suppress the growth of pathogens by effectively crowding them out. The beneficial bacteria can also enhance our own body's immune response and trigger the cells of the gut lining to produce antimicrobial substances. The gut microbes live in and around a layer of mucus, which lines the intestine and is part of our epithelial cell layer. In a healthy individual, this makes it really hard for pathogens to move from the gut through to the bloodstream. This is one of the reasons why it is so important to support your microbial community through a healthy diet.'
Why is it even more important for older people to consider the bread they are eating?
It is important that everyone supports their gut microbiome, but it is even more important for people over 70. As we get older, the barrier function provided by our gut lining, which Miguel explained above, may not work as well. This can leave older people and those with poor diets more vulnerable to pathogens crossing from the gut and into the bloodstream (something known as a 'leaky gut syndrome'), which contributes to low-grade inflammation in the body. That inflammation can compromise our body's immune response. It's essential to our health that we support the gut microbiome by making food choices that will help it in its role of protecting us against inflammation. This way, when our body does need to react to a pathogen, the immune response is fully active and able to defend us.
The relevance of sourdough
Understanding this symbiotic relationship with our gut bacteria is essential, because then we know why we must nourish it. This is where sourdough really comes into its own: there are many ways in which it can nourish your gut microbes.
More fibre
Increasing the level of wholegrain in your everyday loaf is going to deliver more fibre to your gut – and your microbiome really likes fibre. We need fibre. One study found that a diet low in fibre can result in the gut microbes turning to the naturally occurring proteins in the gut mucus layer as a source of nutrients. This can potentially damage the barrier, which increases the chances of pathogens entering our bodies.
The microbes ferment the fibre that our own bodies can't digest, producing short-chain fatty acids (SCFAs). SCFAs are linked to inhibiting pathogens and are essential in order for your microbes to do their job of supporting the intestinal barrier and protecting the epithelial layer. Fibre feeds the good bacteria, nurturing healthy populations of Bifidobacterium and Lactobacillus. If they're growing strongly, these microbes then compete with pathogens for the available niches in your gut as well as for nutrients. So, it's about creating a strong population of beneficial bacteria to fill the available spaces. And right now, your gut microbes need all the help they can get.
Increase the bioavailability of fibre
The long, slow sourdough fermentation also significantly increases the bioavailability of key nutrients in our food. It helps to break down the phytic acid in wheat, which effectively locks up minerals, vitamins and polyphenols, releasing them to our digestive systems. In addition, the acidity created during sourdough fermentation increases the proteolytic activity of enzymes and proteins, helping to break down gluten. For anyone with leaky gut syndrome, gluten has the potential to increase inflammation. It's really important to remember our main aim is reducing inflammation, as this will allow our immune systems to respond and defend us against a virus – not against the tuna sandwich we had for lunch! So, sourdough fermentation is key to helping reduce the inflammation that some people may experience as a result of eating bread.
Lower stress
Making bread lowers stress levels. Stress itself compromises your immune system, as high levels of anxiety reduce your disease-fighting ability. So, it's more important than ever to try to focus on the moment. As you mix your flour and water in a bowl, try to focus on the feeling of the dough coming together under your fingers. Take a little time to pay attention to what it means to nourish and nurture the people you really love. Baking bread is one of the most powerful ways that you can do this.
Control blood sugar levels
Sourdough may also help control blood sugar levels, which in turn can help control your emotional response. A long, slow fermentation, even of white flour, changes the way in which the sugars are formed and produces a significant increase in resistant starch. Resistant starch is more difficult to digest, so it takes longer for the body to assimilate the carbohydrates and therefore slows down the blood sugar response. And that is something that is going to keep you and your family calm.
Increase diversity
In general, a more diverse gut microbiome is associated with a stronger immune system and better health. And diet plays an important role in maintaining a healthy microbiome. This is in line with the Botanical Blends that we use at The Sourdough School, and many of my recipes call for a diverse range of ingredients. If you have wholegrain flour, that is a great start. But if you can combine flours – maybe mixing einkorn with emmer, spelt and wholegrain, or even just mixing different brands of wholegrain flours together and throwing in some different seeds – then that is going to increase what we call the diversity score. The wider the diversity of food you eat, the wider the diversity of your gut microbiome – and a more diverse microbiome is better equipped to support your immune system.
Incorporate more probiotics into your diet
There is also evidence that you can support your immune system by incorporating live beneficial bacteria (probiotics) into your diet. By simply eating your sourdough bread with fermented foods – pickled vegetables, yogurt, or unpasteurised cheese – you can also increase its beneficial impact. And, as an aside, now is a really good time to be supporting your local artisan food producers, such as cheese- and pickle-makers. We will be looking at some of the foods to include in your diet to boost your natural defences in the coming weeks, including ingredients such as garlic, mushrooms and oregano.
A summary
If I was to reduce this information down into a single sentence, I would say this: creating a handmade, wholegrain, slow-fermented, multi-seeded, multi-grained sourdough loaf and eating it with live probiotic foods is a brilliant way to support your gut microbiome and your immune health.
Sourdough is alive; it's part of our microbial system. The microbes are found on our hands and in the flour. One of our greatest allies in keeping our immune system strong is our own gut microbiome, which we can nourish with good sourdough bread.
One of the recipes we've developed, for example, includes button mushrooms because they have been shown to increase the immune system response by increasing the level of antibodies.