We teach you to share the knowledge. Being part of a movement for systems change is built in as part of your course.
As a student you become a member of our Sourdough club. The club is where we teach online, keep our syllabuses and inspire our community. The very last lesson on all our courses at the Sourdough School (including the Diploma, and the Bake for Health Certificate) is that a task for you to continue your learning by supporting and sharing your knowledge with someone that you are connected to. This is how we create change, by sharing knowledge.
We invite you as our student to stay as a member of The Sourdough Club for another year and we gift a Just Bake Membership 1 year for free for you to give a young baker that you nominate as the final step in your syllabus.
This means you can keep baking and learning from your course for a mother 12 months whilst supporting a young baker anywhere in the world virtually through the club and the forum – because our connection to each other is the real secret of why sourdough is good for us.
If you are going enrol then you learn that I speak to applicants who want to join the course. I am not looking for baking expertise, neither am I looking for academic qualifications. I look for students who will complete the final task of the course and become part of the School.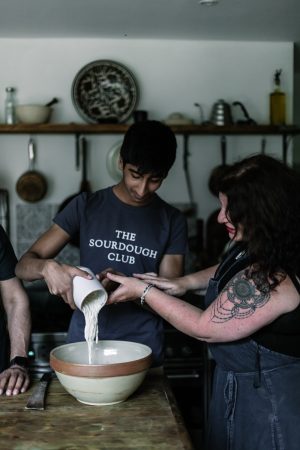 So if you you have requested a Course Prospectus and you are thinking about enrolling on one of The Sourdough School courses to learn to make bread then there are quite literally thousands of courses that you could choose instead. It is important that you know that I don't teach you to make bread. I teach you to understand bread. So if you are someone who just wants big holes then you in the wrong place.
I don't think I ever set out to teach people to make bread. My mother described me once as being "defiant." I don't suppose she really meant it as a compliment, but making your own bread is a powerful act of defiance. So perhaps the most important thing you need to know if you are thinking about enrolling on a course is that the course is really about understanding that the food system is broke. Just teaching you to make bread (that nourishes your gut microbiome) is not enough to make a difference. Likewise, a Diploma or Certificate isn't really the evidence that you have completed one of our courses. It is the moment that something clicks, and you will find yourself wanting to be part of a movement for systems change.
I believe that bread that nourishes, like fresh air and clean water is a basic human right. So the Sourdough School isn't a place, it is a movement, a political idea, and as a student you become part of a global network of bakers who are essentially food activists. I have mentored hundreds of people around the world, including GP's, Dieticians, Surgeons, Nutritionists, Domestic bakers, Professional Bakers and every single one of them has gone on to teach and share knowledge of how to bake and eat bread that nourishes with others.
Authenticity
If you are expecting to read a well manicured marketing blurb on the site that is designed as an attempt to make you feel that we are the good guys, this is not it. Our courses are based on set of principles and values that have kept me focused on sharing knowledge and challenging all bakers around the world from every part of the industry to consider bread and its impact on us as individuals and on the world around us.
A respect for science and evidence
We always use scientific evidence leading our work with a 600+ database fo research,
We aim to use the evidence in an accessible way: critically, fairly and accurately. We will always acknowledge the source of the information we use. We also have a respect for the limits of what we know and understand, and we sometimes have more questions than we do answers. One of the aims of the Sourdough Club and the Sourdough School is to provide information and also to remove and neutralise some of the misinformation out there around healthy bread.
Nourishing the gut microbiome
Everything we do revolves around nourishing the gut microbiome. Our principles and values are based on baking to improve the way we feel, which ties in to our Bread protocol and our core principles. The reason we chose these as our core principles is because I follow and apply the research of quite a newly established discipline called nutritional psychiatry. My degree in psychology, and what I am now learning from nutritional psychiatry builds on this foundation.
Honesty and integrity
Perhaps I don't need to say that we apply the highest standards of both honesty and integrity, and are transparent in every aspect of our work, but I want to acknowledge the hard work of my team in always providing links to our resources, and acknowledging where our inspiration comes from and sharing openly the sources of who inspires and supports us in our content creation. We are open and transparent in our marketing and brand partnerships. It's not just about honesty and integrity; it's also about authenticity. And as part of that authenticity, there is an element of real life being shared. Some of the things I write about on Instagram (@vanessakimbell) involve the emotional aspects of life, which are never straightforward. And perhaps that's where I dig deepest, to apply knowledge and understanding about not just the nutrition and digestibility of bread, but what it means emotionally to make bread. So, while we have a strong policy of using and sharing quantitative data and studies, there is nothing quite as powerful as sharing the way baking bread makes you feel. It's not something that is tangible. It's simply that making bread is an incredibly beautiful thing to do, and we try to make sure we don't lose that connectedness in our approach; we don't lose it in the science.
Equality
I lived in a small rural village in South West France in the holidays. Often the French schools would have few weeks until they would break up and the teachers took pity on me looking longingly into the playground at my friends and allowed me to attend the school. That feeling of belonging was amazing and it was symbolised by the a flag above the door. It was red, white and blue and underneath were the words 'Liberte, egalite, fraternite.' These words are at the heart of what it means to be French the teacher told me, and these three words seeped deep into my identity. The word that really stood out to a 10 year old me was equality. I translated it as fairness. I had a strong sense of justice and fairness instilled me and I recognised something in me that I felt was intrinsically French. I'm still that girl, still believing in equality and you'll often hear me say that fresh air, clean water and bread that nourishes are basic human rights.
Inclusivity
Part of our business that is behind a paywall, and some people, understandably, find that frustrating. However, we have to provide a livelihood for ourselves that allows us to continue to share our in-depth understanding and knowledge about sourdough. As a practicing buddhist we are we are asked to "Consider everyone as our mother, father, brother or sister. In Buddhism the idea of seeing everyone as one's mother or father is a central way of extending compassion to all people. If everyone is seen this way, then we naturally feel compassion for them, much as we do for our actual mothers and fathers who bore and cared for us as children." (Gould 1995)
To underpin our business with these values we've developed two distinct policies around inclusivity. First, our basic recipes and the basic knowledge about making healthy bread are shared openly on sourdough.co.uk. Here, we have information on how to refresh a starter and how to make a basic tin loaf, and our basic recipes are free. We also regularly and freely share information, knowledge, support and tutorials through our Instagram and Facebook accounts. Whenever possible, we reply to questions or comments from people, so that the information is out there, and you don't necessarily have to pay to get access to the baseline of our knowledge. There are many features on nutrition and digestibility on our website, allowing everyone to read about how and why sourdough is good for you. We also have a research database which is open for anyone to access. This is free knowledge.
The second thing we do is support bakers through our Sourdough Sisters scheme. We teach and provide support for the teachers, who will then pass on this knowledge for free. This enables us to share our knowledge freely with people who may not ordinarily be able to access our classes. We currently have twelve teachers who have trained through Sourdough Sisters and now teach hands-on classes. (I should say here that the 'Sisters' are not just women… this was simply the name we chose at the time, because it felt right! Our Sisters include people who rehabilitate prisoners, provide services to help people escape from the sex trade, or work with autistic children. They also include people with diabetes, teenage girls who have failed to settle in the foster care system, and people who have cancer. The scheme is inclusive and global.)
Community
Our aim has always been to foster an inclusive community. Ours in an international multi disciplinary team and we work across the board with everyone from medical professionals to home bakers. Our approach is to promote inclusivity and work towards improving health across the entire industry. This is really important because communities can sometimes be limited to just the people who live in your local area. Bakers are a global community and we cross every strata of the industry, from domestic bakers through to industrial breadmakers. I think this is crucial to understanding that supporting all bakers is an extension of the meaning of bread. It is about sharing, because sourdough is not the privilege of the middle-class hipster. Our commitment to inclusivity, equality and community covers all aspects and all levels of every single part of the breadmaking and baking industry. And I simply won't tolerate any form of exclusivity. Knowledge about sourdough needs to be shared and our bread making systems need to be challenge to improve the bread that we feed people. We already have the microbes, the wild yeast and the bacteria – they're on our hands, in the air that we breathe, in the soil outside our front doors, and on the living flour that we bake with. Nobody owns sourdough, and this fact is very much at the base of our philosophies of inclusivity and equality.
Leadership
I think it's fair to say that we are leaders in sharing knowledge about the nutrition and digestibility of bread through our books, our websites and social media. We share knowledge across the entire industry, providing authenticity and information that all bakers are able to use.
Respect
When it comes to writing about nutrition and digestibility of bread, we don't oversimplify the science. Science that is not applied is useless, so instead, we try to explain it fully, using glossary terms and plain English, and provide information as to why the science is important and how it applies to our everyday baking. We make available freely a huge library of resources through our glossary, our articles and features, and our database, where bakers, club members and students are able to explore the research, learn more and enjoy that process of learning.
It is about far more that bread.
Vanessa
x