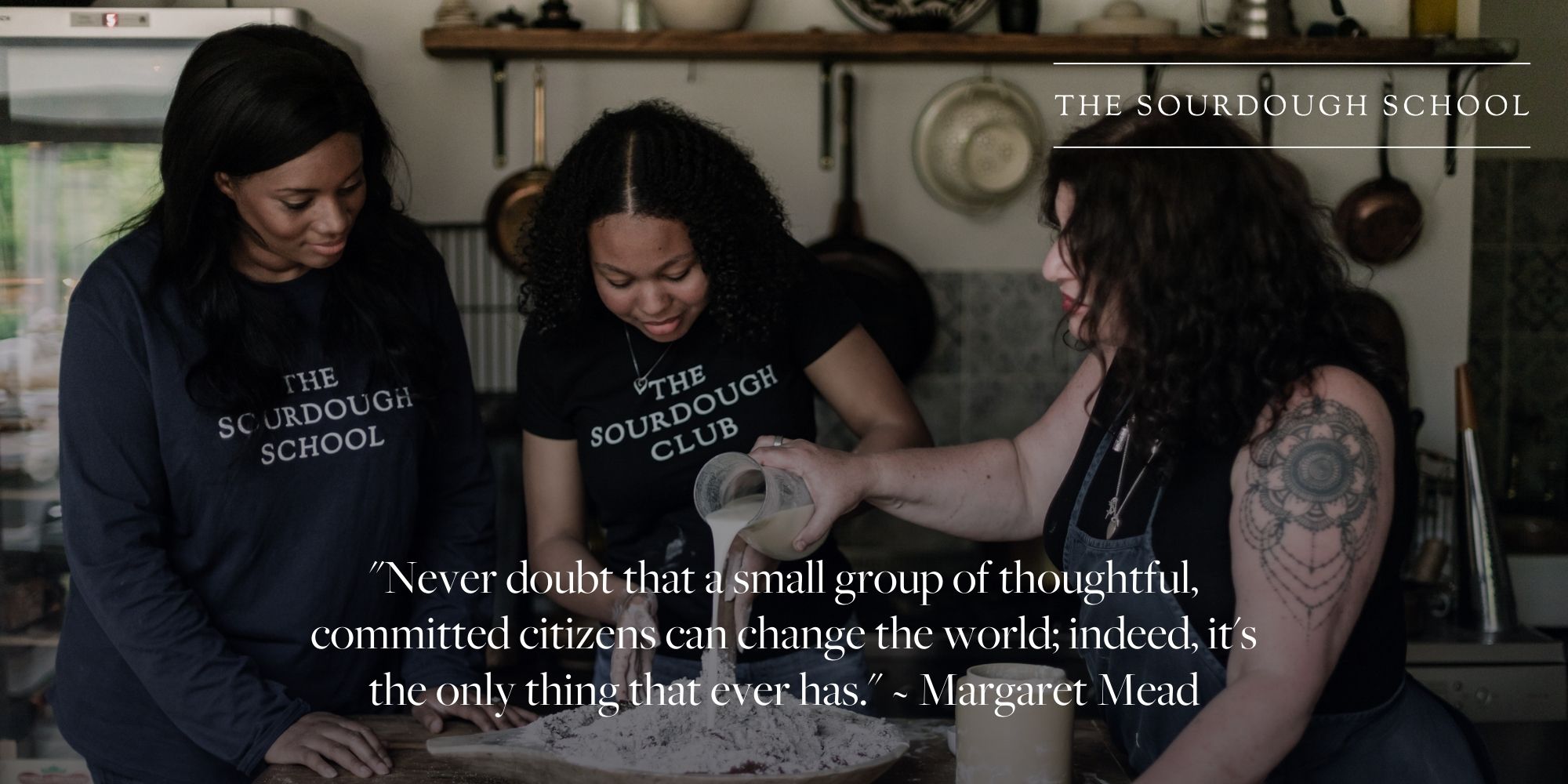 Time to change the system.
The Sourdough School is a social enterprise and has been dedicated to researching, developing and sharing knowledge about how changes can be made in the world of bread-making and baking in order to support health and wellness for over a decade. We also take this one step further by teaching and empowering people to implement these changes and challenge the system on both a personal and social level. We do this through our Systems Change Programme below, which is informed by our values.
Course Director Vanessa Kimbell is renowned for her approach to baking as activism. Baking bread that nourishes is preventative medicine. The Sourdough School Bread Protocol uses a functional medical approach of evidence-based behavioural interventions to prevent, treat and manage chronic disease. We share this knowledge through a team of experts who teach on our courses, as well as through Community Membership of the Sourdough Club, and our books, social media and free resources.
The architecture of change is education: the 4 ways that we make knowledge more accessible
One of our key forms of activism is making knowledge more accessible. Although we have yet to add up our total turnover for the courses we are teaching in the current academic year, I know that we are heading for over £100,000. Our aim is to provide scholarships and support through our Systems Change Programme matching that turnover. I think we will do it. So, if you are an alumni student or someone who is thinking about enrolling, it is good to know just how much we put back in – and how.
For: professional bakers, café owners, charity workers and healthcare practitioners
Our scholarships and bursaries are for people who intend to use the knowledge from our courses to directly make a difference in their community, whether through a registered charity, as part of a community group, or as an individual. Unless the knowledge we share is then passed forward, then what we do here doesn't fulfil its purpose. The awards allow students to apply for discounted fees on the certified course as well as other courses, and for Community Membership of the Sourdough Club.
For 16–24 year olds
We build grass roots change into our courses. In the final module of our diploma courses, we give every student a Sourdough Club membership to gift to a young person in order to share their knowledge and understanding of baking with the next generation. Our students can either gift this membership to someone they know, or put it in a pot for us to give away to 16–24-year-old bakers once a year.
A game changer: bread-making as a social prescription. GPs and healthcare professionals who have graduated from our Nutrition & Digestibility of Bread Diploma course can prescribe one of our three month-long baking courses to patients as a lifestyle prescription, free of charge.
These prescription courses allow us to get to the heart of where our knowledge can make the biggest difference to someone who is most in need.
Bread for all: Principle No. 7 of the Bread Protocol
Building community. Throughout our courses and books, our bread formulas have all been created in 'sharing quantities' so you can make more than one loaf. Not only do you get to practise twice as much and improve your baking skills, you also get to make social connections – and the real meaning of bread is friendship.
Our 'Bake 2, Give 1' campaign formally launched at the start of 2022 on social media, but the idea behind it has been a theme of our teaching since the start of the Sourdough School. The 'Bake 2 Give 1' campaign encourages our bakers to always bake two loaves and give one to a friend, family member or someone in their community – anyone they would like to share some love with. This campaign aims to encourage people to share nutritious bread, but also to connect with their community in a way that many of us struggle to do in the modern world.
Systems Change Projects & Partnerships
We believe that it is vital that governments step up to tackle bread-making systems on a global scale. However, to achieve meaningful change, we also need real, working examples of how systemic change is possible. With that in mind, we have been working on the following systems change projects for the past decade.
An absolute rejection of monoculture and example of systems change in practice. We have been working in collaboration with Hodmedods millers and farmers to reimagine flour. Our Botanical Blends are a powerful act of delicious defiance against the global industrialisation of our most basic food, and represent an absolute rejection of monoculture.
These blends also provide a working example to the milling industry of systems change to improve diversity in the environment and increase revenue to the farmers. All the profits from the sale of our blends go into a fund that allows GPs to order flour for their patients to bake with, helping them learn to bake the most nourishing bread possible as part of a social prescriptions described above.
Higher levels of beneficial phytochemicals: Principle no. 4 of the Bread Protocol
We are redesigning the current approach to grain by developing, growing and milling a richly diverse and pigmented, high-yielding conventional population wheat using sustainable agricultural practices. The profits from the sale of the flour produced will be used to deliver flour to the patients on the social prescription courses. We aim to inspire change by moving away from monoculture and delivering a lifestyle grain that specifically improves gut health.
3) Working with industry
Inspiring innovation and change in the bread-making industry through our research. Sharing our work is not limited to artisan bread producers. We share our approach and understanding across all sectors of the bread-making industry, and we have been working to bring about systems change within the bread-making industry with Puratos, by sharing our research and understanding of the gut microbiome and its impact on health to develop baked goods and new products to help improve the authenticity, nutrition and digestibility of manufactured sourdough bread.
The basis of all systems change: it has to start with the soil where you grow your ingredients. This is our earth. One earth…