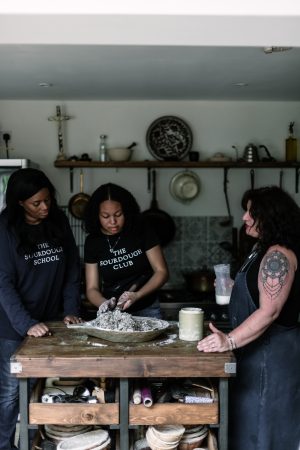 When you first start baking sourdough it can be challenging to bake a great loaf. There are many things to learn and each time you bake you will learn something new. The challenge is part of the joy of learning to master sourdough.
Of course it is tempting to try and make your own starter. It's a great idea, but it's kind of like trying to build a car before you learn to drive. Sometimes it is better to find a robust starter that is already established. Most bakers will willingly share their microbes!
Follow a formula from a sourdough baker. There are many recipes and formulas to choose from, but sourdough is an art. There are lots of blogs posts and books with recipes that simply don't work, so try and find one that is from a baker and universally acknowledged as working! You can use my sourdough basic recipe
Buy a thermometer. Understanding the variables without one is very challenging.
Try and stick with one variety flour. Sometimes swapping flour can be the trick that makes a formula work, but in the main most bread flours make good bread, and an experienced baker will adjust the formula and times to suit the flour. My point is that the best way to become experienced is to repeat your bake and after a few times the way the dough behaves will start to feel familiar…and so with each bake you become more experienced.
Talk to other bakers. I don't necessarily mean pick up the phone, but Facebook, Instagram and Twitter often mean that you can chat to bakers all over the world.
Plan your bake. Sourdough is about timing, and temperature. It is always a good idea to make sure you know your timings so you don't suddenly find yourself having to leave your dough unattended…
I know this is perhaps really obvious, and perhaps doesn't need saying, but do refresh your starter. I always recommend that you refresh your starter once or twice a week whether you are planning to bake that week or not. It keeps the levels of microbes elevated!
Keep a record. There are times that you make a loaf and it is spot on. The problem is that you won't necessarily remember what you did the following week, so keeping a record is a great way to review each bake.
Practice. Give your loaves away….neighbours, friends, random strangers walking past your house… keep baking and make more then you need to eat to start with…seriously the more you bake the better you will become.
Go on a course. Or buy a really good book. Our New 10 minute book is a great place to start, and practice.