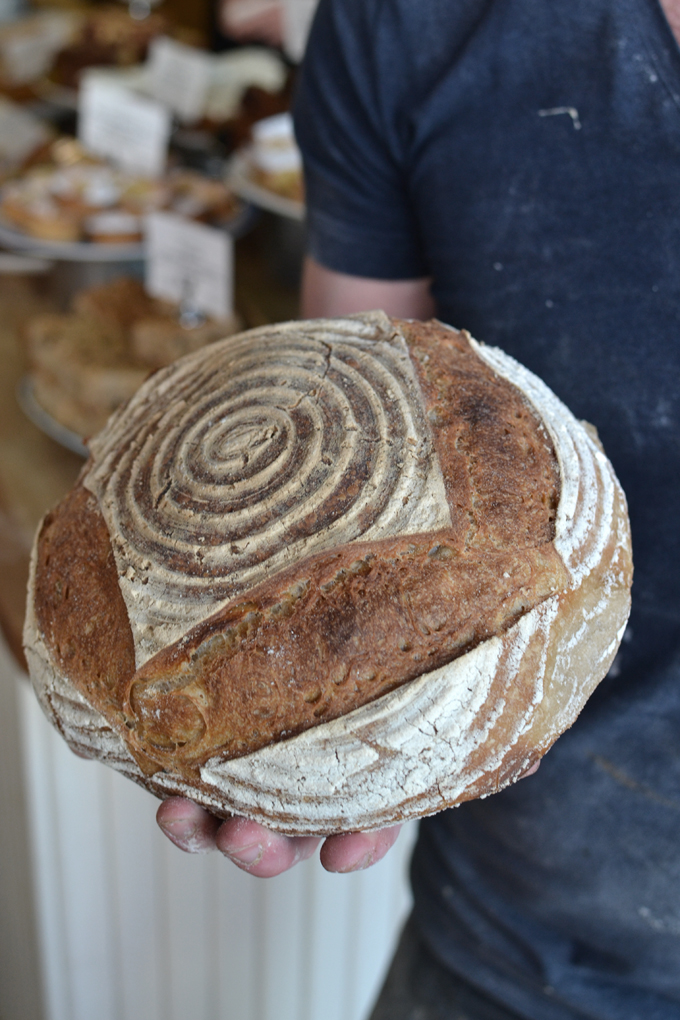 People sometimes let out a gasp of surprise when I mention that sometimes I buy sourdough.
So why on earth would I fork out money for sourdough bread when I bake it myself?
The truth is that I get real joy out of buying sourdough loaves. Most artisan bakeries have really interesting loaves and enjoying a sourdough from another baker challenges me to want to produce difference loaves by introducing different varieties of flour, varying lengths of fermentation, try out new shapes and flavours and textures. I love taking a loaf home from a fellow artisan sourdough baker and more often than not, I know that bakers personally, and find myself chatting with them about various challenges in the world of sourdough, and it is fun to exchange ideas and information with a fellow baker.
It is worth bearing in mind though, when you take a beautiful loaf home and admire the crust and the crumb and the rise, before you devour it, that bakeries have professional ovens, and the environment is often warmer than our domestic kitchens, so perhaps part of me relishes the challenge of making sourdough loaf at home to resemble the one that has been baked in an artisan bakery .. or perhaps it is more that I just really enjoy the occasional a day off!
Where to buy some of the best sourdough bread
As more and more people become aware of just how good proper bread really is, there are artisan bakeries opening up all over the country to meet demand. I've put together a list to help you find your local artisan bakery. This is not an exhaustive list of bakeries producing great sourdough bread – there are many more small bakeries out there, but those below will give you a taste of what's available.
The bakeries listed don't use the artificial preservatives, flour improvers or flavour enhancers found in bread produced using modern factory methods. Many of them bake using organic flours, and source their ingredients locally whenever possible.
South West England:
Harts Bakery
Bristol
I was first introduced to Laura Hart through a friend Dan when I was working on a BBC Radio 4 Food Programme a couple of years ago. Dan took me over for breakfast explaining that Laura has been baking and selling her artisan bread for five years now. It's a show-stopping bakery as it is based in a railway arch outside Temple Meads station in Bristol, all the bread baked at Harts Bakery is sourdough. They make a range of loaves, including a white and a super seedy sourdough, through the week with a different selection available on a Saturday. For gluten-free fans there's the Good Loaf.
Laura starts the day early and bakes her bread and pastries through the morning. The bakery area is open to the shop and café so that customers can sit and watch the bakers at work. This is done by design – Laura is trying to re-establish the connection between the customer and the bakers who are producing the bread they eat and with the cafe on site you can watch the bakers baking whilst watching them work. It is fabulous.
Stones Bakery
Falmouth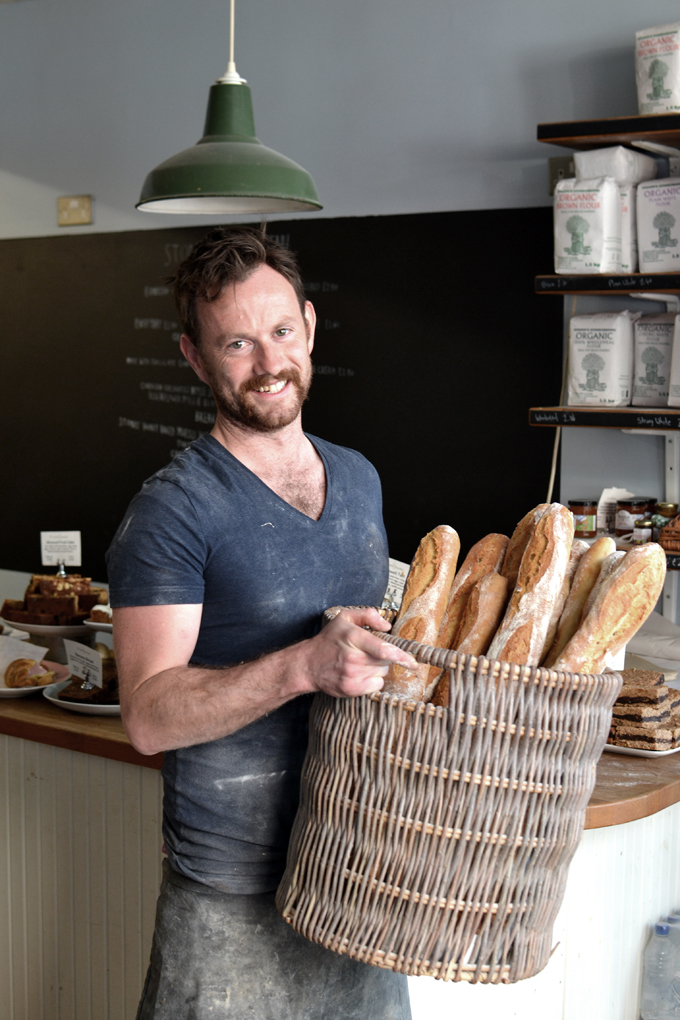 Rosie and Oliver Kingdon opened their bakery in 2009, after a couple of years selling their bread from a market stall in town. Their signature loaf, which featured in Britain's Best Bakery, is the Stone's Sourdough. The also offer a New York deli rye sourdough, studded with onions and caraway seeds, and a fig and walnut sourdough, all made using traditional method
East of England:
Jigsaw Bakery
Linton, nr Cambridge
Like many of the new breed of artisan bakers, Matt Whitby started out baking for his family. He made the move from a career in IT to full-time bread making in 2012, selling loaves from the back of a camper van. It wasn't long though before he realised that there was demand for a bakery in the village and moved into a shop on the High Street. Matt bakes a range of sourdough loaves using organic flour from Foster's Mill at Swaffham Prior. The bakery's seasonal speciality is an elderflower and apple sourdough, but they have a range of fantastic bread and cakes, along with coffee to take out available all year round.
Pastonacre Bakery
North Norfolk
A wonderful small village bakery in Cley Next The Sea run by Ed Clark an ex student of the Sourdough School. Best to preorder. Ed bakes organic sourdough every day.
East Midlands:
Hambleton Bakery
Exton, Rutland
I first met Baker Julian Carter when I worked for the local BBC Radio about five years ago. Tim Hart and Julian opened their bakery in 2008 with the aim of producing great bread using traditional methods. Their signature loaf, the Hambleton Local, is made with stoneground flour from the Whissendine Windmill and leavened with beer barm from The Grainstore Brewery to give a malty flavoured loaf. They also bake a rye and wheat sourdough, which is given 48 hours to ferment, sourdough batons, Borodinsky bread and a range of yeasted breads.
The care they take in sourcing ingredients and baking their bread is obvious from the quality of the finished loaf. You can find Julian and Tim's loaves on sale at their five bakery shops near Peterborough and Leicester, and in local farm shops.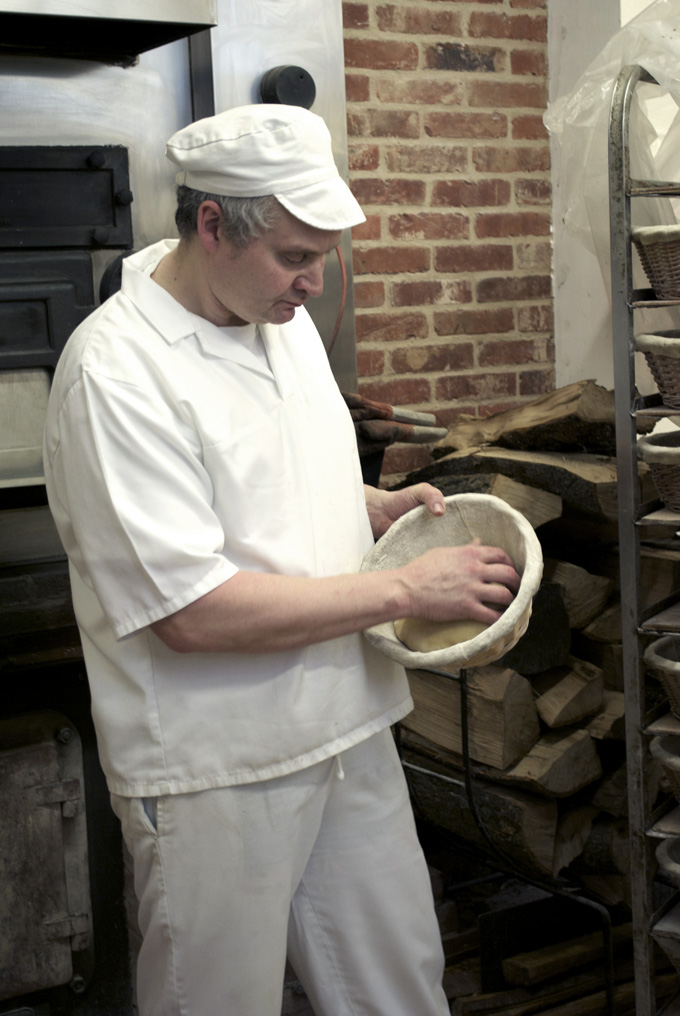 The Garage Bakehouse
Market Harborough, Leicestershire
I just love this family run business, which opened last year. It is according to their Twitter profile, "possibly the smallest bakehouse on earth." I have to admit I haven't seen another one like it. I often pop in and chat with Mother and son team, Daniel and Karen, who bake their sourdough loaves, focaccias and a very popular Turkish bread using flour from Shipton Mill. Although small, the bakery has quickly gained a huge and loyal following due to the quality of the bread, cakes and soups they produce. The cinnamon buns come highly recommended… but I do suggest getting to the shop early to beat the rush.
Magee Street Bakery
Northampton
Sourdough is the speciality at the Magee Street Bakery and it is right on my doorstep. The stonebaked loaves, made with organic flour, take 30 hours from mixing the ingredients to pulling the freshly baked bread from the oven. Their sourdough range includes white sourdough, seeded sourdough and their new loaf made with ale from a local craft brewery. They also offer sourdough pizzas and sandwiches with imaginative and delicious fillings. And the salted caramel tart and single-origin brownies are gaining a following all of their own. The coffee is great but it is quite small, so you sometimes have to be patient, but that adds to the charm as I often find myself chatting in line to other sourdough lovers.
The Good Loaf
Northampton
Just down the road from me is The Good Loaf. It is more than just a great artisan bakery. It's a not-for-profit social business providing work placements for female ex-offenders, and offering them a chance to gain practical skills and experience. One of the skills they learn is to bake some amazing sourdough loaves, which are given 18-24 hours to prove before being hand-shaped and baked. The bakery has great environmental credentials too – one of their aims is to keep the food chain as short as possible in the production of their bread and pastries. They use flour from Heygates, a local independent mill, and sell the bread through their shop and café, in addition to having a growing list of local businesses stocking their products. The bakery is also helping to build connections with the local community, by inviting volunteers to work alongside staff and the women on work placement in the café.
West Midlands:
Loaf
South Birmingham
Loaf is a cooperative-run bakery and cookery school based in Stirchley, South Birmingham since 2009. We aim to build community through real food and healthy living in Birmingham.
Their sourdough bread and pastries are freshly baked on site along with hearty lunches for the workers of Stirchley, while next door they teach bread-making and cookery skills.
Katherine's Sourdough
Stourbridge
A home bakery situated in Hagley, Stourbridge and open 5 days a week. Katherine's sourdough loaves are made using high quality organic wheat that is unsurpassed in texture and flavour to produce 'the best sourdough bread'.
London:
Bread Ahead
I always have to pop my head in and say hello to the team at Bread Ahead. Based in London's Borough Market, Bread Ahead quickly gained a reputation for bread and delicious doughnuts, which regularly feature in lists of the best doughnuts in London. Co-founders Matt Jones and Justin Gellatly are committed to producing fabulous bread, with sourdough being their speciality. Their stall in the market is piled high with white, brown, multigrain and rye sourdough loaves, along with focaccia, ciabatta, baguettes and tin loaves. And, for anyone with a really big appetite, there's the Cathedral Loaf that weighs in at 7kg and is possibly the only loaf to have its own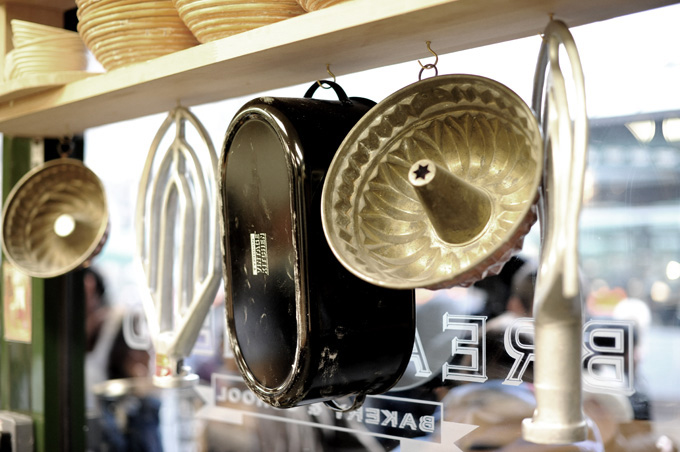 Twitter account (@Cathedral_Loaf).
Bread Ahead has recently opened a second bakery in Stratford and has plans for other outlets across central London.
St John Bakery
Slow fermentation does get much slower than at St John bakery… their sourdough loaves are left for 40 hours to develop great flavour and a good crumb. The bakery is part of Fergus Henderson's St John group of restaurants and the same passion for producing high-quality food is obvious. Their sourdough loaves are made with high hydration which, along with that slow fermentation, ensures a chewy crumb and a good, crisp crust. The white, brown sourdoughs are made with a mix of flours to coax the best possible flavour from the dough. They also bake a fantastic 100% rye sourdough, and some very fine jam or custard-filled doughnuts. The bakery makes bread for the St John restaurants and sells directly to the public on Saturdays and Sundays.
e5 Bakehouse
I really love what Ben Mackinnon has done with E5. Ben started baking bread early each morning in the ovens of a local pizza restaurant. Four years on and e5 Bakehouse has found a home in a disused railway arch in East London. Right at that heart of the bakery is a sustainable production system that is as important as the quality of the bread at e5 Bakehouse. Traditional baking methods and natural ingredients are key, including organic flours from Shipton Mill, Cann Mill, Maple Farm and Gilchester's Organics. Most of the loaves they bake are leavened using sourdough starters and fermentation can take up to 72 hours. One of the best sellers is the Hackney Wild – made with a mix of white, stoneground wholemeal and rye flours. Open seven days a week, they also have a café with a menu that changes daily, and the soups are utterly delicious. If you have a chance to pop in and have something to eat you can see the bakers working behind the counters and pick up one of there beautiful long slow fermented loaves.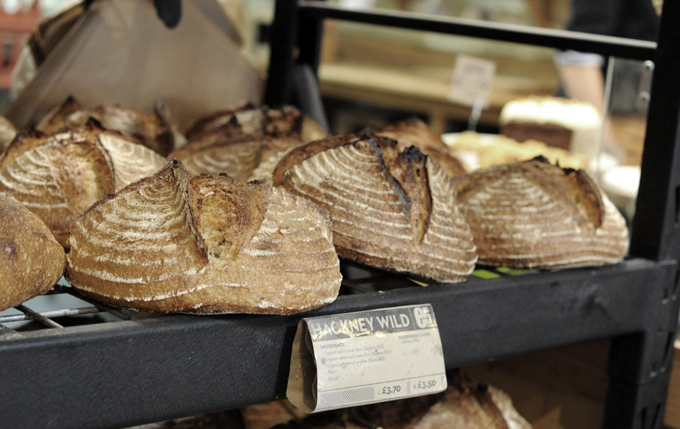 Wales:
Alex Gooch
Hay-on-Wye
Chef turned baker, Alex Gooch is passionate about good bread. His sourdough won the World Bread Award Sourdough category last year. I often chat to Alex about heritage grain and local flour, as he is brilliant at supporting both. Alex works long hours through the night to produce his award-winning sourdough loaves using organic wheat, rye, spelt, einkorn and Khorasan flours from Lamas Fayre, Shipton Mill, Sharpham Park and the Felin Galon watermill. Alex nurtures his wild yeast starters to ensure they're at the perfect stage of development for each batch of dough he makes. And most importantly, he knows the importance of time in producing great bread. His sourdoughs take 20 hours from flour to finished loaf, so they not only taste fantastic but have amazing keeping qualities too and long fermentation. Oliver is the bread baker and starts early each morning to make a range of sourdoughs and yeasted bread, including his highly recommended baguettes. Rosie bakes the cakes… the brownies and flapjacks are firm favourites with their customers. Committed to baking high-quality bread, cakes and pastries, they source their organic flour from Stoates and Sons, and Shipton Mill, carefully selecting the right flour to ensure each product is as good as it gets.
Please know that any areas of the UK not featured here are absolutely NOT deliberately excluded. If you would like to recommend any excellent sourdough bakeries near you please do so in the Comments section below, including their website address, are of the UK and location and we will endeavour to update the list. Thank you!