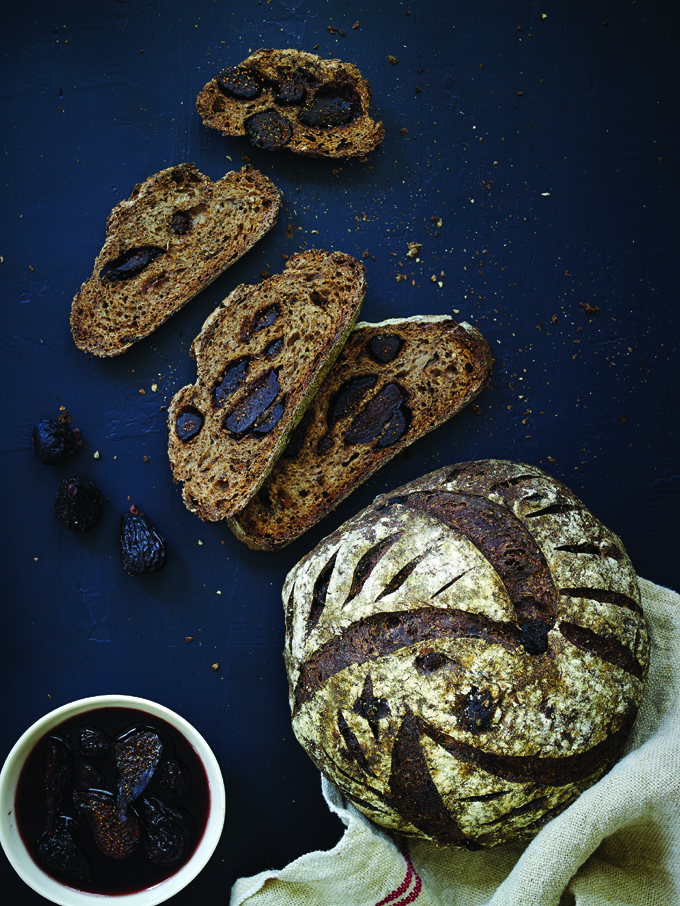 I'm delighted to be able to share this recipe From Sourdough by Sarah Owens. I bought the book a couple of weeks ago and it is a delight to read. I shall be including it in my round-up of my favourite sourdough books in the coming weeks, but in the meantime here is a taster.
Drunken Fig Bread
Makes 2 loaves
I am often asked how I come up with my formulas and flavour combinations. It's not always a simple answer and usually has to do with the excess produce from the garden or very specific cravings. With the day's ingredients on hand, I'll sit down with a calculator and start dreaming up bread dough formulas based on baker's math.
This particular recipe began with a less-than-drinkable bottle of wine. Instead of discarding it, I doused some figs and left them to soak in the bold, oaky flavors. Because I love the combination of rye and fruit, I pulled out the grinds of rye I had on hand and started mixing by feel rather than calculations. Eventually I came around to this formula that honors the hearty quality of whole grains, which marries so well with the ambrosia of figs. My favorite is to serve it with a strong soft cheese and a bottle of quality red wine.
For the Soaker:
240 g dried mission figs
105 g red wine
For the Leaven:
For the Dough:
110 g leaven
370 g water
Soaker (see above)
370 g bread flour – ( I would use a strong white bread flour here)
85 g whole wheat flour
45 g rye chops
25 g buckwheat flour
17 g salt
Make the Soaker: Remove and discard the stems of the figs and coarsely chop the fruit. Place in a medium bowl and douse with wine. Cover with plastic and allow to soak until ready to build the dough.
Build the Leaven: Ten to twelve hours before you are to make the dough, build your stiff leaven. Mix the starter and water together until the starter is well distributed. Add the rye flours, stir, cover, and leave at room temperature.
Build the Dough: When the leaven is puffy and active, add the water and soaker, breaking apart the leaven with your fingers. Add the flours and mix until hydrated and no lumps remain. Handle only as long as you need to, being careful not to overdevelop the rye. The dough will feel sticky. Cover with plastic and allow to autolyze for 20 minutes. Sprinkle in the salt and mix until completely incorporated into the dough.
Cover with plastic and allow to bulk proof for 2 to 3 hours, turning and folding at 45-minute intervals.
Shape the Dough: When the dough is puffy and increased by a third of its size, divide in half and preshape. Cover with plastic and allow to bench rest for 30 minutes. Final shape into your preferred form and place seam-side up into a well-floured banneton or couche. Alternatively, you may flour the face well and proof seam-side down. (If you choose to do this, the surface will crack beautifully in the oven to release steam without the need for scoring. This creates a beautiful natural pattern similar to desert clay.) Cover with a towel and plastic and proof for another 1 to 2 hours. You may hold the dough over in the refrigerator for up to 6 hours, but it does not favor long fermentation.
This bread appreciates being baked long and slow. Follow the instructions on page 21, lowering the oven temperature to 430?F after initial oven spring is achieved. After removing from the oven, allow to cool completely before slicing. Rye breads need this time for their crumb to set and, indeed, may be better the next day!
PS I have contacted Sarah to as what rye chops are … I will let you all know as soon as I do!