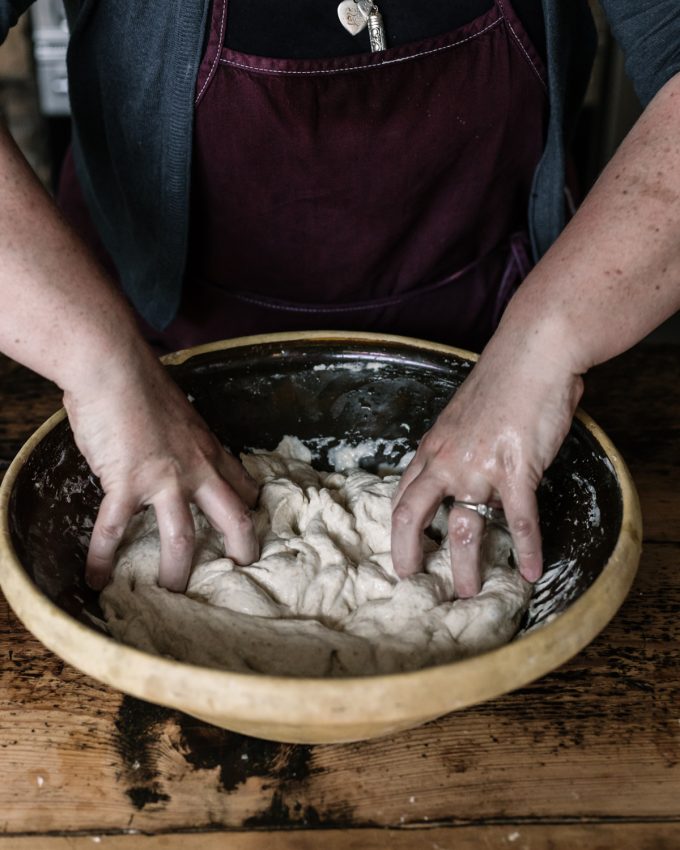 It's about more than bread
Starts Thursday 22nd September 2022

Continued inspiration and support for two years – the diploma includes an extra one year's standard membership to the Sourdough Club, rated 5 stars by the Telegraph (RRP £599 per annum)
It takes more than just a week to learn about sourdough. It's about both understanding and practice. Our courses are delivered via the Sourdough Club with a diploma-level membership for one year. The guided baking lessons include over 80 video tutorials, as well as features, recipes, articles, monthly live lectures and a forum to include you in our school community, helping you to continue your learning.
What's included?
12-month Sourdough Diploma Learning Support Programme with a structured syllabus and an additional 12-month standard membership to the Sourdough Club (RRP £599 per annum)
A sourdough diploma kit with exclusive starter set, including a ceramic jar, flour and some of our starter, as well as a set of sourdough record cards (postage must be paid for separately)
All the teaching materials and supporting documentation needed to complete the diploma
A personalised embossed diploma certificate upon completion of your test
'Vanessa's approach to baking nourishes both the gut and the mind.'
– Dr Michael Mosley
'Vanessa's work on sourdough and the gut microbiome is changing the way we think of food, health and baking.'
– Tim Spector, author of The Diet Myth.
'This is a journey. And these aren't just courses. Kimbell wants to change the bread we eat, one loaf at a time. She's the real deal: a total inspiration.'
– Diana Henry, the Telegraph.
___________________________________________________
RESEARCH LEVEL: Structured learning
The Sourdough School Diploma is a 12-month interactive learning programme run by Vanessa Kimbell and her team at the Sourdough School, sharing her research on and unique approach to the nutrition and digestibility of bread and nourishing the gut microbiome.  The syllabus, which is delivered to you each month, is a living syllabus made up of lectures, guided learning, tutorials, tasks and live videos. It is taught by some of the world's leading experts and includes recipes, studies, supporting materials and a Sourdough Clinic.
The entire diploma syllabus, including recorded webinars, lectures and recipes, will be delivered via an exclusive diploma-level membership to the Sourdough Club, and all the practical how-to-bake tutorials and techniques are delivered and supported through the existing course material on the Club.
What is the Nutrition & Digestibility of Bread Diploma? 
You will get to make the most nutritious bakes possible using the Sourdough School's Core Principles.
You will gain an understanding of the mechanisms of sourdough and why it is both more digestible and more nutritious than other kinds of bread.
You will be baking delicious sourdough, with the theory of how to make bread to optimise health applied to the recipes.
The syllabus included simple sourdough recipes including sourdough pasta, basic sourdough cakes, focaccia, baguettes and open-crumb boules.
You will learn to accompany your bakes with probiotics, making fresh fruit compote, cultured butter and more.
The syllabus covers topics such as Irritable Bowel Syndrome (IBS), Non-Coeliac Gluten Sensitivity (NCGS) and certain allergies, and you will also learn extensively about the gut microbiome and how to bake to nourish both physical and mental health.
You  will be awarded a certificate at the end of the diploma following a written test and completion of the recipes on the course.
Syllabus overview
September – The basics. Flour, salt and water. What is gluten? How wild yeasts and microbes work. How to create and look after sourdough starters. How to bake a basic tin sourdough loaf and understand microbes. The basics of the gut microbiome.
October – Re-imagining flour. Diversity blends. Basic boules (20 per cent). How does baking sourdough help support mental health? Metabolites and brain function. Troubleshooting.
November – Basic boules (50:50). Controlling blood sugar and supporting mood. A closer look at salt.
December – Sourdough brioche. The art of giving. How you can use sourdough to support the body's core systems.
January – Heritage grains. A deeper look at the mechanisms of how fermentation makes bread more nutritious, including increasing vitamins and minerals in grain.
February – Gut microbiome. Muesli boules. Inflammation, prebiotics and probiotics. How to eat sourdough to optimise your health.
March – Focaccias and cakes. All about fibre. The role of fibre in reducing the risk of bowel cancer.
April – Baguettes. All about IBS. The digestibility of bread and how fermentation affects digestibility. FODMAPs. Phytic acid and the impact of stress.
May – Creating your own botanical blends. Pastries. Techniques for super-loading nutrition in your sourdough bread. The importance of polyphenols and flavonoids, and how we eat bread. Technical aspects, such as adding inclusions. How sourdough helps aid digestion and nutrition.
June – Pizza month. Applying the Seven Core Principles to pizzas. Community and sharing. The psychology of celebration. Sharing bread and pizza. The hardcore research on 'lifestyle' and how bread is beneficial to your health.
July – Coeliac, and why it is best to avoid gluten. Non-coeliac gluten sensitivity (NCGS). How to control your starters to increase breakdown of gluten. Getting inventive with your bread. Sweet baking, cakes, puddings – a month rich in berries and how to eat sweet sourdough.
August – Fast baking. Fitting sourdough into everyday life. An exploration of allergies to flour, including baker's asthma, food allergy to wheat, and Wheat Dependent Exercise Induced Anaphylaxis (WDEIA). Different clinical forms of wheat allergies.
Guided
Your syllabus has a structured learning-to-bake pathway, and we expect you to be baking at your own pace throughout the month. All the how-to-bake recipes and tutorials are on the Sourdough Club.
Timings
Early on in the course, you will need to put in more hours to learn the basic principles of baking sourdough. The lessons for the first two to three months of the course are centred around learning to bake sourdough and understanding the principles of fermentation. In the first instance, there are around ten hours of core knowledge to watch and read on the Sourdough Club to give you the core principles of baking.
Each month will require about 20 hours of your time in total – with an absolute minimum of 14 hours, and as many additional hours as you would like to do.
Daily
We have a team on the Sourdough Club who are on hand to support your baking via our active Sourdough Club Student Facebook Forum, and to answer any website comments or queries.
Monthly
Each month, you will be given recipes in conjunction with your online syllabus and the reading material, including relevant studies to read that go hand-in-hand with the level's sessions. By reading about the topic and watching the lecture, you will have time to process the knowledge and submit questions for the live webinars at the beginning of the month.
Weekly recipes & tutorials
The recipes you then bake each week will build your baking knowledge. They are geared specifically to the monthly topic on the syllabus.
Monthly live sessions
The live sessions are both held on Thursday evenings (UK time). They are recorded, so if you miss a session you can catch up, although it takes a week to process and post the recordings online.
Live session 1:
An introduction to the topic & tasks – a live one-hour webinar tutorial from Vanessa, introducing you to the monthly topic and an overview of the recipes on the syllabus, and discussing main baking points on the topic for the month. This session is about the breadmaking, with sourdough tips and advice, and is followed by a Q&A on baking.
Live session 2:
The topic of the month live speaker – this session is where a speaker, or small group of expert speakers, will deliver a further webinar presentation to you on the topic of the month. Students will have submitted questions to the speaker prior to the live session, having watched the lecture (see below), and you will be able to interact at the end of the session via an open discussion.
Monthly tasks
The syllabus also includes various tasks around symbiotic eating. You will be expected to complete these small tasks in order to progress. Not all tasks involve baking, and we ask that you make sure you complete your tasks on time, as they may relate to the live sessions or the recipes.
Monthly lectures
These pre-recorded lectures are to be watched before that month's Live Session 2. The lecture/webinar will be on the topic of the month with an expert guest speaker. Watching this will give you a good base for the live sessions and students will have the opportunity to submit questions to the speaker prior to the live sessions. Having watched the lecture, you will then be able to more knowledgeably interact at the end of the session with an open discussion.
Monthly studies/reading list
You will be asked to read studies referred to in the lecture.
Sourdough Club weekly live sessions
You will have access to the Sourdough Club recipes and magazine, as well as weekly live sessions featuring guests, tips, techniques and more.
Applications
Applications are now open, however they are subject to our Terms and Conditions. Please read the Terms and Conditions thoroughly before applying as we review each individual application before accepting students on the course.
*Please note that the Diploma-level membership to the Sourdough Club is for 12 months ONLY, (September 2022–August 2023) and while you may keep the course materials provided on the course, access to the course lectures and live sessions will close upon completion of the course. Your membership will then be moved over to the standard Sourdough Club 12-month membership ready for the next academic year's intake for the Online Diploma. You will still be able to access all Sourdough Club content, recipes and the Club Forum.
We look forward to you joining us!