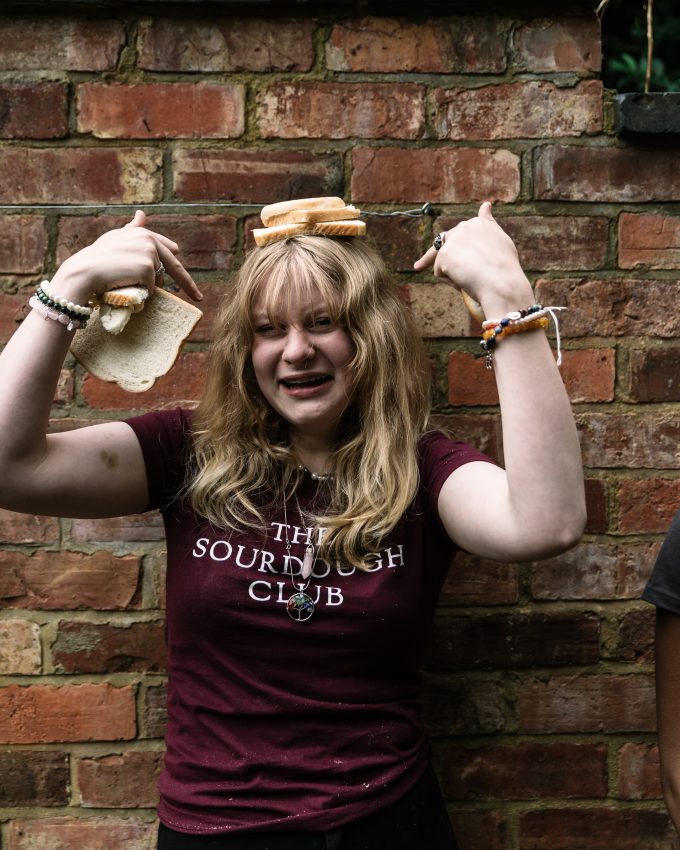 Public-health laws are designed to protect people from harm, especially harm caused by dangerous, addictive consumer products. That's why cigarette packets are labelled with stark health warnings about their links to disease and death. But why doesn't sliced white bread come with similar labels? And why isn't the sale of today's industrially produced white bread strictly controlled, just like tobacco – or even banned completely?
This might sound extreme, but it's not. Studies show that – just like tobacco – industrial sliced white is habit-forming, and also so harmful to health that it contributes hugely to modern epidemics of preventable killers such as cardiovascular disease, cancer and type 2 diabetes. And with nearly one in three adults in the UK now clinically obese – and with obesity now killing more people than smoking – it's clear that we need to address the issues in our diet. The obvious place to start is with bread.
The logic behind the government health warnings and restrictions on tobacco sales is clear: this action saves lives and takes some of the load off the already overburdened NHS. Steering people away from sliced white and on to healthy bread, especially sourdough, would bring very similar health benefits to the population to those seen from a reduction in smoking. What's more, the British government has actually banned the sale of white bread before: twice in the last century, for a total of 14 years. So let's forget any claims that 'it simply can't be done'.
But sliced white, in public-health terms, seems to carry a magical get-out-of-jail-free card. It is by far Britain's most-eaten bread, with £876 million worth of loaves sold last year, according to estimates by Mintel, the market research agency. Here's why we should be lobbying for the reformulation or banning of the sliced white that accounts for 71 per cent of total bread consumption in the UK.
It's addictive
It's been known for years that sliced white is habit-forming, bordering on addictive. Research published in the American Journal of Clinical Nutrition in 2013 showed that eating the stuff stimulates brain regions involved in reward and cravings. As the study's leader Dr David Ludwig, an endocrinologist at Boston Children's Hospital in the United States, said: 'Beyond reward and craving, this part of the brain is also linked to substance abuse and dependence.'
The research shows how this reaction is triggered by sliced white bread's high glycaemic index (the measure of how drastically a food can send your blood sugar soaring). Sliced white bread's vast levels of refined-wheat carbs break down so rapidly in the body that they cause intense sugar-spike highs. These make our brain's pleasure centres respond as though they are getting a hit of cocaine.
The habit-forming element of that chemical reward also means people who eat sliced white quickly feel hungry again and want to eat more of it, says Dr Ludwig's study. No wonder it's such a sales success. Furthermore, research published in the journal Appetite by the University of South Australia found that participants who ate white bread consumed 500 more calories at their next meal compared to those who had wholegrain bread.
Ultra processed bread has been linked to heart disease
This all helps to explain why, in 2021, researchers at the University of Oxford identified white bread as a staple that makes the traditional British diet such a lethal cause of heart disease.
The five-year study of 116,806 Britons published in the journal BMC Medicine ranked white bread alongside soft drinks and table sugar as the worst culprits, raising the risk of heart disease and premature death by as much as 40 per cent. Numerous studies show how recurring blood-sugar spikes from eating high-glycaemic white bread can increase the risk of type 2 diabetes and obesity, as well as heart disease. According to data published in the journal Diabetes Care, white bread has a glycaemic index (GI) of 75. By comparison, wholegrain bread has a GI of 53.
Industrial white bread lacks dietary fibre
The lethality of sliced white doesn't stop there. Another factor is the bread's dearth of dietary fibre.
Dietary fibre is comprised of the carbohydrates from plant-based foods that aren't digested in our small intestines. It has numerous proven health benefits, including lowering blood pressure as well as reducing the risks of type 2 diabetes and cancer. Dietary fibre also helps food to travel through the intestines, while at the same time reducing levels of cholesterol and carcinogens in the gut. It also promotes the growth of crucial healthy gut bacteria.
As the UK agricultural-science centre Rothamsted Research reports, the production of white flour involves the removal of the bran, which is what contains most of wheat's dietary fibre. A slice of wholemeal bread contains about 3g of fibre. A slice of ordinary white bread contains only 1g. How crucial is fibre for health? A Lancet study commissioned by the World Health Organization reported in 2019 that for every 8g increase in dietary fibre eaten a day, total deaths and incidence of coronary heart disease, type 2 diabetes and colorectal cancer fell by almost a fifth. Risks of stroke and breast cancer also dropped.
UK guidelines recommend increasing dietary fibre to 30g per day, but less than one in ten UK adults achieve this. The average adult in the UK currently eats about 18g of fibre per day.
What would a ban look like?
Imagine what a difference banning white bread would instantly make. In terms of fibre alone, every time a former sliced-white eater tucked into wholegrain instead, they would be consuming 200 per cent more fibre in every slice.
And yes, Britain has indeed banned white bread before – on two occasions. The previous bans on bread made with refined white flour took place during the First and Second World Wars, and were prompted by fear of starvation. German submarines were regularly sinking food shipments and Britain faced collapse. The country simply couldn't afford to throw away bran. Experts at the time already knew that it is a marvellous source of vital nutrients.
At the end of the First World War, Britons were delighted to go back to white bread. This was not least because wholemeal bread hadn't been allowed to be sold fresh. It had to be unappetisingly stale, because the government feared that if people enjoyed fresh wholegrain, they'd eat too much of it, and supplies were limited.
During the Second World War, white bread was again banned completely in the UK. Instead, all loaves had to be made with National Wheatmeal Flour comprising 85 per cent of the whole grain. (Industrial white has as little as 70 per cent.) People complained that these 'National Loaves' were heavy, beige and gritty. However, the same intense grain is used in France today to make the celebrated and expensive pain Poilâne – a round loaf of delicious sourdough bread made by the famous Poilâne bakery in Paris.
Again, much of the Churchill-era distaste can be blamed on the fact that this Second World War bread could only be sold stale. And it certainly wasn't delicious sourdough.
While these wholegrain loaves may not have been too appetising, the nation was said to be healthier in 1947 than it had been in 1939, before the war. However, in 1956, the National Loaf was discontinued, and the white loaf rose again, more villainous than ever. Because just five years later came the introduction of the Chorleywood baking process – an industrial system invented by scientists at the Chorleywood Flour Milling and Bakery Research Association laboratories.
Sliced white bread today
Baking the Chorleywood way made the average loaf in Britain 40 per cent softer, more than doubled its shelf life and made it significantly cheaper to bake. 'It is a process we invented and we should be very proud of it,' Gordon Polson, of the British Federation of Bakers, told the BBC in 2011. 'UK bread is around the cheapest in the world.'
Chorleywood also filled white bread with world-beating levels of yeast and additives that are blamed for nationwide increases in food intolerances, digestive problems and even allergies. Nevertheless, more than 80 per cent of all loaves in Britain are now made the Chorleywood way – including the crusty bread that supermarkets claim is 'baked fresh on the premises'.
These loaves might look fresh, but they're missing vital wheat nutrients and dietary fibre. Scientists at Rothamsted Research are working to produce a 'high-fibre' white-bread flour that would (at best) have two-thirds of the fibre content of wholemeal. Not only would this still fall short of natural bread's healthiness, we also know that Frankensteining white bread to turn it back into something 'healthy' really doesn't work.
Since 1998, all white wheat flours in the UK are legally required to have minerals and vitamins added to replace the essential nutrients that are lost in processing it from wholemeal. These include thiamin (B1), niacin (B3), iron and calcium carbonate. However, it's well known from numerous studies of commercial vitamin supplements that synthetic chemical substitutes just don't bring the same benefits. They can even be dangerous.
In wholegrain wheat, nature combines natural vitamins, minerals, fatty acids and phytochemicals that work together in vastly complex ways, and from which our digestive systems have evolved to derive maximum benefit. Synthetic nutrients and additives just don't work in the same way. While it's easy to rob wheat's natural goodness through industrial white-bread processing, putting that goodness back just isn't so easy. Nor should it be necessary, when we could just be eating wholegrain bread, which is full of goodness, in the first place. Why would you remove all the healthy elements of the food and then try to artificially add them back in?
Calling time on sliced white
All this helps to explain why experts, both scientific and culinary, are increasingly keen to raise awareness of the dangers of sliced white bread. In January 2022, for example, the Michelin-starred cook Raymond Blanc implored British people to give up sliced white bread and instead start making their own loaves. The acclaimed restaurateur said: 'Everyone should start doing their own sourdough – because white sliced bread is a stain on Britain's food heritage. It's frightening because you see white bread in a bag for two weeks without a bit of mould. You wonder what the hell is in it? It is simply bad food.'
We agree. This year, informed by our values we will match our turnover with the systems change programme that we are implementing.
Stay in touch for more news on scholarships, bursaries, and social change discounts on our courses.
Featured Products