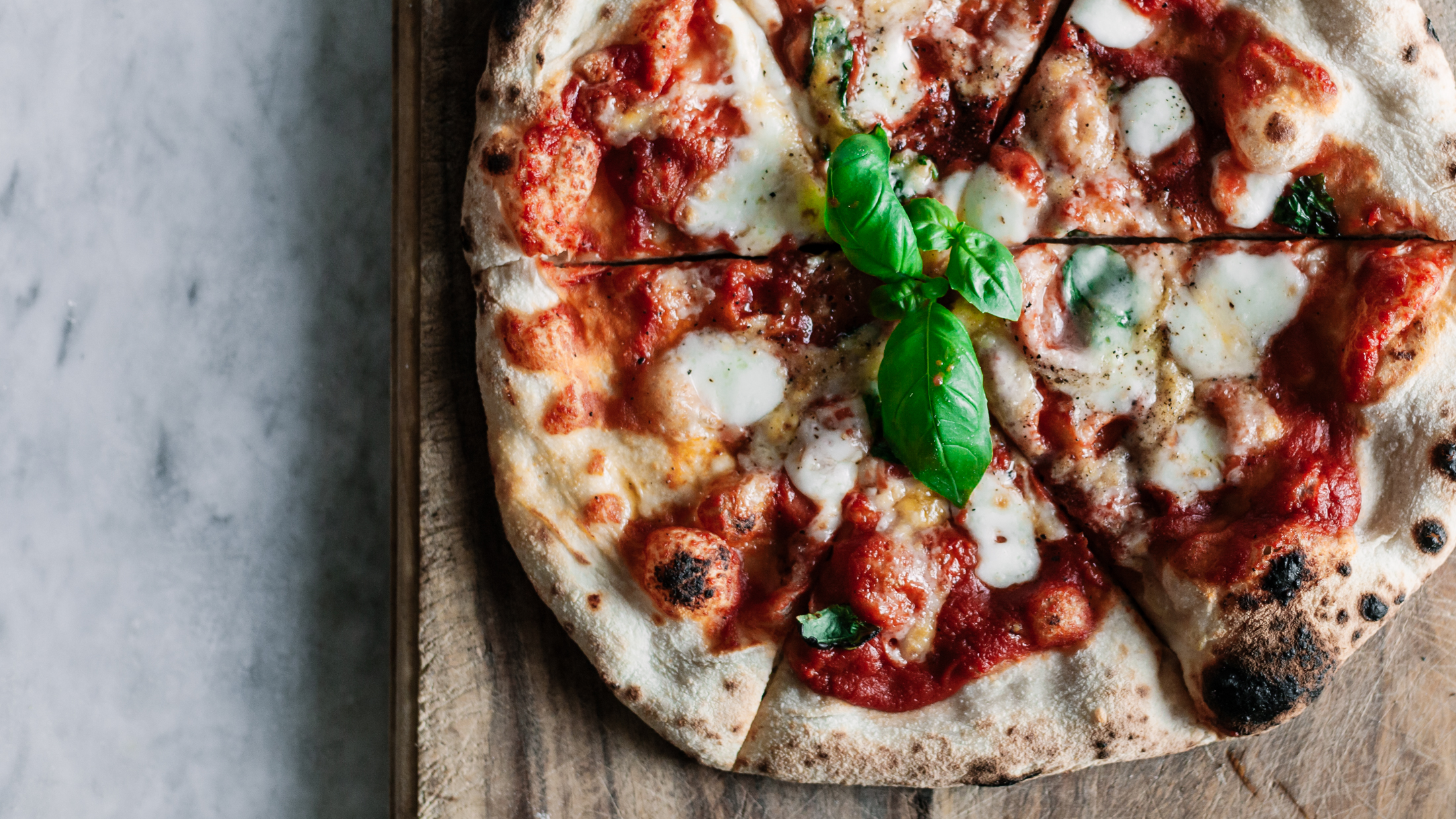 Sourdough pizza is one of our principle recipes when it comes to sharing our knowledge about how baking can have a positive impact on mental health.
This simple sourdough pizza recipe can form the basis for a whole range of healthy meals by varying the toppings. One of our foundational values is to share knowledge openly, and when it comes to sharing, pizza is the perfect choice.
As part of the Sourdough Club, we teach a detailed course on how to make sourdough pizzas, which also covers how to apply our core principles of baking to nourish and how this can impact the positive microbes in your gut. These microbes are involved with the production of the neurotransmitters needed by your brain.
Baking in this way is about connecting. It's about being sociable and about making what we eat count. If you are able, I highly recommend using British farmhouse cheeses from Neal's Yard Dairy, and finishing your pizza with wild oregano. This recipe incorporates just 20% whole grains. With its slow fermentation and high-quality topping ingredients, a sourdough pizza can be a healthy and delicious meal.
If you are new to making pizza, then a pizza peel is very useful indeed. The instructions here are for a conventional oven, but for really great Neapolitan-style pizzas, consider investing in a Gozney Roccbox Pizza Oven or a Stadler Made Outdoor Oven, both of which will take your pizzas to another level!
For more top tips on making and baking sourdough pizzas, as well as ensuring maximum nutrition and nourishment for your gut, take a look at our sourdough pizza guide.
Starter: White
Makes 2 x 30cm pizzas >
For The Dough
300ml water at 22°C
400g '00' flour
100g stoneground wholegrain flour
2 tablespoons olive oil, plus extra for oiling your hands
20g finely ground semolina flour, for dusting the peel
For the topping:
200g mozzarella cheese
any other toppings of your choice
fresh herbs, to serve
Bake Temp
230°C/450°F/gas mark 8
Bake Time
10–12 minutes
Equipment
Mixing bowl
Dough scraper
Baking stone
Tutorials
| | |
| --- | --- |
| Refresh your starter | Day 1, 9pm |
| Make the dough and leave to rest | Day 2, 8am |
| Knead the dough for 5 minutes, then leave in a warm place | Day 2, 8.10am |
| Preheat oven and baking stone, shape the dough into balls and leave for an hour | Day 2, 5pm |
| Stretch bases and prepare peels | Day 2, 6pm |
| Add toppings to pizzas | Day 2, 6.10pm |
| Bake pizzas | Day 2, 6.15pm |
| Leave to cool a little, then top with herbs and serve | Day 2, 6.25pm |
Method:
Refresh your starter the evening before you want to eat your sourdough pizzas. The next morning, make the pizza dough by mixing together the starter, water, '00' flour, wholegrain flour, sea salt and olive oil, making sure all the flour is incorporated. Cover with a damp tea towel and leave for a few minutes. Meanwhile, return the unused starter to the fridge.
Lightly oil your hands and knead the dough well for 5 minutes. Set it aside somewhere warm and cover with a clean damp tea towel until the evening.
At 5pm, place a baking stone on the bottom rack of the oven and preheat the oven to 230°C/450°F/gas mark 8. Place the dough on a floured surface and divide into two. Lightly shape the portions into balls. Cover and leave to rest for about 45 minutes–1 hour.
Using your fingertips, press each dough ball out to your required shape, then stretch gently with your hands to get a thin pizza base. Prepare your pizza peel by evenly sprinkling some semolina over it, then roll the first pizza base over a rolling pin and transfer it to the peel.
Place 2 large tablespoons of the tomato sauce in the centre of the pizza and spread it evenly all the way to the edges of the dough. Add some cheese and any chosen toppings, then transfer the pizza to the oven, then repeat with the remaining dough and toppings.
Bake for 10–12 minutes, then check. Bake for a little longer if the pizzas are not quite ready. Allow to cool a little before serving, scattered with fresh herbs.