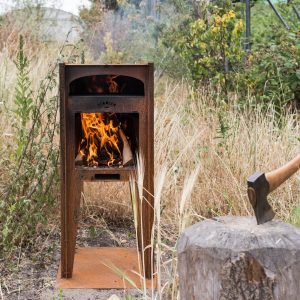 This sturdy Städler Made Outdoor Oven has been designed and made in The Netherlands by Pieter Städler, who wanted to create a wood fired oven that would allow him to cook the most authentic Neapolitan pizzas possible at home. It stands 140cm tall and is 40cm square – just the right size for a good-sized pizza!
Eating outdoors is one of the great pleasures of summer and at The Sourdough School it's something we do as often as possible. The Städler Made Outdoor Oven makes this possible and wonderful. You can cook outdoors on a beach, in your garden, in a forest clearing…anywhere you like.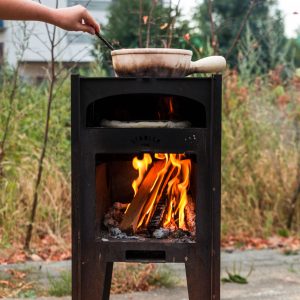 The oven is delivered flat-packed but is easy to assemble, needing just a pair of protective gloves and a screwdriver in the way of tools. Once ready to bake, the Städler Made Outdoor Oven is lit using a small amount of kindling. Then, once that is burning well, you add more wood to bring the oven to temperatures of up to 400C (750F). The top part of the oven has two stone baking boards which absorb the heat and bake crispy-based pizzas in a matter of minutes.
The oven is made from steel sheets which will gradually weather and develop a layer of rust on the surface – this is a deliberate design feature and actually protects the steel from further rusting. It also looks wonderful. The two stone baking boards can be cleaned between bakes with a brush or using warm water. Just avoid using any detergent to clean them as this can be absorbed by the porous stone.
Sustainability is about more than just materials so we can't count on that alone. Transport, production methods and social impact make a product sustainable. That's why the product is not advertised as a certain percentage sustainable however here are some important facts:
– the chain of production is local (Netherlands (metal) and France (stones)) which has significantly less impact in terms of transportation
– the stone is bio-degradable
– Corten steel has a very long life
We love the design and simplicity of the Städler Made Outdoor Oven, plus the fact that it's so practical and can cook a whole range of foods…although sourdough pizzas cooked in a wood-fired oven such as this will always be our favourite! You can even boil a kettle on the top whilst cooking a pizza in the oven, or you can cook food in a saucepan on the top, whilst cooking a pie in the oven…
To bake a sourdough loaf…it can be done with the Thermodoor + the bottom door + a cup of water to evaporate in the fire chamber. Also, aim to bake small loaves because the opening is not very high. In Stadler's FAQ section on Cooking there's a spot by step on how to bake bread in the oven.
In July the Sourdough Club will launch a range of sourdough pizza recipes, along with a new masterclass video to accompany them. Are you a member yet? Join our online sourdough course
The outdoor oven comes as a flat-pack with step-by-step instructions for assembly. A small metal pizza peel (without a wooden handle) is also included.
Material: 3mm thick (0.12in) corten steel sheets. The two baking stones are made of high-quality cordierite (32 x 30 x 1,5cm ; 12,6 x 11,8 x 0,6in).
Size: 85cm (33,5in) high, 37cm (14,6in) wide and 40cm (15,8in) deep.
Weight: 43 kg