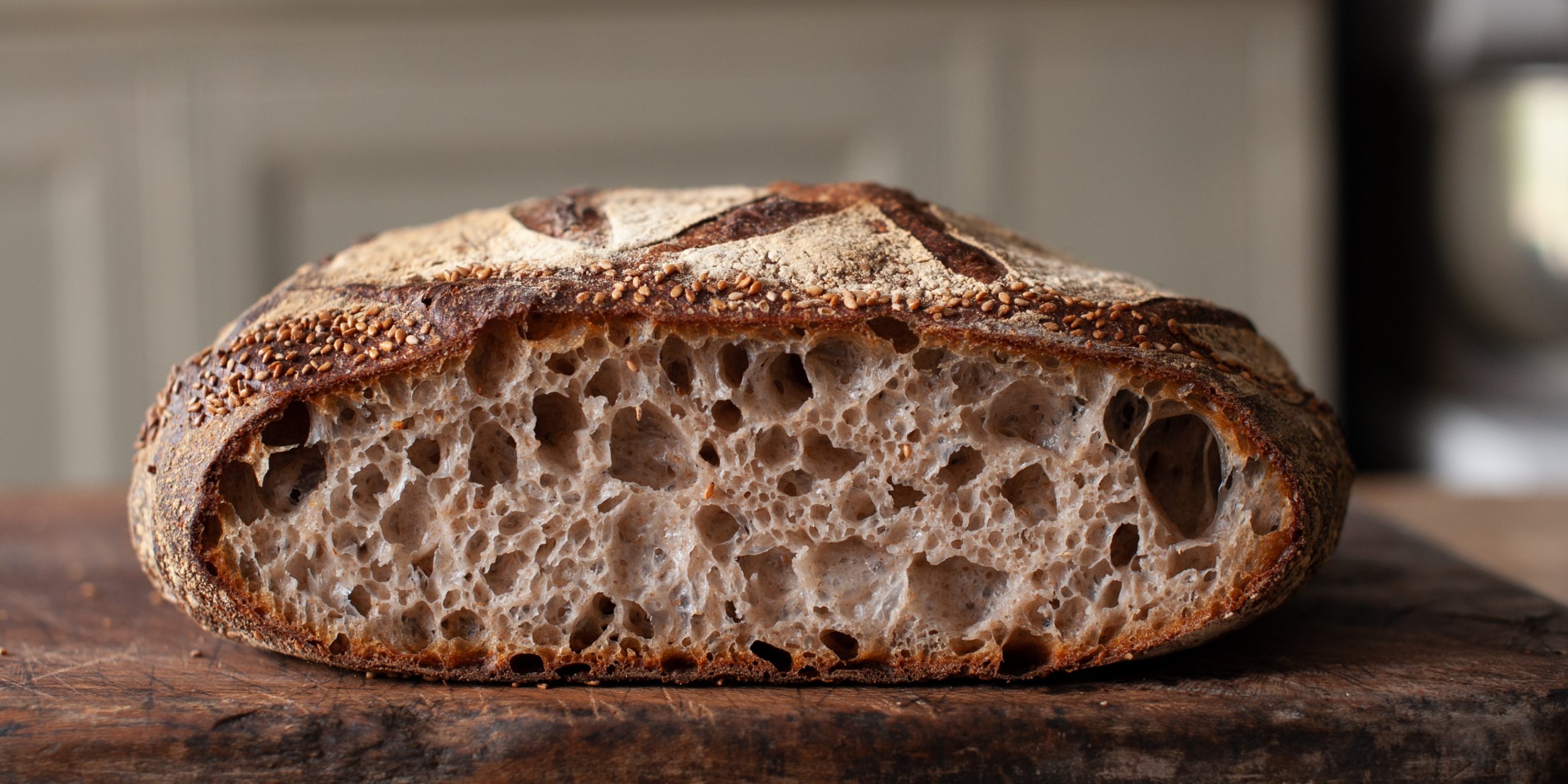 Sourdough recipes – the top 50
It is #sourdoughseptember and time to celebrate the harvest and baking for the year to come. One of the joys of baking sourdough bread is discovering other people's recipes, the other is to bake them and share them. This is my top 50 collection of recipes from other sourdough bakers to inspire your sourdough baking. Some of them are favourites that I bake time and again, and some are from bakers who I am connected to, others are on my baking 'to do' list. And don't worry if you're new to sourdough baking. There are recipes in the list that explain how to get your first sourdough starter going before you bake that first loaf.
Classic Sourdough loaves
A good recipe for beginners as well as more experienced sourdough bakers. There's plenty of information on how to create a starter before making and baking the dough.
Laura Hart's sourdough recipe
Laura Hart has gained a reputation for baking fabulous bread in her bakery in Bristol. Her recipe for sourdough bread includes instructions on how to make a sourdough 'mother', making it a great way to either take your first steps in sourdough bread making. It's also a great recipe to add to your repertoire if you're a more experienced baker.
Dan Lepard's sourdough recipe
This recipe explains the basics of sourdough bread making, but skips over a lot of the detail. Maybe one to try when you have a little experience.
Hugh Fearnley-Whittinstall's sourdough
Another good one to try if you want to make your first sourdough loaf – it has instructions for making a starter before the bread recipe.
Scroll down passed the yeasted recipes… the sourdough is at the end of the article, but worth finding.
Here's a recipe that's perfect for bakers who want to fit bread making into their busy lives – once mixed, the dough can be left in the fridge for 8-24 hours before shaping and baking.
James Morton's sourdough recipe
A recipe aimed at more experienced bread bakers, concise but containing lots of information.
The Fabulous Baker Brothers sourdough
Tom Herbert's recipe from The Fabulous Baker Brothers book.
Regarded by many as one of the finest loaves of bread in the world, Tartine bakery's country bread is the result of many years of testing and development. With this recipe you can recreate a little bit of Californian sourdough magic at home.
A traditional French sourdough loaf.
A recipe inspired by the Poilâne style miche.
Shipton sourdough recipes
Shipton Mill produces a range of flours used in bakeries and kitchens across the country. They've also collected some sourdough recipes together on their website. This rye loaf is rested overnight in the fridge and can be baked first thing in the morning.
While many people will tell you that a truly authentic version of this sourdough loaf can only be baked in San Francisco, here's a recipe that allows you to make at least a San Francisco style loaf without having to buy a flight.
No knead sourdough recipe
Another recipe from Hobbs House Bakery, this one uses a mix of flours and an overnight prove in the fridge.
Sourdough in the style of Hackney wild
The iconic loaf from E5 bakehouse, as made by blogger The Faerietale Foodie.
A rounded sourdough loaf, with a low crust to crumb ratio. Made with a mixture of white, rye and wholemeal flour.
Extra tangy sourdough recipe
A recipe from King Arthur Flour for bakers who like a little more sourdough tang in their loaves.
Small loaves that are just the right size for two to share. This recipe has a handy timetable at the end to help you plan your baking day.
Continental & specialty breads
A mix of rye and white flours, together with a good sprinkling of seeds, all go into making this traditional Danish bread.
Even experienced bread makers might hesitate when it comes to baguettes, but this recipe takes you through the whole process step-by-step.
A very comprehensive introduction and great photos accompany this recipe.
Sourdough bread with rye and linseed
Carl Legge adds soaked golden linseed and chopped rye to a classic white sourdough loaf.
Flax seed and oatmeal sourdough
A dough made with a mixture of white and wholemeal flours, studded with flax seeds and rolled oats.
Made with a mixture of bread flour and kamut flour, and a long prove.
50% einkorn sourdough recipe
Combining einkorn with bread flour, this is one for fans of ancient grains.
Sourdough Sandwich Bread with Wholegrains
A grainy sourdough sandwich bread with wholewheat flour and seeds.
Adapted from a Jeffrey Hamelman recipe, this loaf is made with a mixture of wheat and semolina flour.
This recipe is based on a 50:50 mix of pumpernickel flour and wheat flour, but suggests adjusting this depending on your personal taste.
Homemade pita is so different, and so much better, than shop bought. Once you've tried it you'll never want to eat the supermarket version again.
Fig and walnut spelt sourdough recipe
A white spelt loaf flavoured with dried fruit, nuts and a little cinnamon.
Based on the recipe from the Bourke Street Bakery Cookbook, this loaf is full of spices and raisins.
The Weekend Bakery website is home to an array of great sourdough recipes. This fruit and nut loaf is recommended for with cheese.
The classic Italian rosemary bread adapted to use a sourdough starter.
Olives, herbs and lemon zest flavour this naturally leavened loaf.
A very wordy recipe from the Flour On My Face blog, but there are also a lot of photos and a video to illustrate the techniques used which will be useful reassurance for less experience bakers.
A long, long post on The Orange Fairy blog, with plenty of photos of the fougasse… the recipe is right at the end of the post.
Himalayan Salt, Olives, Rosemary, and Garlic Sourdough
An impressive looking loaf, full of wonderful flavours.
Gluten free Sourdough
Seeded gluten-free sourdough recipe
Although there is evidence that sourdough bread is easier to digest for those with gluten intolerance, there are bakers who want to keep their breads gluten free – this recipe is for you
How to make Gluten Free Sourdough
A great feature point in the Guardian on gluten free baking.
Gluten Free sourdough recipe
George is from Fitzroy, Melbourne, and is a freelance food photographer and stylist. She creates gluten free, dietary intolerance friendly, and mostly vegetarian or vegan
Enriched Sourdough doughs
Rich, buttery brioche made with some sourdough starter in place of yeast.
Another sourdough version of the French classic.
Panettone is a Christmas favourite that will taste so much better when it's homemade. This recipe is taken from James Morton's 'Brilliant Bread'.
Rolls, bagels and buns
White sourdough buns filled with spices and dried fruit.
Soft, no knead sourdough rolls
Made over two days, these rolls are soft and full of flavour.
Traditionally, bagels are made using a long fermentation. This version uses sourdough starter in place of fresh yeast.
Made with loads of spices, these sourdough hot cross buns are too good to save just for Easter.
Sourdough hot cross buns with roasted pumpkin
Another hot cross bun recipe, this time with roasted pumpkin added to the dough for a little extra sweetness.
Popular in New York, these are soft, chewy rolls topped with onion.
Pizza
Two sourdough pizza recipes for you to try…
A sourdough pizza recipe by the authors of 'Artisan Pizza to Make Perfectly at Home'. The dough recipe is followed by ideas for toppings.
This dough can be made up to three days in advance and left to rest in the fridge until it is needed.
Featured Products