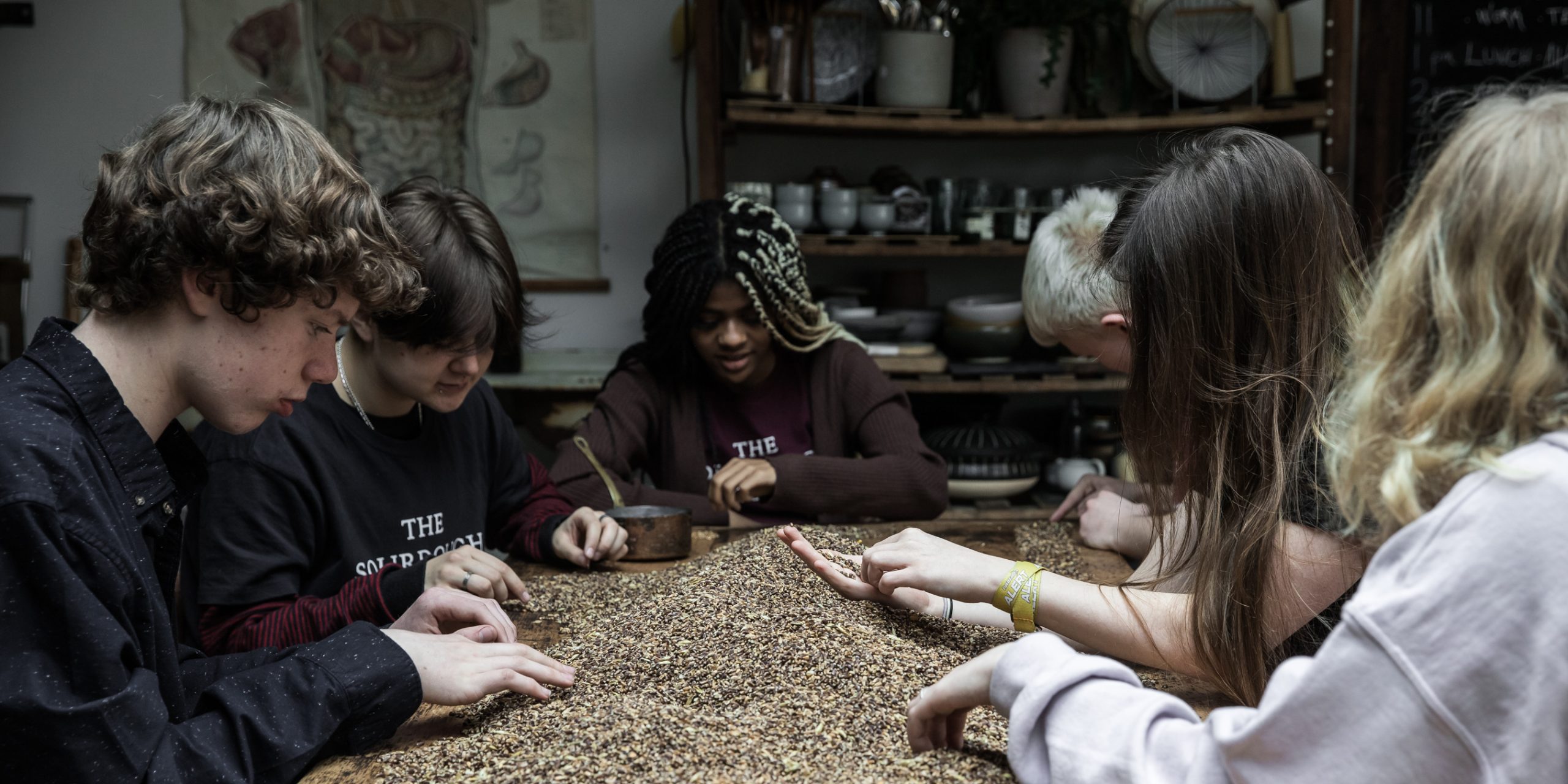 The current system
At this point in time, we've got a global mass of monoculture. This is the enemy of both the macro and the micro environment. If you look at the macro environment, monoculture is actually destroying it – it's reductionist, and single-species grain is vulnerable to pests, diseases and climate change. The way in which we're growing is heavily reliant on the petrochemical industry and herbicides that destroy biodiversity. It is an unsustainable agricultural practice. This underpins a food system that is depriving our microbiomes of what they need, which is diversity. Our choice of grains are also lacking in levels of different phytochemicals, and through current bread-making practices, we miss out on the bioavailability of these, even if they were available in the bread, e.g. if the bread has been made with wholegrain that has natural anthocyanins.
Our population wheat is really an example of how we can redesign the system for ground-level systems change, while still maintaining the yield, which is absolutely essential to delivering the level of tonnage per hectare to challenge the monoculture with a realistic alternative.
The importance of diversity in the BALM Protocol
Through the work we've done at The Sourdough School on the BALM Protocol over the years, one of the main understandings we've reached about the gut microbiome is the importance of phytochemicals, in particular polyphenols including anthocyanins, in nourishing the gut. Here are four of the major positive ways in which we can improve gut health:
Challenging the system with population wheat
One of the biggest challenges to changing the current agricultural system of monoculture is to create a conventional population wheat, but also to simultaneously create a diverse conventional wheat with great bread-making properties, which also has the high colour pigments as explained above. This underpins the second principle of the BALM Protocol: creating bread with as much diversity as possible. That diversity has to come not just from the Botanical Blends (milling the whole meadow and including in our bread all of the amazing diversity of grains and phytochemicals, including from flours, herbs and seaweed), but also from the population wheat itself.
We must really look at systems change in a way that involves maximising yield, as in conventional agricultural systems, but with incredibly low-input and sustainable regenerative farming practices. This would make this grain and this approach to grains into a realistic alternative way of looking at the way we grow our wheat globally.
The Sourdough School Population Wheat & Barley
Higher levels of beneficial phytochemicals: Principle no. 4 of the BALM protocol
Vanessa has a long-standing collaboration with wheat breeder Dr Phil Howell and the pre-breeding programme based at NIAB, Cambridge. Dr Howell has worked privately with Vanessa, incorporating diversity through grains gifted to Vanessa from Sourdough School students around the world, including grains from USA, India, Iran and Saudi Arabia, and is now exploring some of the pigmented types within NIAB's section of the BBSRC-funded 'Designing Future Wheat' programme. Vanessa is now working on scaling up an exciting wheat blend made up of several new crosses that combine the rich diversity of these different sources with the proven qualities of leading UK bread-making varieties.
Mixed barley population: gifted by Dr Ed Dicken
This barley is a diverse population rather than a single variety. Nak
ed
or hulless barley is the type of barley best suit
ed
for human food, and it is especially important in the most challenging environments, such as Tibet, where barley is one of the few crops that can grow. The diversity of this population gives it strength and resilience. Strong-straw
ed
plants act as scaffolding for their weaker neighbours. Whether the season is very dry or very wet, there will be plants in the population able to cope, so the produce will be more reliable. Each type of barley adds its flavour and nutrition to the mix. The population would be weaker if diversity was lost.
Black wheat
One of our students gifted us some black high-anthocyanin wheat, which we are growing some here as the dark wheat has a good antioxidant content. Higher levels of these phytochemicals are key to the prevention of lifestyle disorders such as obesity and cardiovascular diseases, and they also nourish key microbes in the gut associated with health. We've planted two crops this year, one winter and one summer, to see how they fare. Watch this space.