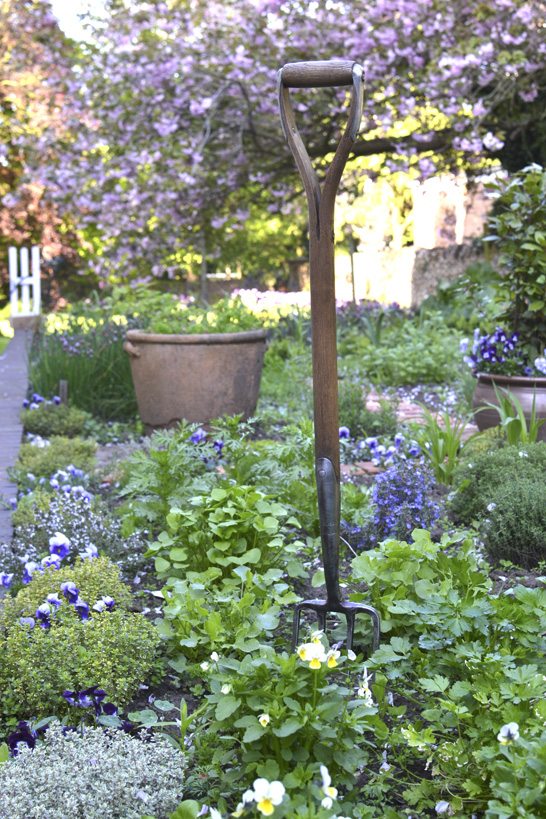 The Sourdough School gardens
We grown our botanicals that we use in the flour we mill in our organic gardens.
At The Sourdough School, we have a kitchen garden and a fruit garden. These walled gardens are set in rural Northamptonshire in the home of Vanessa Kimbell, covering two-thirds of an acre. These beautiful Victorian walled gardens are now in their eleventh year. We are deeply proud that we've been certified organic here for about seven years. It is in these gardens that we gather our botanicals, which we mill into the flour in our classes. Any spare botanicals, we dry and send to the mill at Hodmedods to include in our flour there.
There are examples of wheat from our population programme growing in the garden. We grow all our own botanicals, including all the flowers and petals we include, as well as the organic herbs. We have our own organic chickens, and try to grow all our salads and some of the vegetables we serve for lunch here at the School. Our fruit bushes are used to make our jams for the compotes with their high polyphenols. Wherever possible, we meet the requirements of the BALM protocol and eating symbiotically, by eating food produced in our gardens.
It starts with the soil…
We had to reimagine how our bread could be created according to our guiding principle of making bread that nourishes. The starting point isn't with the bread itself – it's with the soil and the soil systems. This includes the way in which our bread-making ingredients are sourced, and the ways we work with farmers and the environment.
You might say that we're environmentalists on both a macro and micro level, because not only have we considered the macro environment – the soil systems, the agricultural systems, the way in which we produce the diversity breads and the way that we teach here at The Sourdough School – but we're also micro-environmentalists; the micro environment I'm referring to here is the gut microbiome.
The true cost of organic food
Being organic is fundamental to the practice of our values here at The Sourdough School. I'm not saying it's an easy thing to do (it's not!), and over many years, it has been suggested to me that it is not a viable way of looking at bread-making. It's certainly true that many people who are struggling to make ends meet can't afford organically-produced ingredients. But lack of affordability distracts from the true cost of using pesticides, herbicides, fungicides and 'baking improvers'. This cost includes some very unpleasant chemical cocktails.
Throughout our years of research, we've seen this all add up to a compromise on the gut microbiome, on the environment and on diversity. There are huge conglomerates that grow grain on an unimaginable scale, and our entire food system is reliant on the petrochemical industry, which is completely unsustainable. Even if you dismiss the health concerns of the carcinogenic and gut-damaging aspects of conventional agriculture and bread-making processes, and even if you dismiss the very real concerns around the impact on our environment, you cannot dismiss the fact that this is an unsustainable practice for long-term global food security.
We really have to look beyond the financial cost of organic
While I appreciate that I've been told this unrealistic, I believe that systems change and understanding is actually possible. We have created examples of how this is possible through our partnerships and our own certification here at The School. We have to be pragmatic about our approach to bread, and there are always compromises to be made. I think it's important, whenever there is decision-making or whenever there is the possibility of practising organic principles, to do that as part of our value system.