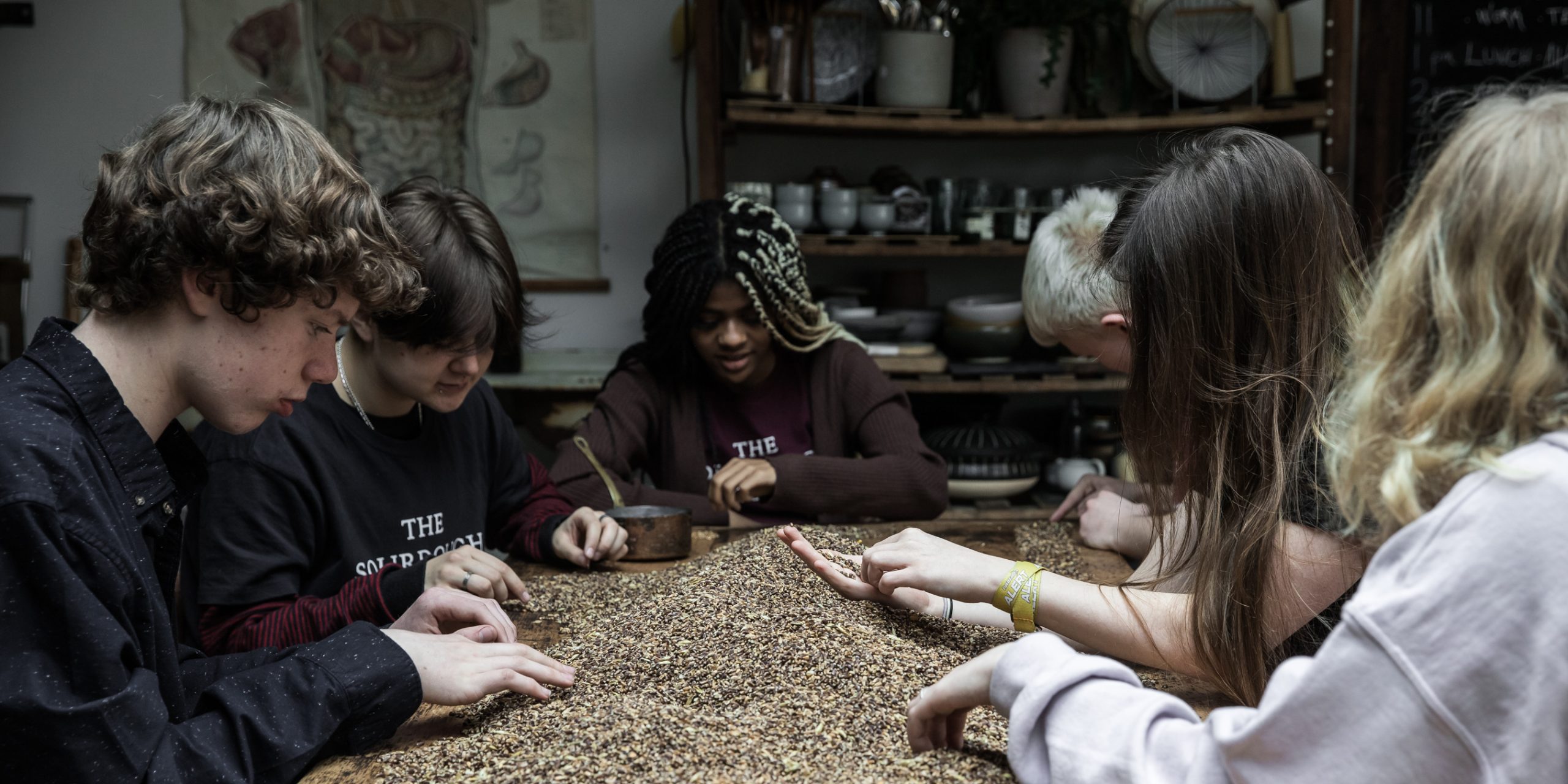 The Sourdough School Population Wheat & Barley
Higher levels of beneficial phytochemicals
When we stop thinking about our grain as calories, and consider valuing it in terms of nourishment, then the very first thing you have to ask, even before you ask how you are growing your wheat, is what are you growing? Calories are of little significance for most of the Western world, as we are overfed and undernourished. The research show that we are lacking in fibre and the quality of food is significantly reduced through processing. Most modern wheat is the antithesis of what we need to nourish ourselves. It is devoid of fibre and of diversity, but even when this is present, most grain is beige. What we want – and need – to to eat is a rainbow. So, Vanessa has been developing exactly this through a long-standing collaboration with wheat breeder Dr Phil Howell and the pre-breeding programme based at NIAB, Cambridge. Dr Howell has worked privately with Vanessa, incorporating diversity through grains gifted to Vanessa from Sourdough School students around the world, including grains from USA, India, Iran and Saudi Arabia, and is now exploring some of the pigmented types within NIAB's section of the BBSRC-funded 'Designing Future Wheat' programme. Vanessa is now working on scaling up an exciting wheat blend made up of several new crosses that combine the rich diversity of these different sources with the proven qualities of leading UK bread-making varieties.
Mixed barley population: gifted by Dr Ed Dicken
This barley is a diverse population rather than a single variety. Nak
ed
or hulless barley is the type of barley best suit
ed
for human food, and it is especially important in the most challenging environments, such as Tibet, where barley is one of the few crops that can grow. The diversity of this population gives it strength and resilience. Strong-straw
ed
plants act as scaffolding for their weaker neighbours. Whether the season is very dry or very wet, there will be plants in the population able to cope, so the produce will be more reliable. Each type of barley adds its flavour and nutrition to the mix. The population would be weaker if diversity was lost.
Black Wheat
One of our students gifted us some black high-anthocyanin wheat, which we are growing some here as the dark wheat has a good antioxidant content. Higher levels of these phytochemicals are key to the prevention of lifestyle disorders such as obesity and cardiovascular diseases, and they also nourish key microbes in the gut associated with health. We've planted two crops this year, one winter and one summer, to see how they fare. Watch this space.