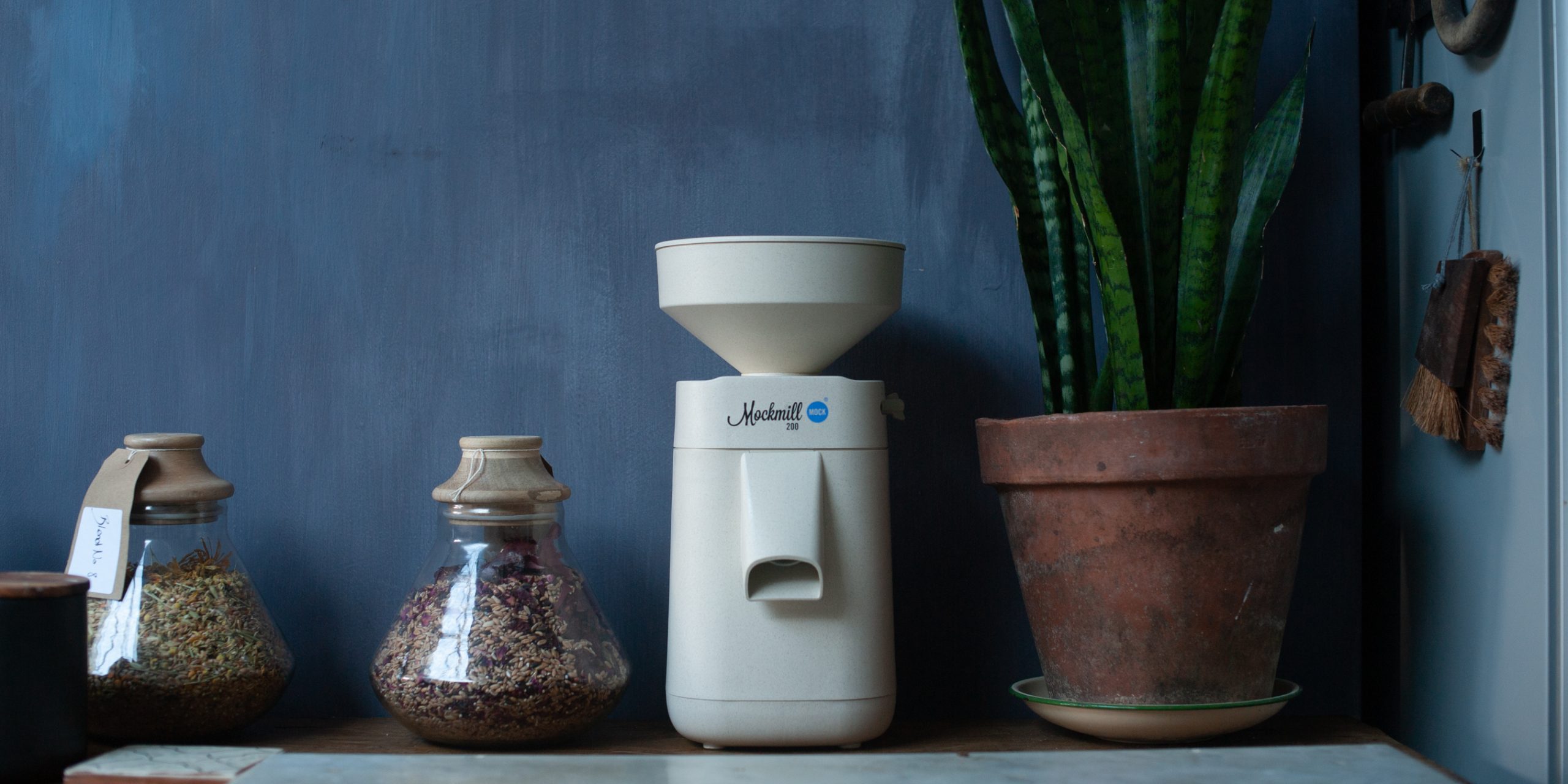 Home mills
The Sourdough School is a centre for the study of the nutrition and digestibility of bread. At the heart of our teaching is that everything we bake has the highest nutritional value possible.
We use fresh flour in all our bakes and apply the most up to date, evidence-based advice to our students on bread that nourishes. One thing we recommend is using freshly milled flour, and the best way to do this is to invest in a home mill. We have been using Mockmill grain mills here at the school for many years. It is our favourite millet there are other on the market.
Why should I mill my own flour?
Grains, seeds and pulses are the perfect nutritional 'packages', designed by nature to store for years. However, as soon as they are milled the process of oxidation begins and the complex flavours and nutritional value begins to decline. Home milling allows you to use flour straight from the mill with all the rich flavours and nutritional benefits of the whole grain or seed. As Paul Lebeau of Mockmill tells us 'the flour isn't missing anything – nothing is taken away, and that's what our bodies need'.
Home milling will also stimulate your creativity as it sets you free to choose different dried grains, seeds, pulses, spices and seasonings, or create innovative blends that you can tailor to your own tastes and requirements.
Which mill should I buy?
Mockmill offers a range of stone mills for both home baker and professional alike and each one is robust, easy to use and produces high-quality flour. The best way to decide which model to purchase is to identify your requirements. There are three characteristics to consider –
Milling speed: for example, the Mockmill 100 can produce 100g flour per minute whereas the Mockmill 200 produces 200g per minute. So while the Mockmill 100 is perfect for most home bakers, the Mockmill 200 is the best option for people who want superfast milling – up to 1kg in five minutes.
Running time: the Mockmill professional models are designed to operate continuously for 3-4 hours, making them more suitable for a small artisan bakery or home kitchen where larger quantities of flour are required. The Mockmill and Mockmill LINO models mill up to 5kg of flour before they need to be allowed to cool for approximately 90 minutes. So work out how much flour you will mill in one session to help decide which model you need.
Housing – bioplastic or wooden?: Paul Lebeau likens this choice to the difference between driving a Mini and a Rolls Royce… both will take you where you want to go, but one is more luxurious! The mills inside the housing are the same, however the bioplastic version has a casing made from 98% renewable, vegetal, biodegradable materials. It is a very practical, affordable and environmentally-friendly option. The models with a wooden housing can bring an heirloom touch to your milling, and will be kitchen counter mills you'll want to pass on to your grandchildren.
We include hand-milling of fresh, organic grains on all of our Diploma courses and our Workshops so that our students learn how to blend and mill their own flour – it is the way to truly understand what flour is.
At the school we use the Mockmill Professional 200 to be able to produce enough fresh flour for the course days (or a small artisan bakery) and for most students who are baking just for themselves at home we normally recommend the Mockmill 100.
We most often use Gilchesters Organic Rye Grain, Whole Wheat grain and Spelt grain when we hand mill (they also produce Emmer and Einkorn grain as well) and using these wonderful mills we have also begun to develop our own Botanical Blends, unique to the Sourdough School, each with a variety of ingredients and all with individual and specific properties…more to follow on this very soon…
Mockmill's goal is to see a grain mill placed in every kitchen over the next 20 years – and that is something we would definitely love to see too.
Please note: all Sourdough Club members have a 5% discount code from Mockmill. When you are logged into your account go to Club Member Discounts