Sourdough Diploma
"It is beyond bread'

Learn to Make Sourdough
You will learn more than you even knew there was to learn, including:
Every step of making sourdough
Starter refreshment
Blending and milling flour
Timings
Familiarisation of the variables affecting fermentation
About fibre, protein & gluten in the flour
An overview of nutrition & digestibility of bread
Eating symbiotically for optimal gut health
Why diversity is key to gut health
About the gut microbiome and why the kind of bread you eat matters
Probiotics & prebiotics
This is a detailed description of what a sourdough workshop is.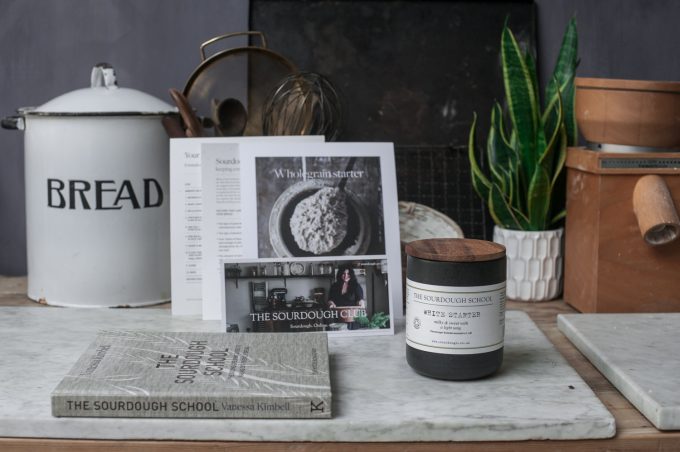 What is included:
A lifetime membership to The Sourdough Club.
An exclusive ceramic jar with breathable wooden lid & some of our starter to take home
A set of sourdough record cards
A personalised signed The Sourdough School book worth £24.99
All the teaching materials & supporting documentation
A personalised embossed Diploma certificate
A Sourdough School workbook that you fill in as part of the week to write up all the recipes we develop, any notes and information you want to remember.
A selection of flour that we use on the course.
You can also book a wine tasting & tour of the vineyard (providing the proprietors are available)
All food & drinks whilst at the school are provided, including lunch at our local pub restaurant
Teaching Style
Please note that our teaching style has changed due to COVID and to allow our students to follow social distancing guidelines.   We will be demonstrating making sourdough, and working with one mixer, Vanessa will make larger batches of dough.  There will be ample will be opportunities to touch, taste, smell and feel the dough. It is important, however to understand that The School is a classroom, and the teaching style is about understanding the principles of sourdough rather than each of our students individually making bread.  The practical side of learning to shape is supported by the sourdough club video tutorials for when you get home. This teaching style enables us to still run courses by maintaining a safe learning environment for both students and the team at the school.  We ask that students are considerate of this approach and that you read and agreed to follow our COVID-19 guidelines before attending the school.
All of our information for attendees can be found here. Please read our Terms and Conditions before you book.