It is easy to criticise industrial bread, it has a bad rap for a reason.
I caught up with Professor Tim Spector
When did criticism bring about positive change?
It is easy to criticise large scale bread production, but historically the food production systems have been subject to working with agricultural system, founded in monoculture and the processes developed were found on post war politics to ensure food sovereignty.
Most people are aware of the funamental flaws in the food system when it comes to bread, but when exactly did criticising something ever result in positive change? If public health wasn't such a serious global health issue, then damming bakers for the damage of diet underpinned by white industrial bread has on health would actually be funny, because psychologists universally agree that criticism does not lead people to change behaviour. Instead it creates anger and defensiveness, which divides the bread industry, as them and us, but we are not in a John Wayne movie. There are no baddies. So when Vanessa first came across an industry divide between artisan bread bakers and industrial bakers, she drew on the core values of equality in the meaning of bread, and decided to work across all sectors with with all bakers, from every level of industry to share knowledge.
We must Acknowledge the need for change.
Below is a summary of the associated risks to health from a long term consumption of refined white bread.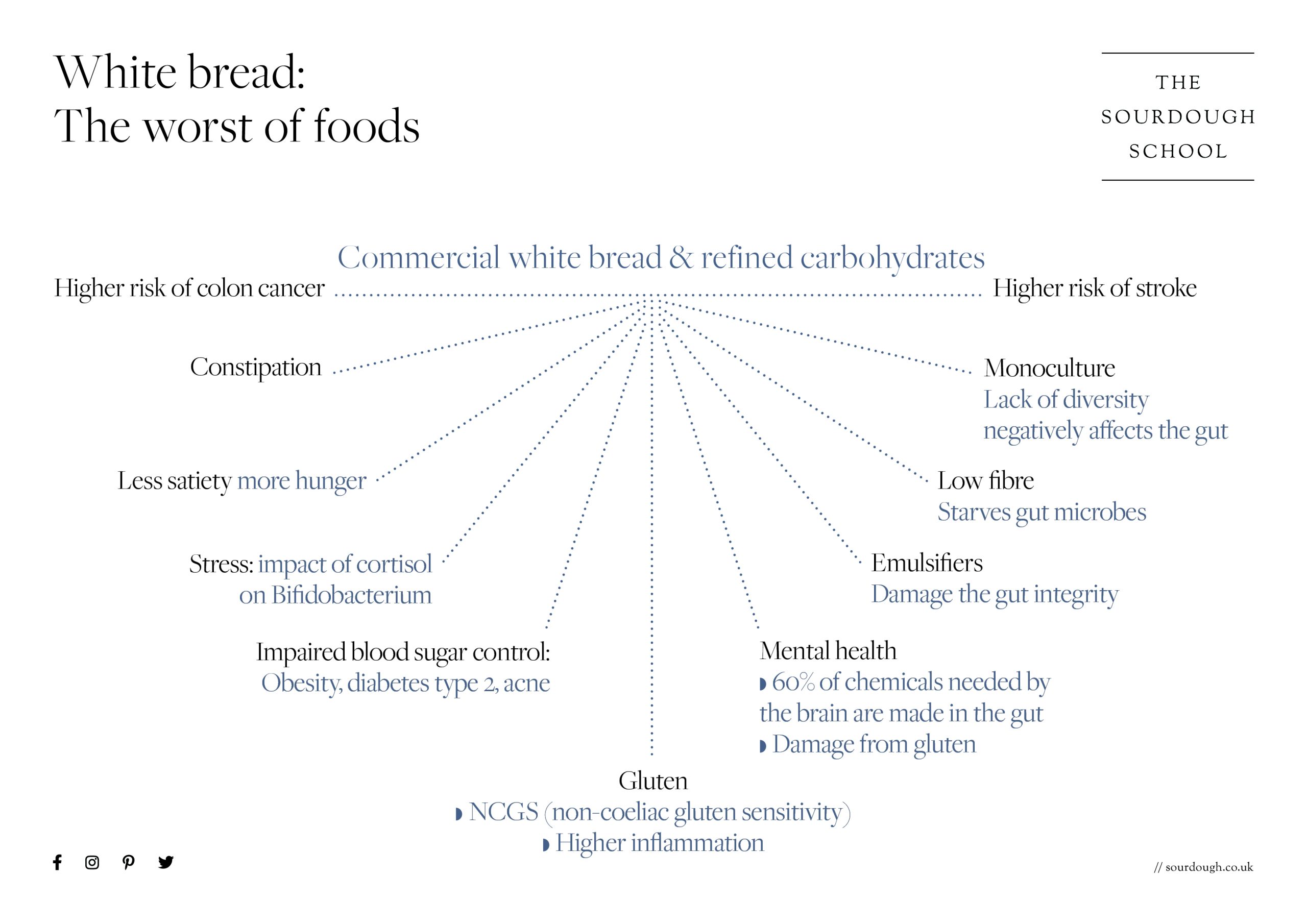 We absolutely need to restructure our most basic food, but to successfully bring about change we need positive solutions to increasing nourishment in bread. This is how we approached Diversity Bread™. The Diversity Bread ™? Protocol is entirely based on maximising nourishment and the way we designed the system was through an evolutionary lens to support the change needed across the whole sector. From the home baker to the large scale industrial producers,
Adapting to the new rules of business as consumers are prioritising health and changing their relationship with the brands they buy
There are new rules to modern businesses. post COVID consumers are more health conscious and are holding the businesses they interact with accountable, whilst having a more dynamic relationship with them through social media. To keep up with these changes modern bread manufacturing must reframe the way they make bread.
The days of advertising are over. Consumers are savvy and there is a serious level of value in authenticity and integrity though open engagement with your customers, and in creating breads that nourish your consumers. Bread producers, large or small can afford to ignore the role of our gut microbiome on our health, especially as businesses are increasingly being held accountable for our practices and our relationships are no longer a simplistic one-way exchange. We have a duty of care to our consumers, not just in the bread we make, but in the way we communicate, because with the privilege of feeding people comes the great responsibility for those people we feed.
A vision becomes a legacy
To stand the test of time, businesses need more than just profit. We, to be the best versions of ourselves need belief and purpose. Our approach to bread is about working with our systems. From the soil to baking systems, to the gut and cognitive brain function, our team understands that the food we eat impacts both physical and mental health. We know, better than anyone, that in the end the only thing that really matters is the way we feel. So, we are uncompromising in our dedication to baking to nourish and support our gut microbiome. At The Sourdough School, our innovation is grounded in our core principles of applying the most up-to-date knowledge of nutritional psychiatry to baking and processes that is in synergy with our systems on both a micro and macro level.
Why The Sourdough School?
We are privately owned by Vanessa Kimbell and we have a deep level of understanding about sourdough and the gut microbiome.
Vanessa has spent many years studying the impact on bread on the gut, has gathered, trained and developed a multi-disciplinary team of specialists, who have been able to re-imagine our approach to the way we bake bread. The work at The Sourdough School is without compromise and is unique, with team members including psychiatrist Professor David Veale of King's College London, gut health specialist Dr Miguel Mateas, functional GP and Medical Director Dr Alexandra Davidson, neurologist Dr Elisabeth Philipps and nutritionist Venetia Mitchell. Our team are central to the teaching, research and development of the way we approach bread.
"You will never ever meet anyone else in the whole world who's more knowledgeable about bread and the Gut microbiome, or indeed more passionate about sourdough bread."
"You will never ever meet anyone else in the whole world who's more knowledgeable about bread and the Gut microbiome, or indeed more passionate about sourdough bread."
Dr Miguel Mateas.