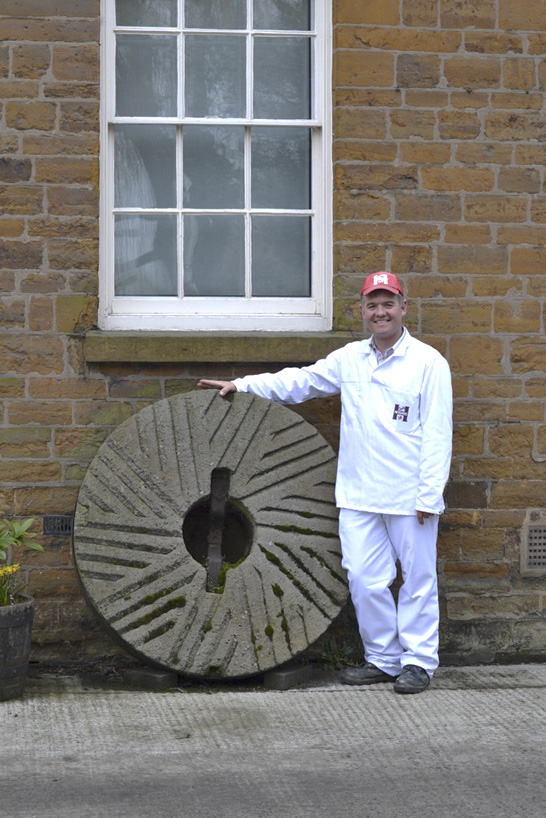 The two mills that I have visited recently could hardly be more different. We use local flour in many of our baking courses – find out more by clicking here.
It seems kind of strange that the end result of both the process of milling flour in a thousand year old mill at Claybrooke is essentially the exact same process that is carried out at Heygates mill in Bugbrook Northamptonshire, which has also been there for almost the same amount of time. One has remained the same and the other is possibly the most modern mill in the UK.
It is a real contrast between a beautiful old traditional mill and modern industrial buildings and it's an understatement to say that the mill is state of the art. Once inside it's like being on a star ship in parts, and in other parts it's actually really sculptural. One processing room in particular had an almost cathedral like feel to it as pipes cross-crossed across the ceiling.
I couldn't help feeling amazed at the speed, efficiency and science as the mill is one of the largest in the country producing an estimated 15% of the UK's bread flour. Yet as I leave I look at the bag of flour and remember that despite the technology and the size of the mill I still just have a simple bag of flour under my arm to go home and make bread with.
I've looked over across the fields for many years at the mill, which runs 365 days a year 24 hours a day. You can't fail to spot it because you can see it for miles around, so I was delighted to meet Rob Heygate who spent the afternoon showing me around this incredible site. It's a cross between ultra modern and traditional stone buildings shows clearly that there has been a mill at Bugbrooke, on the very same site, since before 1086. Rob explained that the mill was mentioned in an early publication of the time, the Doomsday Book as some of the 80 strong fleet of grain wagons roll by. The Drivers smile and wave. It's a friendly relaxed environment.
Rob tells me presumably that milling was carried out in much the same way as any other mill for several centuries until the Heygates, Local Northamptonshire farmers, took it over in the late nineteenth century. Rob is a direct descendants of the first of these millers and the family still very much run today's mill.
It not just a mill on site though. The first half hour of my visit I catchup with a family friend Laurie Person in an ultra-modern test bakery for developing bread products. You can hear mu chat with Laurie here as I ask him about gluten in flour. The bakery smells of fresh bread and I am told that two professional bakers regularly demonstrate baking to up to one hundred people in this purpose-built kitchen.
What really is absolutely incredible isn't the state of the art kitchen or the most scientific mass milling process I've ever seen, although I must leave you in no doubt it is absolutely amazing, it is the development laboratories that have a dedicated team of qualified technicians. There are more people in the lab tan in the mill itself. The equipment is the kind of things you see on CSI, checking DNA of the grain as it comes in checking gluten levels, and working closely with clients on specially formulated flour blends that meet their needs exactly.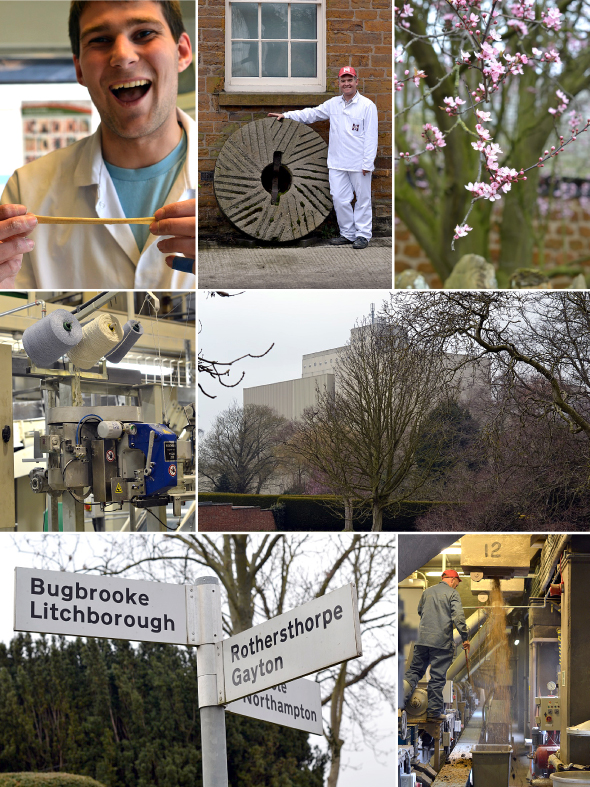 The Heygate group employs over 900 staff, compared to just 20 in 1935. The seven flour mills over three sites consume more than 450,000t of wheat a year, the vast majority coming from British farms. There are more than 80 grades of flour produced, for breads, cakes, pizzas, burger buns, chapattis, biscuits and more besides, supplying large manufacturing plants, in-store supermarket bakeries and craft bakers, delivering twenty four hours a day – seven days a week.With7 flourmills over three sites that process more than 450,000t of wheat a year they are a huge producer and as a group Heygate also have businesses in farming, flour and feed milling and baking, a feed mill, two modern bakeries and 7500 acres of mainly arable land in England. It's big business, but it is also still very much a family business. As the group's main location, the mill i am standing in produces the lion's share of the company's flour– over 200,000 tons of wheat is milled annually, resulting in 150,000 tons of flour mainly for bread production. A large quantity of flour is for Fine Lady Bakery's needs, but is also for biscuit manufacturers and other specialist areas – it's an amazing sight.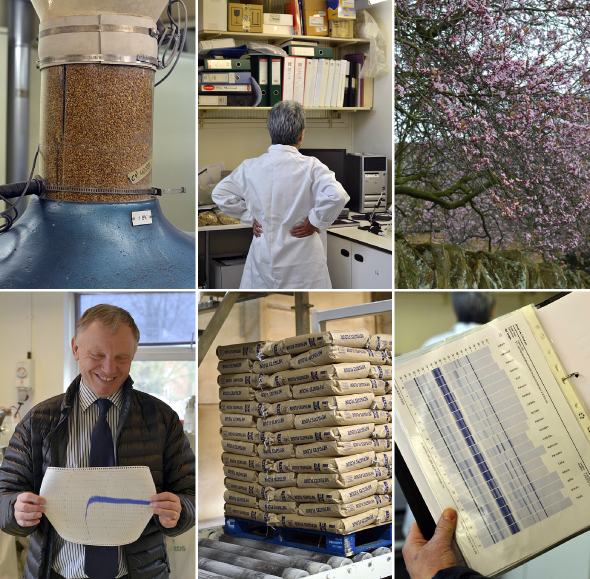 Rob tells me that there has been a mill on the very same site at Bugbrooke Northamptonshire for over one thousand years and it is mentioned in the Doomsday book. The site is now the group's headquarters situated next to the River Nene.
Despite being so big it is still very much a family business which has farmed in Northamptonshire since 1562. Rob explains that the family originally moved into milling in the 19th Century, when the grandfather Mr Arthur Robert Heygate Senior of the present joint managing directors, Mr Paul Heygate and Mr Bob Heygate, took over the family mill at Bugbrooke. The biggest change came in 1942, as Rob showed me marks on the walls where a fire destroyed the mill. It's replacement was capable of converting 24 sacks of wheat into 18 sacks of flour every hour, plus bran for a feed mill alongside. Then in 1944 another mill was acquired over in Tring in Hertfordshire, which was followed by the Downham Market mill in Norfolk in 1958. Heygates is without doubt one of the country's largest independent millers.
It seems to me as I walk around that the people working here are very content in their work – the atmosphere is friendly and relaxed. it's good to see that even though it is such a big business that they have kept the feel of a family business despite being a very modern, entrepreneurial company.