BREAD & GUTS
Our sourdough workshops are a completely new approach to making sourdough because it's not just about understanding the way in which the microbes that ferment our bread work, but also how the microbes that metabolise the bread in our digestive system work too.
All our courses bring together our passion for sourdough baking and research into the nutrition and digestibility of bread, and each person attending how the bread potentially affects their health.
Over the last few years, the gut microbiome and its role in supporting digestion and our mental and physical health has been one of the main areas of my research. Here at the school we have taken the most up to date scientific findings and applied them to sourdough and other fermented foods to create a course that focuses on the benefits of the food we eat to maximise nutrition and digestibility of bread and the foods that we eat with our bread.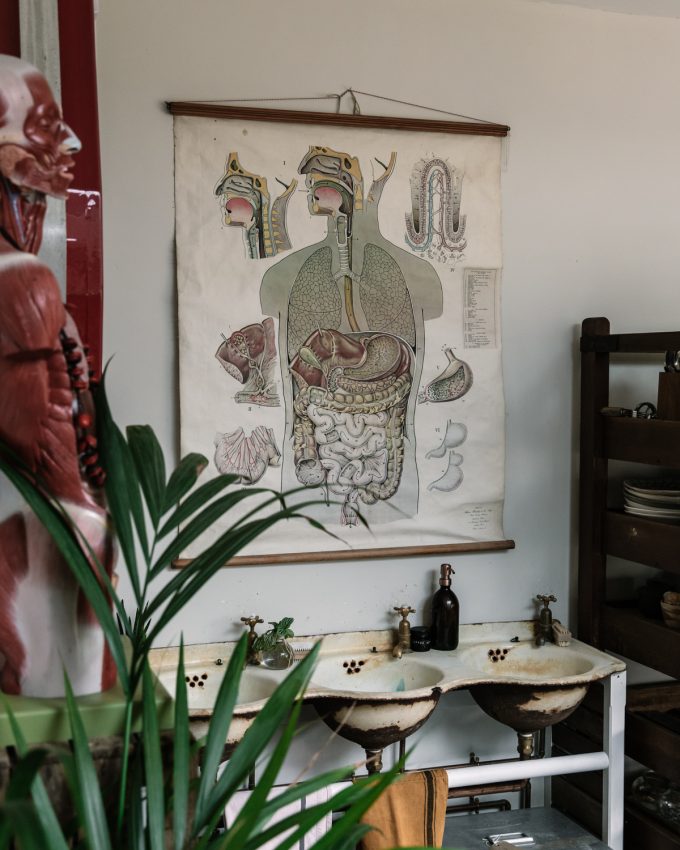 GUT MICROBIAL TESTING
To understand not just how to make sourdough, but how we digest bread and the effect this has on our microbiota we have partnered with Atlas Biomed, a preventative health company which offers gut microbiome testing. The test uses state of the art technology to analyse the DNA of the bacteria in an individual's gut microbiome. Working with Atlas Biomed, our students can use extra information to help them better understand their own unique balance of microbe and apply this knowledge to the way they make sourdough and what they eat with their bread.
Each student attending a Bread & Guts Course is able to buy microbiome test kit. Their personal results will give them in-depth information about the status of their gut microbiome, along with practical dietary recommendations for maintaining and improving their gut microbial ecosystem.
The results of the test, which become available online in your personal account, gives each student their own personal microbiome rating. Once logged in to their account, they can see which types of bacteria are present in their gut microbiome, and the relative abundances of each of the groups. But this test provides much more than a simple assessment of diversity and abundance. Based on the types of bacteria present and their ratios, students will get a breakdown of how well their gut microbiome could be protecting them from health issues such as type 2 diabetes, Crohn's disease and ulcerative colitis. There are also full details of how well the microbiome is functioning in terms of producing the vitamins, minerals and fatty acids that are essential to our wellbeing. This then leads to dietary recommendations for supporting the bacteria that are there and nurturing those whose populations need boosting for optimal health protection. All this information is beautifully and clearly presented, and backed up with citations of the research it is based on… so before you come to the course you can do a little extra reading around the subject if you'd like to.
We recommend that students will then have a second gut microbiome test 3 months after the course. This allows them to monitor any changes in the bacterial composition of their microbiome, and see if the changes they have made to their diet have had the desired, positive effect. Students also have a 12-month support program with more recipes, tips, techniques and articles to support baking and learning though the Sourdough club.
Working together with Atlas Biomed is going to be exciting, informative and, we think a great partnership. Just like our team here at the school, Atlas Biomed is focused on supporting people to make well informed, healthy lifestyle choices. And of course, they too recognise the importance of providing evidence-based advice, backed up by accredited scientific research.
Book on a sourdough course today