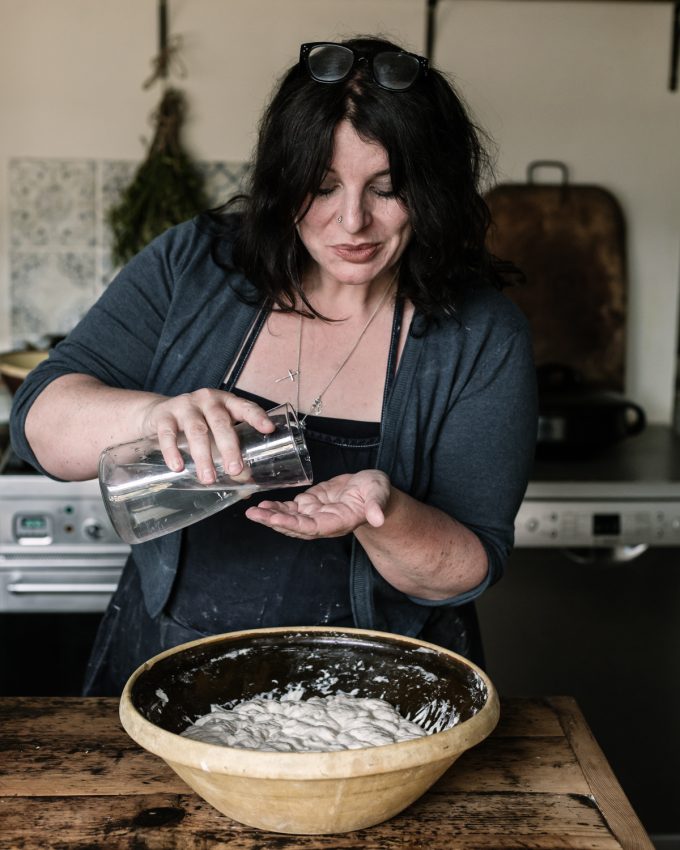 The history of The Bassinage Technique and why there is no direct translation
In 2016 author Vanessa Kimbell agonised over how to explain the method of adding water a little at a time to open the crumb structure in Sourdough in her book The Sourdough School. We don't have an English direct translation for bassinage because Vanessa repurposed a French term. 
The majority of the water is from the formula, reserving about 15 – 18% of the total water.
This water is then added to the dough in several small increments over the course of the mixing. Resting to allow the gluten to reform is essential, and water is added before the bulk fermentation begins.  
The last of the total water is added to the salt. It is generally considered that once the bulk fermentation begins, the bassinage is complete.
There is no specific number of additions.
This process was an insider secret to the incredible gluten development technique open structure of icon   Sourdough bread that was inspiring the world. To increase hydration and get a more open crumb it is best to add more water just a little bit at a time. Should it be water 1 & water 2? She tried this but it wasn't a doing action. Could she use the word watering the dough? No, this sounded like gardening. Was it hydrating 1 & 2 ..  and maybe 3 and 4? Perhaps… and so she remembered the way she was taught in the bakery in France as she grew up. Eau de bassinage, like autolyse is an old French technique. 
It translates as bathing water or drenching water. It derives from baigner meaning to bathe or se baigner meaning to swim. She googled the term, checked hashtags on Instagram, Twitter, Facebook found no English reference whatsoever to the term bassinage. It was risky to introduce a word like this her editor advised. It's not an accepted term. She suggested trying to find another term, but Vanessa stuck to her description. To begin to acknowledge the origins of the technique, she wanted the roots of this process to remain a French technique. With so much cultural appropriation she felt this was the only way to preserve the authenticity of the technique. 
Bassinage is now officially incorporated into the English language structure of Sourdough baking. 
It is a very traditional technique, but what is really important to remember is that the " eau de bassinage"  ( the water) is removed from the total water in the formula.
So if you have a total of 800g of water in the formula with 50g bassinage then you will mix 750g of water initially with the flour, then add the 50g gradually at a later stage during the bulk fermentation stage.