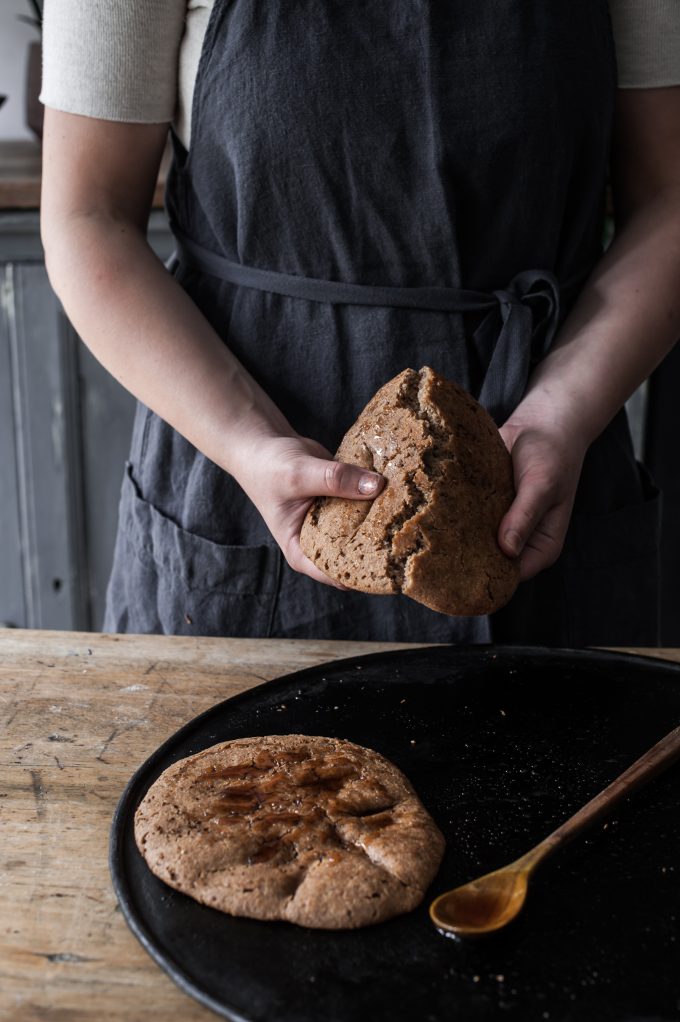 Why could adding aniseed to sourdough help with IBS and symptoms of depression ?
Many people with irritable bowel syndrome (IBS) report that they can eat sourdough without digestive discomfort, even when they have difficulty digesting other types of bread. There is evidence that sourdough's long, slow fermentation reduces IBS symptoms. But what if you could improve both flavour and the digestibility of your bread by adding in a common spice, such as aniseed? And, better yet, what if that could change that way you feel – not just physically, but emotionally, too?
Aniseed
Anise (Pimpinella anisum) is an edible flower more commonly known as aniseed. It has been used in baking and cooking for many years due to its intense liquorice-like flavour and is frequently used in Mediterranean-style dishes. Aniseed is thought to have a variety of health benefits and has been used as a traditional medicine on a global scale for centuries. It has an impressive reputation for providing positive effects on our digestive tracts through its antimicrobial ability, and it has also been suggested as a treatment for depression in those with irritable bowel syndrome. So how does consuming aniseed oil affect the symptoms of depression, and why should we be using more aniseed in our baking?
It has been suggested that aniseed oil can have a positive impact on the gut-brain axis, and although it remains unclear as to exactly how this is achieved, it may be due to its antimicrobial activity. The antibacterial properties that aniseed displays could be beneficial in reducing dysbiosis in the gut microflora, eradicating the 'bad' bacteria and allowing the 'good' bacteria to flourish. It has been found that some species of 'good' bacteria are responsible for regulating the production of the neurochemical serotonin within our brains. Serotonin is nicknamed the 'happy chemical' as it plays a major role in our happiness and general mental wellbeing. Therefore, aniseed could reduce depressive symptoms by promoting the growth of the 'good' bacteria that helps to produce more serotonin.
An interesting aniseed study
This study, conducted in 2015, assessed the effectiveness of aniseed oil capsules in the treatment of depression in patients with IBS. The study used 120 participants, and these were split between three groups: one group who were given anise oil (200mg) capsules; one who were given peppermint oil (187mg) capsules; and one group who were given a placebo capsule. The participants took one capsule before each meal, daily, for 4 weeks. The participants did a Beck Depression Inventory II test (a survey for assessing the severity of someone's depression), both before and after the four-week study.
The results of this study showed that, after four weeks, those that were taking the aniseed oil capsules had a significant reduction in depression severity when compared to their scores before the study. The group taking the aniseed oil capsules were also found to have significantly lower depression severity than those in both the peppermint oil group and the placebo group. The reduction in the severity of depression seen in the aniseed oil group suggests that aniseed oil is effective at improving symptoms of depression in patients with IBS.
From the results of this study, if you are suffering from IBS, we recommend trying to add aniseed into your sourdough bakes as it may help promote better mental well-being and relieve digestive discomfort. One of the simplest sourdough recipes you could bake is the Tibetan Monastery Sourdough Bread.
MOSAFFA-JAHROMI, M., TAMADDON, A., AFSHARYPUOR, S., SALEHI, A., SERADJ, S.H., PASALAR, M., JAFARI, P. and LANKARANI, K.B., 2017. Effectiveness of Anise Oil for Treatment of Mild to Moderate Depression in Patients With Irritable Bowel Syndrome. Journal of Evidence-Based Complementary & Alternative Medicine, 22(1), pp. 41-46