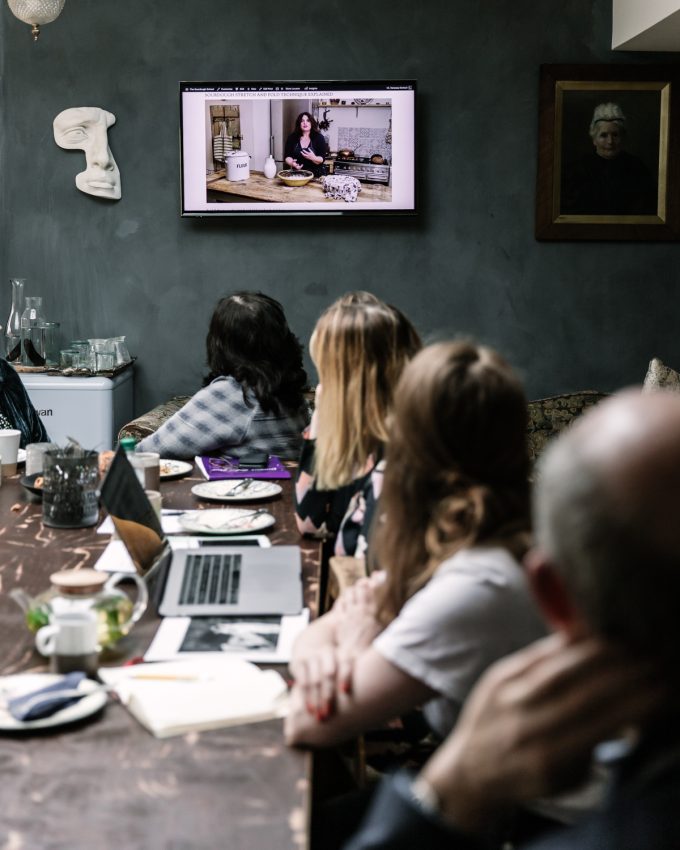 This is a radical systems change.
If you are a healthcare professional or a baker wanting to make bread that supports health, then this news will be of particular interest to you. We don't just teach people to make bread; we empower them to connect the way they bake and eat bread to the way they feel, both physically and mentally.
I am delighted to announce that as of September, our healthcare professionals graduating from our Diploma Courses will be able to prescribe our sourdough baking courses as both social and lifestyle medicine prescriptions. What is more these social prescription courses are affordable to the patients.
Our bread making courses, use an evidence based approach to effectively prevent, manage and help to treat lifestyle-related chronic conditions, and therefore can be considered lifestyle medicine. In this way our courses are very different from other sourdough courses.
The diversity flour for these courses is supported by a fund that makes vouchers available to lower income patients. This enables them to buy the flour that provides the diversity and fibre to support optimal gut function and mental health at an affordable price.
It's taken us 4 years of work to be able to share the full extent of courses, ingredients, books and a program that support systems change. I am beyond excited to be able to share that Shelia Dillon will be including a little of our groundbreaking approach to sourdough baking courses and the social prescription and preventative lifestyle medicine interventions that GP's can prescribe in tomorrows BBC Radio 4 Food Programme.
"I realised that change was needed in the way we approach medicine, and bread making could empower both doctors and patients."
The courses empower patients to learn how to bake and eat bread to nourish and use the same protocol used in our dietary intervention studies that underpin our courses in Nutrition and Digestibility of Bread.
In 2018 when the waiting list for people to be able to attend my bread making courses was almost 2 years long, I realised that change was needed in the way we approach medicine. I learned from almost every class that there was an epidemic of preventable lifestyle related diseases sweeping the country.
Whilst my baking students were reporting improvement in their health as they changed dietary habits, the GP's would report that the levels of lifestyle, preventable diseases they were seeing in patients were unprecedented. I would share examples of individuals, who reported tangible improvements in their health. Sharing students feedback as they reported better gut motility, weight loss, improvement in cholesterol, lower blood pressure, reversing pre-diabetes, improvement in sleep patterns, and energy levels and a would write about feeling joy, purpose and connection to the world in baking and sharing their bread.
Teaching the GPs without a solution was useless
The knowledge shared on the courses examined the science behind the transformational process of fermentation and how this changed the structure of bread. We'd examine in detail the the role of fibre and diversity and how the gut and brain are connected. I would teach how it is not just the sourdough bread, but the composition of flour and the way you eat bread that supports gut health. Part of understanding how good bread is healthful was in sharing how bread making had brought about positive changes in peoples lives. The doctors understood that baking was a way for patients to connect, to themselves, their community, food systems, the environment.
Attendees on these courses were, almost without exception, at the front line seeing patients and they would explain to me that day to day they were having to deal with unprecedented increases in lifestyle diseases. Figures reported in the US suggest that 27% of all healthcare spending is on preventable diseases.
Every course I taught further highlighted the fact that healthcare providers simply didn't have the tools to fix the serious damage to public health from lifestyle diseases. All the GPs had the same challenge, of seeing patients day in and day out with preventable illnesses leading to early death, including obesity, diabetes, cancer, cardiovascular diseases and neurodegenerative diseases. It was obvious that our healthcare providers are fighting a losing battle, and it shocked me to the core to listen to the demoralising reality facing doctors. To put the size of the battle into perspective, in 2019 alone, fast-food restaurants spent $5 billion in total advertising and recent reports have since highlighted that that 50% of calories we consume in the UK are now coming from ultra processed foods.
You can't build a systems change on anecdotal evidence
Despite reports from dozens of my students how changing their approach to bread had a positive effect on their health, the course were not impactful. Yes all the evidence was backed up by research from countless studies, and they also appreciated that baking is a powerful form of activism that brought inspiration and purpose to patients, they also wanted evidence and a way to share this knowledge with their patients. It was in 2019 whilst I was listening to the group of healthcare professionals sitting at the table here at The Sourdough School that I realised that teaching the GP's without a solution was useless. Anecdotal evidence simply wasn't enough, even when coupled with the research papers explaining the outcomes this was not enough to legitimately be able to say that my approach to bread could be considered preventative medics. I needed to do something more.
Half a solution is no solution
What I needed was the physical proof, hard evidence of the mechanisms as well as a way of delivering this knowledge that could explain the process and the results I was seeing in my student to their patients.
On a social level, teaching people to bake was a no brainer, but only teaching this was a compromise. I wanted more that just the social benefits. I wanted the full benefits I was witnessing from my students delivered. More than this I wanted a full systems change solution to patients that incorporates not just social change but I wanted to deliver a solution that transformed health completely. From the moment that a person adds water to flour they are transformed into a baker and I needed to find a way to deliver every day bread prescribed as affordable, practical preventative medicine.
So I had to formalise our protocol, test it, and build a way of delivering it. No small undertaking for a baker with two part time staff, a family and a home to run.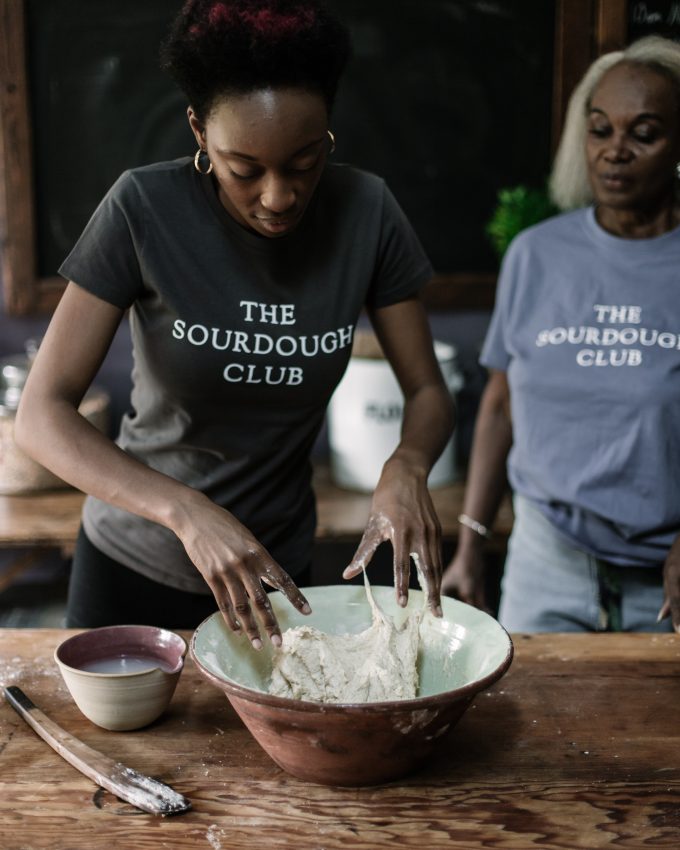 First I had to break a successful business model – and my friends told me I was bonkers.
To find the time to research, create and deliver a solution I had to stop teaching beginner bread making courses. My friends and family told me stopping my 2 and 3 day bread making courses was absolute madness. There I was set for life, with a comfortable way of living, doing something I loved, but despite being comfortable I knew the knowledge I have needed to be shared. That this solution was not mine to keep, it needed sharing. A Greek baker and student recently told me that bread, like death, belongs to everyone. Keeping this understanding of how we evolved, the role of fibre and fermentation and the knowledge of how this could support health just for the privileged few, felt wrong.
Total change meant changing totally
It has been challenging on every level to create a solution. From moving my courses online, and keeping The Sourdough School running, whist writing two more books, creating an easy 10 Minute sourdough technique, redesigning the courses, and undertaking the dietary intervention studies, and surviving COVID. Formalising The Sourdough School Bread Protocol of baking to support the gut microbiome and mental health has taken 4 years of hard work. Long hours and an amazing team, and business partner Dan, who all go above and beyond. Year on year the price is paid by my family with the hidden support that has enabled me to work on my Doctorate.
( I am hoping to finish this doctorate by December and I am still working on it. I will, when we are ready share the details of the full extent of the systems change across the systems including an amazing project on large scale bread production that is underway.)
The dietary intervention studies examining change in the gut microbiome and the impact on mental health
I followed a single case study design, common to psychiatry, with the help of Professor David Veale and encouragement from Tim Spector, and a good deal of guidance for Dr Miguel Mateas, grains from Gilchesters and Mockmills sent to participants, as well as gut tests provided by Atlas Biomed.
Each participant had their gut microbiome tested before and after following our bread protocol for 3 months. The results? We saw increases in the balance of the microbes that produce butyrate, associated with lowering inflammation. All the participants reported feeling better, and as part of the study we measured anxiety scores. We saw 9/10 scores improve and one remain stable. This was the evidence that I needed.
As I wrote up the findings for my doctorate, Brian, my professor asked the question of how my work was actually going to be effective. The Sourdough School may have been at the forefront of making sourdough bread known, with years of work sharing knowledge, and teaching people, but in terms of impact on health, I had not delivered the solution to solve the challenges faced by the medical students. I needed the bread to be a prescription that doctors could administer.
I am not a partial radical kind of person, and I was not prepared to compromise.
The concept of bread making courses as a social prescription course, and as a preventative medicine course is ground breaking. We began working on filming and delivering the courses over 18 months ago, but I held back launching the prescription courses, because of a feeling.
I needed to do more than launch the courses online. I had to find a way to to get the patients to connect. To support changes to the whole system, to join the dots, and to share the understanding with patients, I needed to deliver the course with the kind of flour that has integrity, diversity and fibre. The kind of flour that we use to bake with at The School, and that our participants used in the studies.
The solution came from partnering with the amazing Hodmedods team to produce the hand blended stoneground Botanical Blends Flour . Hodmedods support British farmers with an equally radical approach to the way our food is produced with an agro economical hub that distributes and mills sustainably farmed beans, pulses and grain. We recreated the flour blends that we used for my dietary intervention studies, that increase levels of fibre and diversity.
Empowering our graduates with free social prescriptions through the Sourdough Club
As part of a social enterprise approach we decided that our graduate healthcare professionals could apply for an annual prescription license which would give them access to free courses to prescribe, but to really deliver a full systems change I needed to support their ability to get their patients to participate.
Creating a flour that supports diversity in the environment and the gut means production costs are higher than mass produced flour. I knew that not all patients would have the funds to buy the flour we created. So with Hodmedods we have created a circle of support. I have set the profits from the sale of these flours aside as a discretionary fund to enable our licensed healthcare graduates to be able to gift flour vouchers to patients that they feel would not have the financial ability to afford to participate. This amazing product that supports the prescription courses is only possible with the help of the Hodmedods team, Nick and Josiah, as likeminded radical thinkers, who share a vision of systems change.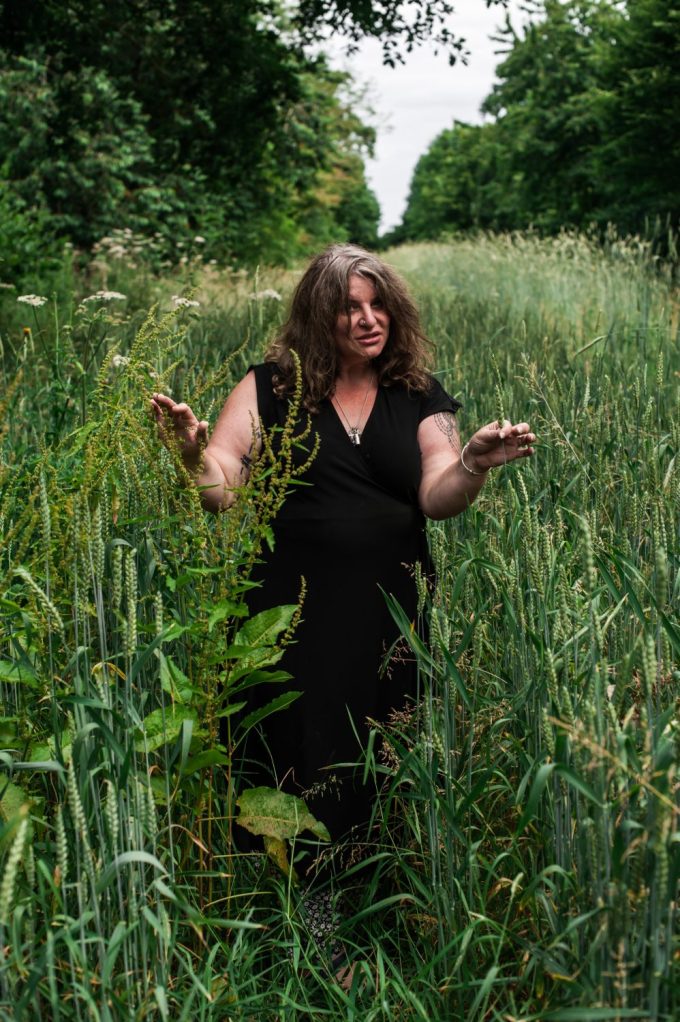 Bakers supporting bakers
So the flour fund is small, but it is in place and growing. This way we can encourage lower income bakers to participate in the courses, with affordable flour.
I absolutely love that any baker, who uses our Botanical Blends to bake bread, is nourishing their customers and also supporting systems change.
This is a circle that also encourages sustainable farming practices and that supports a regenerative approach to soil systems. It is a way to make sure that farmers are paid fairly, and that we are connected to the miller, whilst baking bread that provides fibre, and diversity needed for a healthy gut microbiome and what's more it's delicious.
Will the lifestyle prescription courses be available to anyone else?
Yes, although the courses will not be free they will be priced affordably. We are only able to operate as a social enterprise because we are able to offer our courses to anyone who wishes to do them. It is the students who pay for their courses that pays for us to run the program.
We also have scholarships and bursaries and discounts for our longer courses.
Our 12 week Sourdough Bread Making Courses launching in September will also be available to the general public and can be purchased here.
Will sourdough bread-making prescription courses become mainstream medicine?
When you look at the figures there are many chronic disease that can be prevented through lifestyle interventions. The tide is turning and I do not think that people should just accept that we are victims to the immoral profiteering of an industrial food system. There are new organisations that are setting up, such as the Society of Lifestyle Medicine, who also acknowledge baking and bread making as a potential healthcare solution.
We need to ask for accountability from both government and food manufacturers. Social enterprises such as ours have started to run social prescribing programme as the UK government will do little to regulate or protect the public from the manipulative tactics of mass global food creation, production and marketing of processed food that is designed to be addictive. Pioneering scientists, such as Tim Spector, who is heading up Zoe ( a gut health testing company that individualises advise to each person according to their gut microbiome) are not waiting for a government solution. They are sharing knowledge, of foods as preventative medicine, whilst acknowledging the role of dietary inflammation.
Social prescribing, has been shown to be empowering, affordable, and achievable. Even today in the news the Observer shared a feature on social prescribing. So yes, I believe that preventative lifestyle medical approaches will become mainstream tools for medical professionals to use in the fight for public health.
Vanessa Kimbell