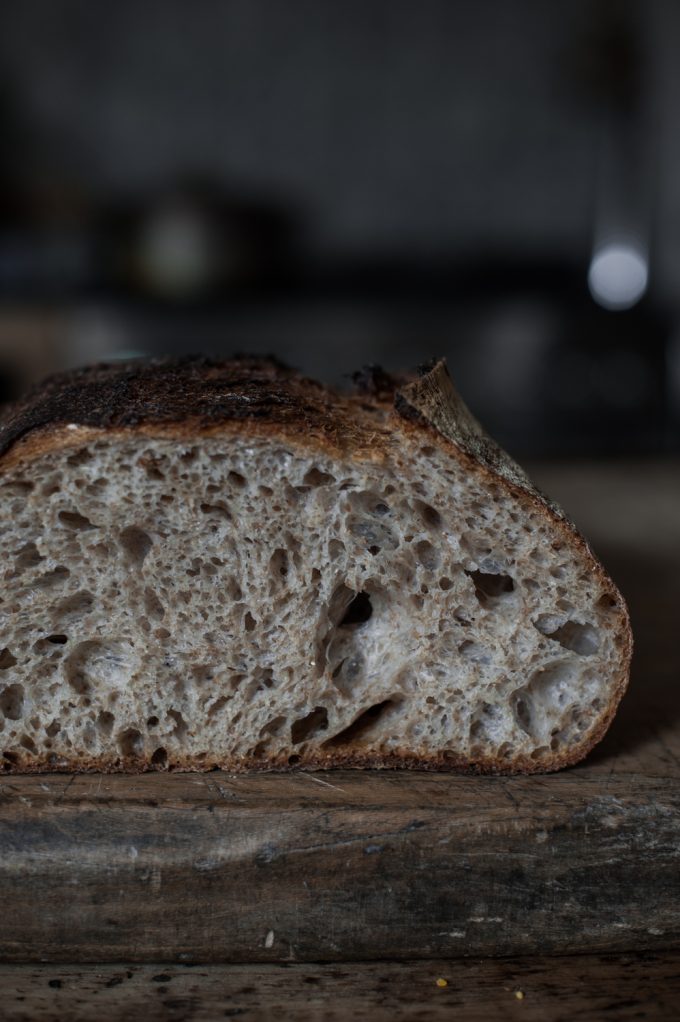 I first came across
Gilchesters Organics
in the summer of 2010. It wasn't like any flour I had used before, for a start it was grown in the UK. I was further intrigued to discover that Andrew and Bille Wilkinson, who owns the farm, not only grew their wheat organically but they milled the flour themselves too. I phoned to find out more and not long afterwards Billie kindly sent me a box with the full range of their flours to try. I tentatively made my first sourdough using Gilchesters and was delighted when it made outstanding sourdough bread. I've been meaning to get up to visit the farm ever since. Last week we went to Hadrians Wall – the views were stunning. Sadly though I did not get the chance to catch up with Bille and Andrew; as with all the best-laid plans of mice and men, when I was close by they were away, so I will have to go back another time. It did, however, prompt me to write about the flour. Wholemeal flour has become one of my absolute favourites. I use it to teach the
British Wholemeal Sourdough Course.
The flavour of sourdough bread made with this flour is truly exceptional. It is complex, sweet, fruity and has a moist tender crumb. You can really get a sense of the whole grain in the bread and almost detect the wheat germ oil in the crumb. It is delicious, but the flour appeals to me on another level. Gilchesters defies all convention when thinking about growing wheat. It is UK flour that is sustainably grown, without the use of artificial fertilisers, pesticides, herbicides, and stored without the use of anti-fungicides. It is a truly ethical product.
There is more to it than just being organic though. The wheat is twice the height of most of the crop you'll see on conventionally grown farms because it is a carefully selected range of heritage varieties. These varieties have long been replaced by modern, high yielding wheat on most farms, but Gilchesters set out to find
ancient grains
. The story is beautifully romantic; they sourced them from European seed banks after researching which would best be suited to the growing conditions and the desired characteristics of the flour that the grain will eventually become. Much of the wheat grown on the farm dates from before agricultural practices were intensified after the First World War, and grows well under the organic regime.
The focus on
heritage grains
comes from a passion for producing wheat and spelt that have a depth of flavour and high protein content not seen in many modern organically grown varieties. I've had a particular interest in heritage flour for a number of years, since discovering an old pamphlet and reproducing the bread from the 1770's. One of the key things I discovered as I researched was that heritage grains gluten levels are generally lower than modern varieties. Along the way to producing higher gluten, higher-yielding wheat we'd lost so much of the amazing flavours and textures found in ancient grain.
Gilchesters have done something remarkable – they have succeeded in quite literally recapturing the flavours that were lost over the past century, in that drive to develop high yielding wheat for commercial bread production, whilst maintaining high enough protein to make a beautifully structured loaf.
The farm's purpose-built mill came about when they were unable to find anywhere locally to produce flour from their carefully nurtured
grains
just the way they wanted it. This led them to import a small stone-mill from Germany which now produces high-quality flours on the farm. The range includes unbleached white and wholewheat flours for bread making, which are very well respected among artisan bakers and used by the likes of E5 Bakehouse in London. They also have spelt flour, finely-ground pizza and ciabatta flour, semolina flour for pasta making, and award-winning spelt biscuits.
My top tips for making sourdough with Gilchesters Organic Wholemeal:
Be attentive to your dough. This is a lively flour. Take care not to over prove your dough. Because this wheat is grown in a maritime climate it has a good amount of naturally occurring enzymes, couple that with the fact that this flour is organic, stone-ground and wholemeal it is also high in nutrients which makes it an active dough. You are far better slightly under-proving slightly than over-proving.
Use a shorter 30-minute autolyse and use a thermometer to control the temperature of your dough. I kept my dough temperature at about 23 degrees during the stretch and folding.
It needs a good level of hydration. I recommend between 75% and 78% hydration for a manageable dough with a lovely open crumb.
A long slow ferment in the fridge will result in the crust being darker, and more delicious because more of the starches have been transformed to sugar. It also gives it time to develop some sourness.
If you are used to working with roller milled flour and find this dough challenging at first then try blending with an organic roller milled 00 flour using a 50:50 split. It is still just as delicious, but sometimes it can help to move to a new flour in stages.