I was recently recommended by a friend, who knows a thing or two about baking, to try some flour from a mill not so very far from me. Like most mills it has been established for a long time, and has local British grain at its heart.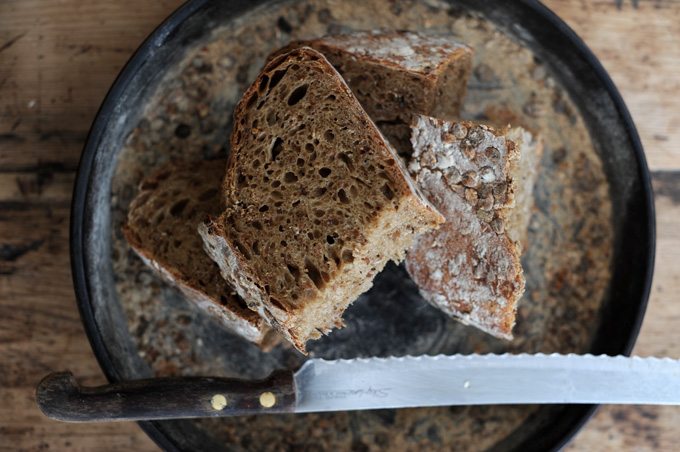 Frederick William Powell Matthews first opened the FWP Matthews mill near Chipping Norton, back in 1912, where he milled the soft wheat grown by Cotswold farmers to produce flour perfect for baking. The quality of the flour and good transport links to the rest of the country meant that the mill was soon supplying well-known biscuit manufacturers such as Peek Freans, Huntley & Palmer and Jacobs. I love that the business has remained family-run with Paul and Graham Matthews, who are the great, great grandsons of the founder Frederick William Powell Matthews, at the helm. Over the years the business has had to adapt to keep up with a changing market, and in the 1960s when there was a downturn in demand for biscuit flour they took a new direction and the mill switched its focus to providing high quality bread flours to independent bakers. By the 1990s FWP Matthews flours were gaining a following among craft and artisan bakers, as the interest in real bread and sourdough began to gain momentum.
The range of flours they offer has grown with demand from both commercial and home-bakers, and the mill now produces both organic and conventional flour. FWP Matthews sources as much locally grown wheat as possible, blending the grains to get just the right mix for each of their flours.
You may well remember an endorsement last year for the company from our Prime Minister, David Cameron, albeit he makes his bread in a bread maker. He recommended the Cotswold Crunch flour – a speciality blend of strong white flour, malted wheat flakes and malt flour.
Truth be told I am always hesitant to recommend baking a sourdough that has malted flour in unless you are an experienced baker because it is so lively, and there is a real danger of over-proving, so being able to judge when the dough is ready to bake is essential for success. That said it is really fantastically malty, with a wonderfully complex sweet crust and makes an aromatic, bouncy dark crumb with great texture from the wheat flakes – so well worth baking. It is also organic, which is a real plus.
The malt flour used in the blend is made from malted barley, and as a result it is enzymatically very active. It is full of alpha and beta amylase enzymes which break down carbohydrates into fermentable sugars…as these enzymes break down the starch into simple sugars, the yeast benefits from lots of "food," and metabolises them. When there is alot of enzyme action there is a risk that dough can ferment too quickly. As the starch becomes sugar the dough becomes sticky, this in turn makes the bread really delicious with a really stunningly good crust, but it is also makes it a challenge too.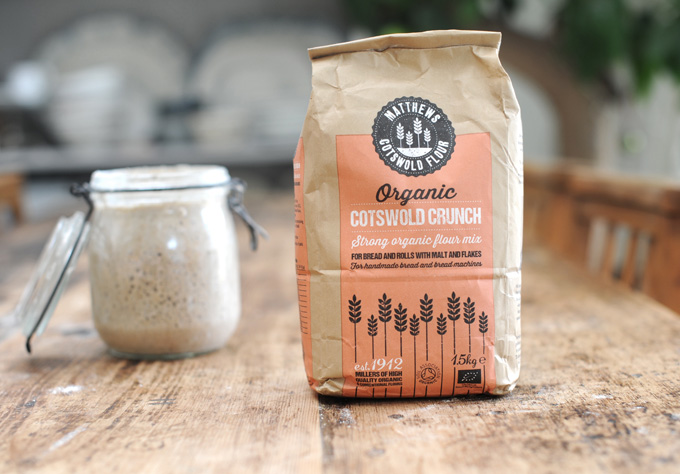 Tips to bake sourdough with Cotswold Crunch
Keep your eye on the dough. It is very energetic. So much so that if you are a beginner at baking sourdough, and want to have a go with this flour, then I suggest that you butter and flour a bread tin rather then try and form a boule. Proving in a tin is more forgiving. You will also need to reduce the baking time by about 20 minutes or so.
Use a short 30-minute autolyse and be sure to control the temperature of your dough. I kept my dough temperature at about 22 degrees during the stretch and folding.
Expect a very sticky dough, but don't be tempted to add more flour.
When shaping use a little wholemeal stoneground flour which helps with the tackiness, and be careful not to over handle the dough – it gets stickier the more you handle it.
You are far better off slightly under-proving this dough than over-proving.
Because of the additional sugars, the crust will be darker, and more delicious, but it can also burn more easily, so check your loaf 10 minutes earlier than you would normally.
Enjoy. Every flour is a new challenge and making sourdough bread with a new flour makes a change, and makes you a better baker too.