The increasing presence of chemical additives and agrochemical residues in our daily bread is a cause for concern. The long-term health effects of these substances, particularly when consumed in combination, are not yet fully understood. As a baker, I feel that it is essential to be aware of the potential risks associated with the chemical cocktail found in industrially produced bread and ensure that we are communicating the value of our work, that supports sustainable and healthier alternatives, such as bread made using traditional methods and natural ingredients. By doing so, we can protect our health and contribute to a more environmentally responsible food industry.
Compounding these concerns is the issue of bread labelling in the UK as supermarkets are not obliged to disclose the presence of additives in bread due to food regulations. As a result, customers may unknowingly consume bread that contains hidden chemicals.
Amidst these concerns, artisan bakers are facing increasing pressure as customers opt for cheaper bread alternatives. To help these bakers communicate the advantages of traditionally-made bread, this article delves into the potential risks associated with the chemical cocktail found in everyday bread, highlighting the importance of understanding the impact of these additives on our health and the environment.
We do not know what the long-term effects of chemical cocktails in bread are.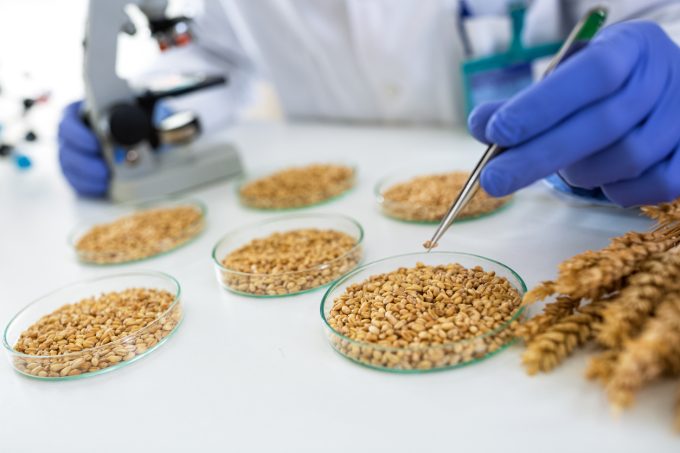 The use of emulsifiers, preservatives, and bread improvers in the food industry is widespread, with many of these chemicals being tested in isolation over relatively short periods. However the possible effects of these additives on human health, when consumed in combination over time, remain largely unexplored. This raises significant concerns, as the long-term impact of this chemical cocktail on our bodies is unknown.
Furthermore, recent findings from Pesticide Action Network (PAN) UK have shed light on the alarming increase in the presence of agrochemicals in bread. According to PAN UK, the proportion of bread containing two or more pesticides has nearly doubled in the past year, with 50% of bread now found to contain pesticide cocktails. These findings are based on government testing of various bread products, including white and brown bread, crumpets, scones, and muffins.
A total of eleven different pesticides were identified in these tests, with five of them linked to cancer, namely cypermethrin, deltamethrin, flonicamid (insecticide), fosetyl (fungicide), and glyphosate (herbicide). The presence of glyphosate in grains is largely due to its use as a pre-harvest desiccant, which artificially dries crops to facilitate harvesting. Banning the use of glyphosate as a pre-harvest desiccant could potentially reduce the amount of this residue found in grains.
Here is a list of some common food additives, including preservatives, enzymes, emulsifiers, and bread improvers, that are approved for use in the UK by the Food Standards Agency (FSA). Bread additives are commonly used in the UK to improve texture, prolong shelf life, and enhance appearance. While none of these ingredients are considered dangerous, some may not be necessary when baking bread. This article examines the health, environmental, and gut microbiome impacts of these additives, focusing on the principles of health and social justice.
Preservatives in bread and bake goods:
Potassium sorbate (E202): used to inhibit mould and yeast growth in foods, potassium sorbate is generally considered safe. However, it may cause skin, eye, and respiratory irritation in sensitive individuals.
Calcium propionate (E282): as mentioned in the previous response, calcium propionate is a common preservative in bread. While generally safe, it has been linked to migraines in sensitive individuals and may negatively impact the gut microbiome.
Sulphur dioxide (E220): often used as a preservative in dried fruits, wines, and other foods, sulphur dioxide can cause respiratory problems and allergic reactions in sensitive individuals, especially asthmatics – many are in fruit breads.
Sodium sulphite (E221), potassium sulphite (E225), sodium metabisulphite (E223), and potassium metabisulphite (E224): these sulphite compounds are used as preservatives and antioxidants. They can cause allergic reactions and respiratory issues in sensitive individuals, particularly those with asthma.
Sodium metabisulphite (E223) and potassium metabisulphite (E224): both of these compounds are used as preservatives in a variety of food products, including baked goods. However, their use in bread is less common as most bread products have a short shelf life and do not require these types of preservatives. There is some literature that indicates that they can cause allergic reactions in sensitive individuals, particularly those with asthma or sulfite sensitivity.
Sodium erythorbate (E316): a synthetic antioxidant, sodium erythorbate is generally considered safe but may cause headaches and gastrointestinal issues in sensitive individuals.
Ascorbic acid: a natural antioxidant, ascorbic acid (vitamin C) is generally safe and beneficial. However, it is often synthetically produced, contributing to chemical pollution.
Enzymes in bread and baked goods: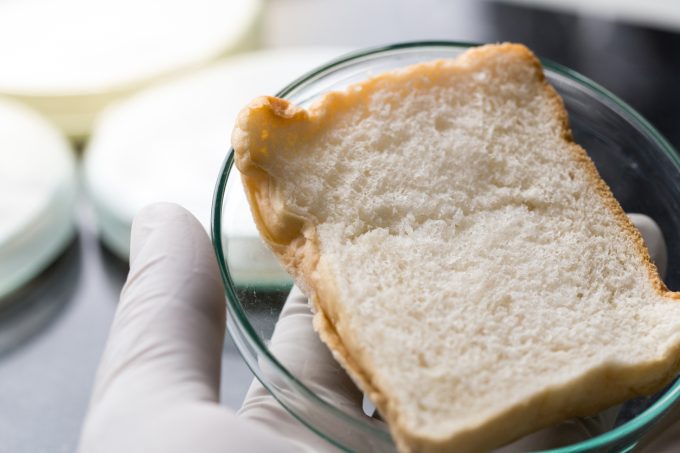 Amylases included in flour

are enzymes used to break down starches into simple sugars and are generally considered safe with minimal health impacts. There are two primary forms of amylases: alpha-amylase and beta-amylase. Both forms are found in plants, animals, and microorganisms and play an essential role in digestion and carbohydrate metabolism.

Alpha-amylase is most commonly used in the food industry for bread and beer production. It breaks down the starches into maltose and other oligosaccharides. Beta-amylase, on the other hand, mainly converts starch into maltose, a disaccharide sugar.

One source of commercial amylases is from the fungus Aspergillus oryzae. In some cases, genetically modified (GM) strains of Aspergillus oryzae are used to produce these enzymes more efficiently. While GM organisms can raise concerns about their potential impact on the environment and human health, the enzymes produced by GM Aspergillus oryzae undergo purification processes that separate them from the source organism. As a result, the final enzyme product is free of any GM material, minimising the risk to human health and the environment nevertheless you might feel that you want to know if this is in your flour as a baker, as GM may be something that does not sit in your values.

Proteases are enzymes that break down proteins into smaller peptides and amino acids, playing a crucial role in digestion and various biological processes. They are generally considered safe and beneficial for digestion. Proteases can be derived from various sources, including plants, animals, and microorganisms.

In the food industry, proteases are often obtained from microbial sources such as bacteria and fungi. One of the most common microorganisms used for protease production is the fungus Aspergillus. Other sources include bacteria such as Bacillus subtilis and Bacillus licheniformis.

Genetic modification may be involved in the production of proteases to enhance their production efficiency or improve specific enzyme properties. For example, genetically modified (GM) strains of

Aspergillus oryzae,

Aspergillus niger, or Bacillus subtilis can be used to produce proteases more efficiently.

Lipases are enzymes that break down fats into fatty acids and glycerol, playing a critical role in digestion and nutrient absorption. They are generally considered safe for human consumption and can have positive effects on digestion and overall health.

Lipases can be derived from various sources, including plants, animals, and microorganisms. In the food industry, microbial lipases are often preferred due to their stability, specificity, and the ease of large-scale production. The most common microorganisms used for lipase production include fungi, such as Aspergillus and Rhizopus species, and bacteria, such as Pseudomonas and Bacillus species.

Similar to other enzyme production processes, genetic modification may be involved in lipase production to increase efficiency, enhance enzyme properties, or improve yield. Genetically modified strains of microorganisms, such as Aspergillus oryzae or Bacillus subtilis, can be employed to optimise lipase production.

Note that enzymes produced by genetically modified organisms undergo a purification process to separate the enzyme from the source organism. This ensures that the final enzyme product is free from any GM material, minimizing potential risks to human health and the environment.
Emulsifiers in bread:
Mono- and diglycerides of fatty acids (E471): often derived from plant oils or animal fats, E471 may have some negative health effects, including an increased risk of heart disease and weight gain. Furthermore, their production contributes to deforestation and habitat loss.
Polysorbate 80 (E433): a synthetic emulsifier, Polysorbate 80 has been linked to inflammation, compromised gut barrier function, and microbiome alterations, potentially increasing the risk of obesity and metabolic disorders.
Lecithins (E322): usually derived from soybean oil, lecithins are natural emulsifiers. Although considered safe, their production may contribute to deforestation and climate change.
Sodium stearoyl-2-lactylate (E481) and Calcium stearoyl-2-lactylate (E482): these synthetic emulsifiers have minimal health impacts, but their production can be resource-intensive and potentially contributes to environmental pollution.
The low down on bread improvers:
L-cysteine: a natural amino acid, L-cysteine is, according to some literature, sourced from human hair, feathers, or petroleum by-products. Although safe, the sourcing methods may be unpalatable to some consumers.
Fungal alpha-amylase
Xylanase: a natural enzyme, xylanase is safe for consumption, but its production may require large amounts of resources and energy.
Glucose oxidase: derived from fungi or bacteria, glucose oxidase is safe for human consumption. However, its production may have environmental implications, such as resource depletion and pollution.
It's worth noting that this is not an exhaustive list and that there may be other food additives approved for use in the UK. Additionally, the use of some additives may be restricted to specific food products or limited by maximum usage levels set by the FSA
Share this knowledge with your customers
My work is about supporting bakers. This feature has been written to provide an informative feature for bakers to share with their customers. In doing so, I hope that this helps bakers to communicate to customers and to provide an understanding of the invisible value and benefits of choosing sourdough bread made with only flour, salt, and water as a way to avoid hidden chemicals. By effectively communicating the value of artisan bread, bakers can foster a greater appreciation for traditionally-made bread and its role in promoting better health and social justice.