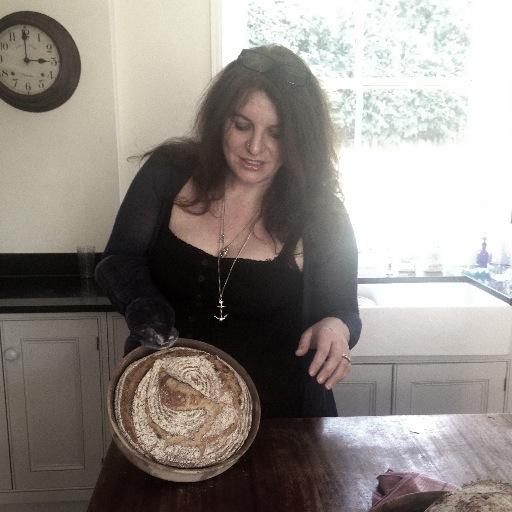 One of the reasons I first started teaching people to make sourdough was to show people how easily they could run a bakery from home. As well as milling our own flour, using herbs and flower from in the garden here, we also share that making unique home milled and fermented bread is a great way to supplement your income running and a pop up bakery from home is really fun. It's a great way to meet people and if you have children then I certainly recommend it was a fantastic way to get my children earning their own pocket money.
I set up our bakery in the summer of 2011 – it was a brilliant idea and a way to teach my children the value of money. I'd worked out that by milling grain, adding in herbs, such as lemon thyme for roses to the mix then the bread was. special and the price of making a sourdough loaf to be about £1 and they sell for about £3 so this seemed like a great way to combine the garden and the kitchen to make some dough!
(Excuse the pun.) Admittedly as a baker I had a pretty good idea how to go about setting it up, however it is relatively inexpensive to set up and requires very little investment to produce beautiful artisan sourdough loaves that have your customers returning every week. We sat at the kitchen table for a family conference and agreed that we should have a go ourselves. I'll give you three weeks, said my husband, ever the optimist. The children were ecstatic and promised to help.
There was a steep learning curve and a few disasters along the way but it works really well. We ran the bakery for almost a year, making breads such a lemon thyme, black pepper and rosemary focaccia, and adding roses and Angelica to the baguettes, and milling lavender in the flour too. The locals call me beautifully eccentric but we have such a wonderful time doing it. Our customers often stop for coffee( and yes I have even milled coffee beans and green tea in the breads) and we chat, our neighbours stand and gossip and my children are really good at mental arithmetic and making bread. I'm not sure it's taught them the value of money yet … but it kept them so busy that they had much less opportunity to spend it!