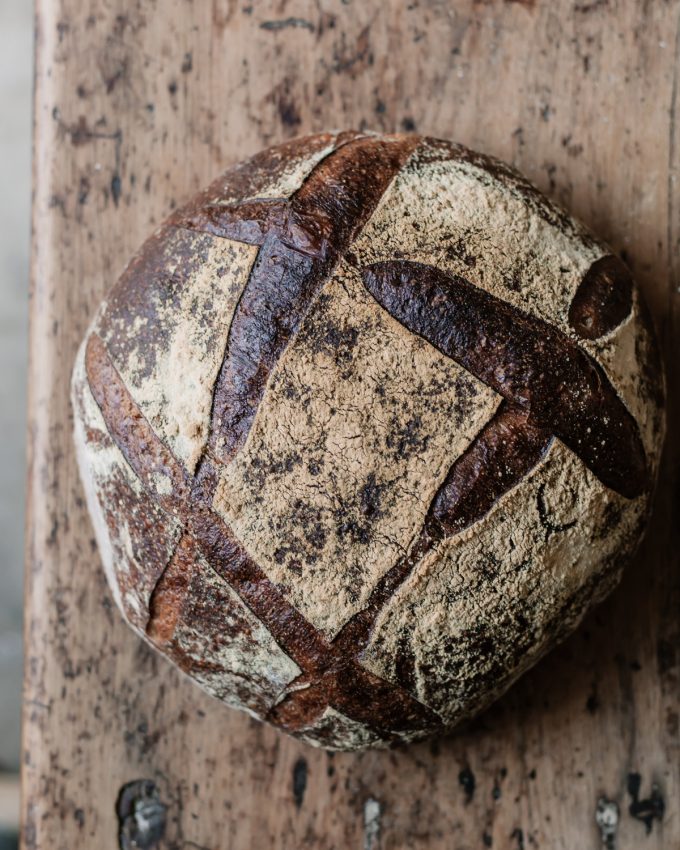 I am often asked for a basic sourdough recipe. This loaf is a traditional sourdough boule, based on the French country pain de levain that I grew up baking in a village in the south of France.
Baking a beautiful loaf takes practice, time, understanding and patience. The ability to judge the many variables involved (from the kind of flour you use to the weather on the day) and to allow for them is what I teach on my sourdough courses. But more than that I teach people to understand sourdough. Once you understand sourdough then you will always bake a great loaf.
Allow yourself 3–4 hours for the dough to be mixed, folded and shaped, ready to place in the coldest part of the fridge to prove overnight. If you are new to bread making, instead of shaping the dough and putting it into a banneton, you can grease a 2lb loaf tin liberally with butter and put the dough into this. Let the dough rise overnight in the fridge and then bake as per the instructions below.
Makes 1 loaf
Starter: White
Ingredients:
For the leaven:
1 tablespoon sourdough starter
40g water at 27oC
40g strong white flour
For the dough:
300g water at 27C
100g sourdough leaven (see above)
100g of stoneground organic wholemeal flour
400g organic strong white flour
10g fine sea salt mixed with 15g of cold water
25g rice flour mixed with 25g of stone ground white flour (for dusting your banneton)
Semolina to dust the bottom of the baking surface
Equipment:
A large mixing bowl
A round cane banneton
2 clean tea towels
A baking stone or a Dutch oven or La Cloche
A large heatproof pan
A sharp knife or 'lame' to score the dough
How To Make Your Own Starter
To create your own sourdough starter you just need two basic ingredients — organic wholemeal flour and water.
To successfully make a sourdough starter you will also need –
A warm room. Not hot, not cold, just a room that is pleasant to be in.
A non-reactive container to make and store the starter in (starters are acidic and will react with certain metals). I prefer a glass container, but plastic is fine too.
A whisk to incorporate air.
A breathable cover or lid, such as a clean tea towel, coffee filter or a loose-fitting disposable shower cap.
A space to catch your wild yeast with no other cultured foods nearby, or there will be a cross over and you might not get the yeast you need.
A simple way to start is to put a 1/2 cup of organic stoneground wholemeal flour and just over a 1/2 cup of warm water (28oC) in a large jar. If the mixture feels too thick, add a little more water – it should be like a thick milkshake.
Whisk the mixture vigorously to incorporate air and cover with your breathable lid. Allow your mixture to sit in a warm place for 12 to 24 hours. Between the 12 or 24 hour mark, you might be lucky enough to see some bubbles, indicating that organisms are present, but don't worry if not. Repeat the feeding twice a day by removing a cup full of the mixture (approximately half) and replacing it with a 1/2 cup of flour and a 1/2 cup of water at 28°C (i.e. replace the amount you took out). Stir vigorously, cover, and wait another 12 to 24 hours.
From now on you will need to remove half of the starter before every feeding and discard it so that the microorganisms in the starter you keep can multiply without your jar overflowing.
How long it takes to get your starter going depends on many factors, but it can take anything from 2-10 days. The sourdough starter should be beautifully bubbly and have enough yeasts and bacteria to be active enough to bake with. At this stage, it should double in 3-4 hours.
Directions:
Day 1          Morning: Refresh your starter – Build 1
Evening: Refresh your starter – Build 2
Day 2           10 am: Make your leaven
Mix the leaven ingredients well, cover and leave on the kitchen side. It will be lively and bubbly when it is ready to bake with.
12pm: Mix dough
In a large bowl whisk your water and starter to mix well. Add all the flour and mix until all the ingredients come together into a large ball.
12-1pm: Autolyse
Cover with a clean damp cloth and let the dough rest on the side in the kitchen for 1 hour.
1pm: Add Salt and Fold
Add the salt mixed with the water and dimple your fingers into the dough to allow the salty water to distribute evenly throughout the dough. Leave for 10 minutes.
Next lift and fold the dough over itself. Do a quarter turn of your bowl and repeat the fold. Turn and fold twice more.
Repeat 3 times at 30 minute intervals.
1-4pm: Bulk prove
4pm: Shape
Shape the dough lightly into a ball then place into a round banneton dusted with flour (If you don't have a banneton, use a clean tea towel dusted with flour inside a colander). Dust the top with flour, then cover with a damp tea-towel.
4.30pm: Prove
Leave your dough on the kitchen side for one hour, then transfer to the fridge and leave overnight.
Day 3          Any time from 8am-4pm: Remove dough from fridge and bake
Preheat your oven to 220°C for at least 30 minutes before you are ready to bake. Place your cloche or baking stone in the oven and a large pan of boiling water underneath (or use a Dutch oven). The hydration helps form a beautiful crust.
Once the oven is up to full heat, carefully remove the baking stone from the oven, taking care not to burn yourself, dust with a fine layer of semolina, which stops the bread sticking, then gently tip your dough onto the baking stone and slash the top with your blade. This decides where the bread will tear as it rises. Bake for an hour.
Turn the heat down to 180°C (and remove the lid if you are using a Dutch oven) and bake for another 10 -15 minutes.  You will know just how dark you like your crust, but I suggest baking until it is a dark brown – it tastes much better.
Storage
Sourdough is best left to cool completely before slicing, and even better if left for a day to allow the full flavour to develop. Once your sourdough has cooled, store in a linen or cotton bread bag, or wrapped in a clean tea towel.
Note: if you don't like a crunchy crust on your sourdough bread, wrap your loaf in a clean tea towel whilst it is still warm.
More advanced recipes and tips are available to members of the sourdough club, and very in-depth explanations of the techniques are covered in our online sourdough courses.