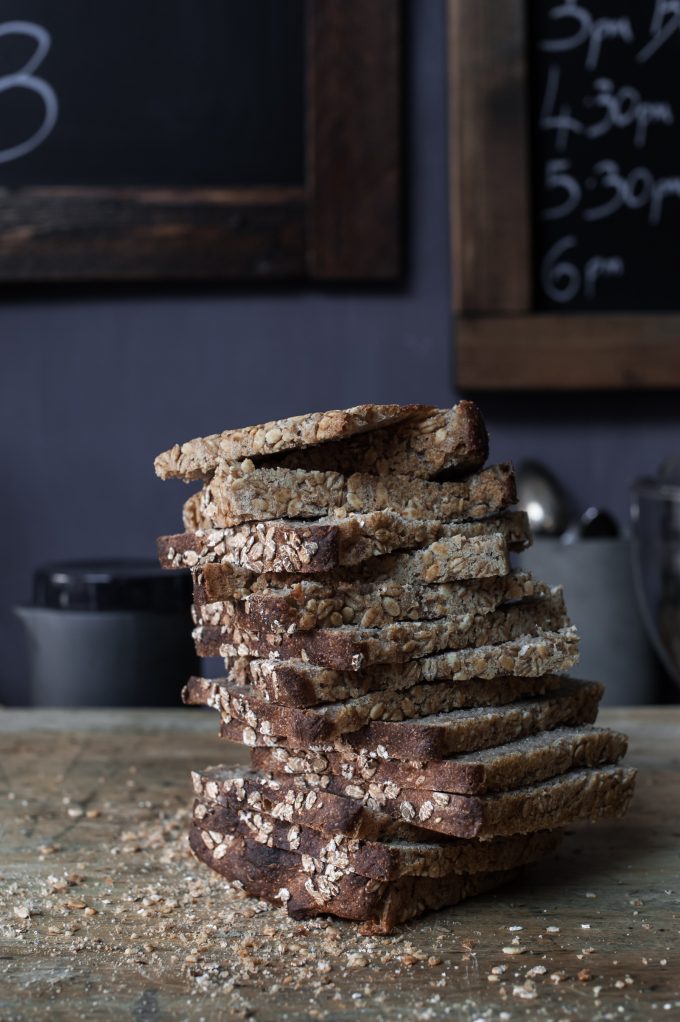 This is my most basic recipe. It has guidance on timings and temperatures that fit with everyday life, suiting a typical 9am to 5.30pm working day. It allows you to refresh your starter before you go to/start work and bake to a convenient schedule. When sourdough is this easy, you are much more likely to bake.
This is also the kind of sourdough bread that you can make in no time. Discounting waiting times, it takes only about 15 minutes of total effort to make. The long, slow fermentation is called an Ambient ferment as it uses the ambient. the temperature of your kitchen to prove.  We use wholegrain flour, combined with the oil, which makes this loaf deliciously satiating. What's more, because it is made in a tin, you can ferment it for a few hours longer in the fridge if you need a further reduction of the gluten load.
Ingredients:
375g water at 23°C
250g stoneground organic wholegrain flour
250g organic strong white flour
100g bubbly lively sourdough starter (second build – starter that has been refreshed twice)
10g fine sea salt
butter, ghee or coconut oil, to grease the tin
A small handful of oats
about 1 tablespoon oil to drizzle over the top and around the sides of the loaf (we used olive oil)
Equipment:
large mixing bowl
large 900g (2lb) loaf tin
Clean tea towel
Wooden spoon
Sheet of greaseproof paper
How To Make Your Own Starter
It takes between 3 – 7 days to create a robust active starter. To create your own sourdough starter you just need two basic ingredients — organic wholemeal flour and water.
To successfully make a sourdough starter you will also need –
A warm room. Not hot, not cold, just a room that is pleasant to be in.
A non-reactive container to make and store the starter in (starters are acidic and will react with certain metals). I prefer a glass container, but plastic is fine too.
A whisk to incorporate air.
A breathable cover or lid, such as a clean tea towel, coffee filter or a loose-fitting disposable shower cap.
A space to catch your wild yeast with no other cultured foods nearby, or there will be a cross over and you might not get the yeast you need.
A simple way to start is to put a 1/2 cup of organic stoneground wholemeal flour and just over a 1/2 cup of warm water (28oC) in a large jar. If the mixture feels too thick, add a little more water –  it should be like a thick milkshake.
Whisk the mixture vigorously to incorporate air and cover with your breathable lid. Allow your mixture to sit in a warm place for 12 to 24 hours. Between the 12 or 24 hour mark, you might be lucky enough to see some bubbles, indicating that organisms are present, but don't worry if not. Repeat the feeding twice a day by removing a cup full of the mixture (approximately half) and replacing it with a 1/2 cup of flour and a 1/2 cup of water at 28°C (i.e. replace the amount you took out). Stir vigorously, cover, and wait another 12 to 24 hours.
From now on you will need to remove half of the starter before every feeding and discard it so that the microorganisms in the starter you keep can multiply without your jar overflowing.
How long it takes to get your starter going depends on many factors, but it can take anything from 3-7 days. The sourdough starter should be beautifully bubbly and have enough yeasts and bacteria to be active enough to bake with. At this stage it should double in 3-4 hours.
Time and temperature guidelines:
Day 1
9pm – refresh your sourdough starter. Use tap water at about 22°C
Day 2
8am – refresh your sourdough starter. Use tap water at about 22°C
8pm – prepare and weigh out the ingredients
8.30pm – mix the dough. Use your bubbly, lively starter. Try to mix your dough at a temperature of 23°C. Leave the dough in the tin on the kitchen side overnight. When you're done making the dough, put your starter back in the fridge at a temperature of about 5°C.
Day 3
8 am onwards – you can bake at any time from 8 am, or you can store the dough in the fridge and bake any time until 4 p.m.
Directions:
Double refresh
It is important to build the microbes in the starter if you only bake once a week. A double refreshment as outlined in the timetable above will make a beautiful loaf.
Mix
In a large bowl, mix 350g of your water with the starter, remembering to pay attention to the temperature of the water. Mix well – getting plenty of oxygen in at this point helps the yeast to reproduce. Add the flour and salt and mix until all the ingredients come together.
You don't need to knead – just mix well, then wait 10 minutes. You can then add the last 25g water, incrementally (2 x 12.5g), over the course of 5–10 minutes, allowing each addition to absorb well. This technique helps create a beautiful open crumb because the gluten forms stronger bonds when the dough is less hydrated.
Prepare the tin by greasing a sheet of baking parchment lightly with butter, ghee, coconut oil or lard (not olive oil.) Then line the tin with the baking parchment. put the oast in the liner and shake the tin tipping it to each side until the oats have stuck to the butter no all four sides and the base of the tin. Transfer the dough to the tin.
Prove
Leave the dough overnight on the kitchen table, covered with a clean tea towel. As a general guide, the ambient temperature at the School is generally about 23°C.
In the morning, the dough will be 50 percent bigger. If you prefer, at this stage you can make your loaf sourer, and therefore more digestible, by transferring it to the fridge for another 3–4 hours before baking.
Bake
Preheat your oven to 220°C/428F/Gas mark 7 for at least 30 minutes before you are ready to bake. Place a small pan of boiling water at the bottom of the oven (or use a Dutch oven if you can fit your tin inside one). The extra steam from the water will help to form a beautiful crust.
Drizzle the olive oil over the top and around the sides of the loaf. Reduce the heat to 180°C/355F/Gas Mark 4 and bake for about 45–50 minutes. I don't give precise timings, as everyone's oven is different. Bake to the point that you like the look of the loaf – it should be a beautiful golden colour. Remove the loaf from the oven and cool in the tin for a few minutes before removing it from the tin and leaving to cool completely on a wire rack.