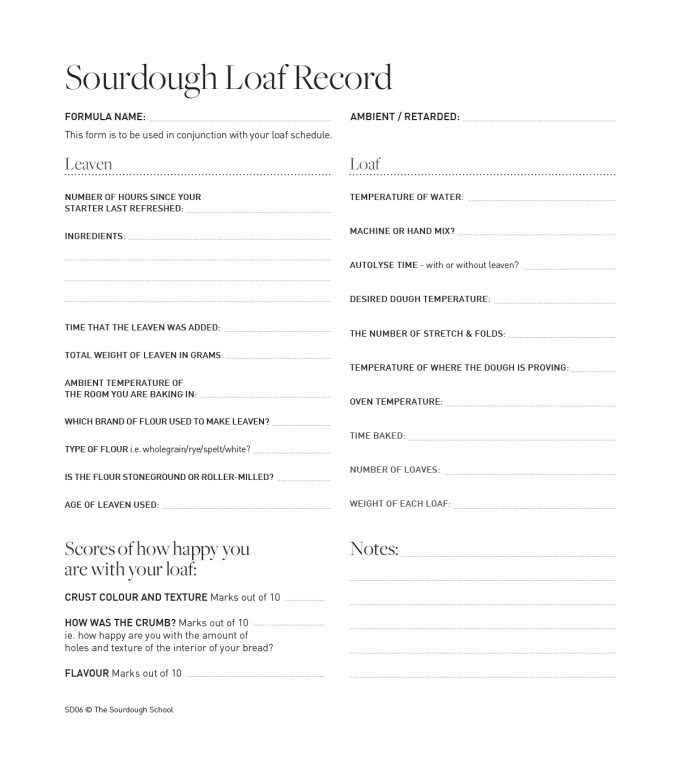 Every time you bake each loaf is different. Sourdough is wild, so I advise baker to keep a Sourdough Loaf Record us in conjunction with Your Loaf Schedule
Certainly, most of my students when they start baking sourdough get frustrated when they get good results one day and not another. I get a phone call or an email to ask why is it that my loaf is not turning out the way I want it too.
More often than not when I ask about specifics they cannot remember, the essential details that mean I can suggest where they are going wrong, especially when they are baking just once a week.. So I recommend to all sourdough bakers wanting to improve to keep a record of each bake. It helps to build up a pattern, which in turn helps both you the baker and me, to understand how your sourdough behaves. Factors such as the kind of flour you use, the ambient temperatures on the day, the length of each stage all affect the outcome of the final loaf.
These forms have been designed to capture the detail, and that after all is what makes the difference, and the comparative data become more a more relevant with each bake, and if give me that opportunity to discuss your loaf in details should thing not be going according to plan.