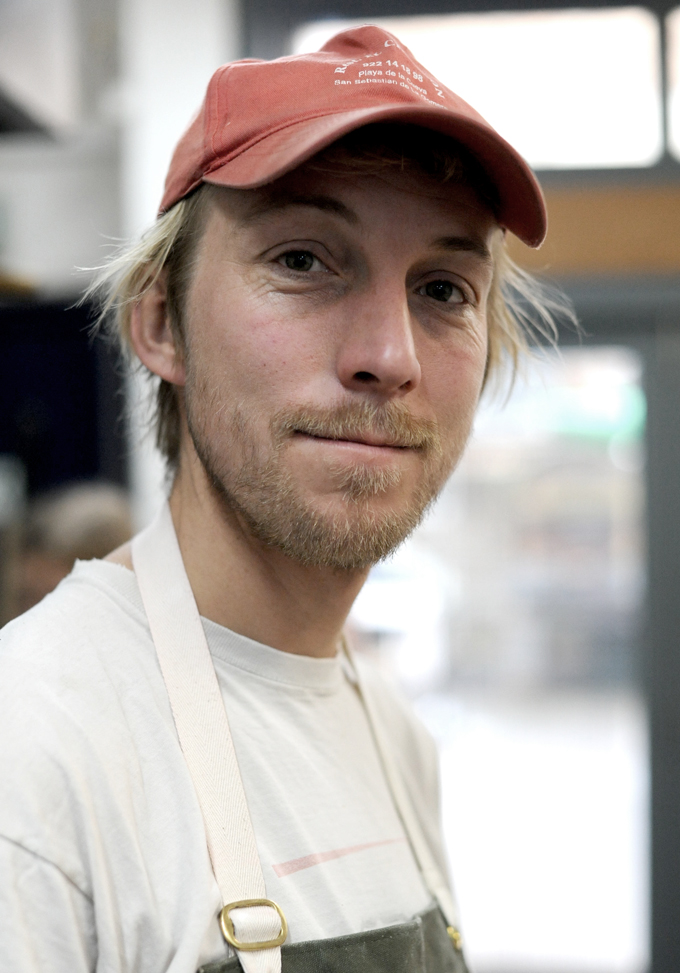 I've been wanting to visit E5 for ages. I've been following E5's progress for the past few years as it epitomises everything that truly matters to me about sourdough. Their bread fulfils all the things I really value about great sourdough bread, of not only tasting incredibly good and being made with great consideration and understanding, and sustainability is an absolute priority. Immediately I arrived at E5 Bakehouse's railway arch close to London Field's, I felt a great vibe. A joyful, cool place where everyone I met really cared about making bread and enjoyed their work. It was everything a bakery should be.
E5 founder Ben Mackinnon, who used to be a sustainability consultant working on renewable energy systems, explained how simply E5 Bakehouse started. He grew tired of a desk job, took a break to reconsider and spent his spare time making bread. "I wanted to do something with a strong social and environmental connection that was very people focussed." He enrolled on a 5-day course at The School of Artisan Food, enough to convince him that his vocation lay in baking. Initially he prepared his dough at home and borrowed the wood-fired oven of a local pizzeria in Clapton – Vesuvio – to bake when the restaurant wasn't using it. His first customers were Palm 2; a local organic corner shop, and Leila's in Shoreditch plus Ben hand-delivered bread to about 20 local homes each week for the first 6 months.
Serendipitously Ben was asked to bake 100 sourdough loaves for a Feeding 5000 event and found himself working in Happy Kitchen a couple of arches down from his current base. There he was able to build his own wood-fired oven using reclaimed materials: waste paving, bricks, clay lumps, materials found at freecycle. Ever thinking local, Ben used offcuts of waste wood from local carpenters, also based under the arches to fire the oven.
After a year, Ben realised they'd outgrown the space and were able to graduate to taking on their own arch. "I decided we should ramp up our coffee skills and start doing cakes and pastries and simple lunches using ingredients from local growing communities in Hackney too. Having the cafe means we get to know our customers even better. Even now, the most satisfying part of the business is to see the customers enjoy the bread"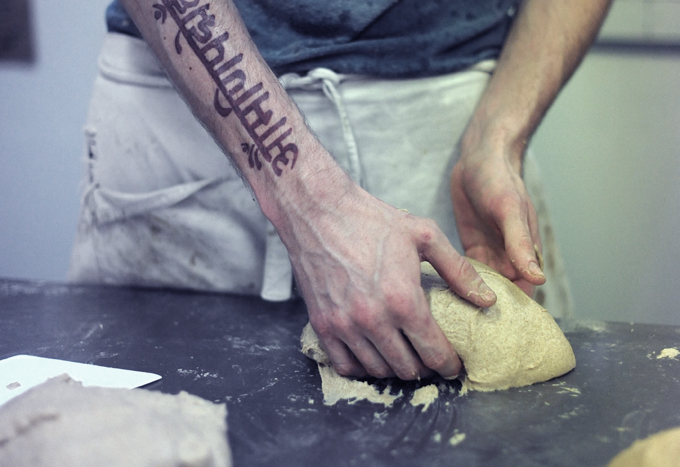 By this stage, Ben had been joined by several volunteers who became permanent and they were beginning to supply local restaurants such as Brawn, The Empress, Fishhouse. Even now, Ben believes in keeping it local. Restaurants and shops from further afield who want to stock their bread have to come and collect "so only the most committed will do that" reflects Ben ruefully. All their local deliveries are done by Dutch bike with customised wooden trailers.
All their energy is renewable and E5 Bakehouse use biodegradable packaging, recycle waste and compost – "such values are second nature to me" explains Ben.
E5 Bakehouse's most popular sourdough loaf is their Hackney Wild white made with unbleached Organic white flour, organic stoneground wholemeal flour, organic rye flour, water & sea salt. The essence of E5 ideology is using the finest flour. Ben believes in only using organic UK sources – especially Cann Mill and Maple Farm as well as Shipton Mill. His mission long term is to use exclusively UK wheat. Every part of the process is done by hand. I watched Ben and four of his bakers shaping 90 kilos of Hackney Wild into bannetons taking huge pride in every loaf, whilst working with impressive speed. The loaves have a 2 day bulk fermentation during which they feed the bacteria and refresh the leaven. Then it is left in the fridge overnight for 6-12 hours to bring the temperature down, so 72 hours wild fermentation in total and this helps develop its depth of flavour and acidity. It then has two phases of shaping to build up the tension and give it a good "skin." I love its beautiful dark baked crust.
Explains Ben "it's all about balance – well fermented and well leavened. It's a mix of understanding the time, temperature and love. I find the complexity of such simple ingredients interesting and challenging."
He gives huge credit to his head baker Eyal Schwartz a former neuro-scientist – "he is big on precision and incredibly displined."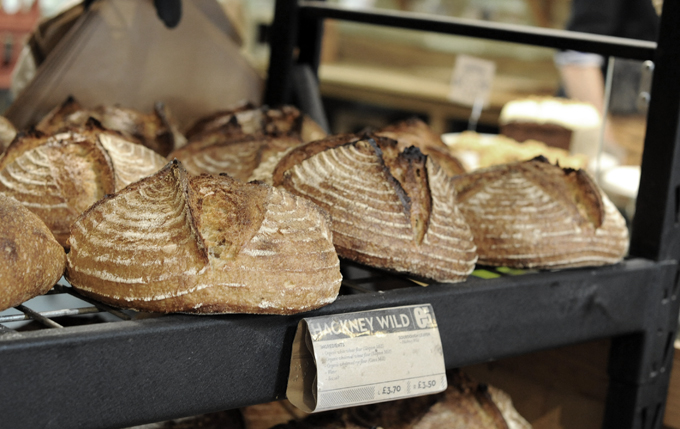 For me, however, it is their heritage loaf Wholemeal Miche made from Gilchester's Organic Northumberland grown wheat that is the absolute ethical pinnacle of sourdough bread. It's British, heritage organic flour. Heritage wheat has deeper root structure and hence has access to more nutrients and minerals, and so it doesn't rely on chemical fertilizers. It is a much more environmentally friendly way to grow wheat. The dough itself is quite a wet dough and has a wonderfully, complex flavour, almost treacly and with it's long slow fermentation is it far more easily digestible. This is bread with it's low carbon footprint, made responsibly by people who care. What I term 'a truly human bread" that goes above and beyond.
I adored too the little white buns made with Gilchester's Organic flour (the brain is sifted out but it still retains all the extra minerals and oils from stone ground flour) that are not exactly shaped and have a lovely random shape that look rather like Roman buns.
Both the rye and spelt loaves are 2 day wild fermented. Even the baguettes are made with poolish and sourdough leaven and the E5 focaccia, a meal in itself with feta, rosemary and red onion, is a slow fermented semi-sourdough.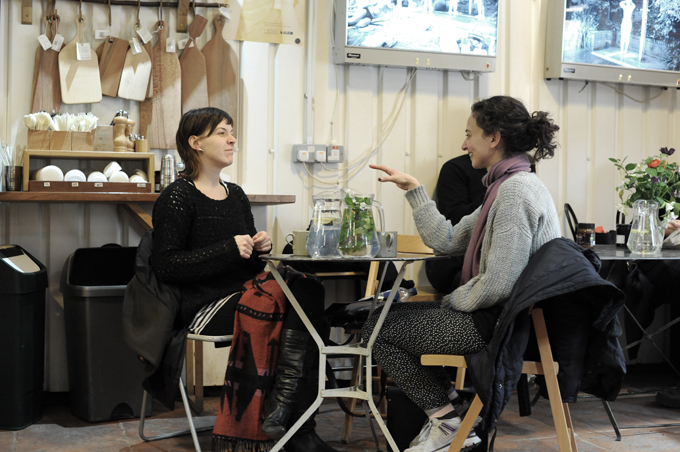 E5 Bakehouse cafe is small, friendly, open 7am-7pm daily and clearly does a roaring trade in take outs plus breakfast (including homemade granola) and lunches which showcase their bread with Keen's Cheddar and Westcombe Cheddar curd toasties and simple dishes such as a chickpea, kale and Spenwood sheep's cheese stew. On Saturday's they bake spanikopita and sausage rolls. Fantastic cakes are also prepared each day by a separate dedicated team including carrot cake, cheese tart, pecan tart, and macarons. Everything was irresistible. I have to return one Sunday to try their sourdough pizzas made on their outdoor wood-fired oven. Ben does admit to dreaming of the challenge of producing all the bread in a wood-fired oven too though realises that is unlikely to happen with DEFRA's clean air restrictions, but I have a feeling that he is the kind of person who will work his way through this.
I loved the way Ben summed up his ethos. "Our belief is that to bake beautiful and nutritious sourdough loaves requires clear conscience and a great deal of respect and care for our leaven, the life of our sourdough." I couldn't agree more.
E5 Bakehouse, 395 Mentmore Terrace, E8 3PH 0208 525 2890. www.E5bakehouse.com