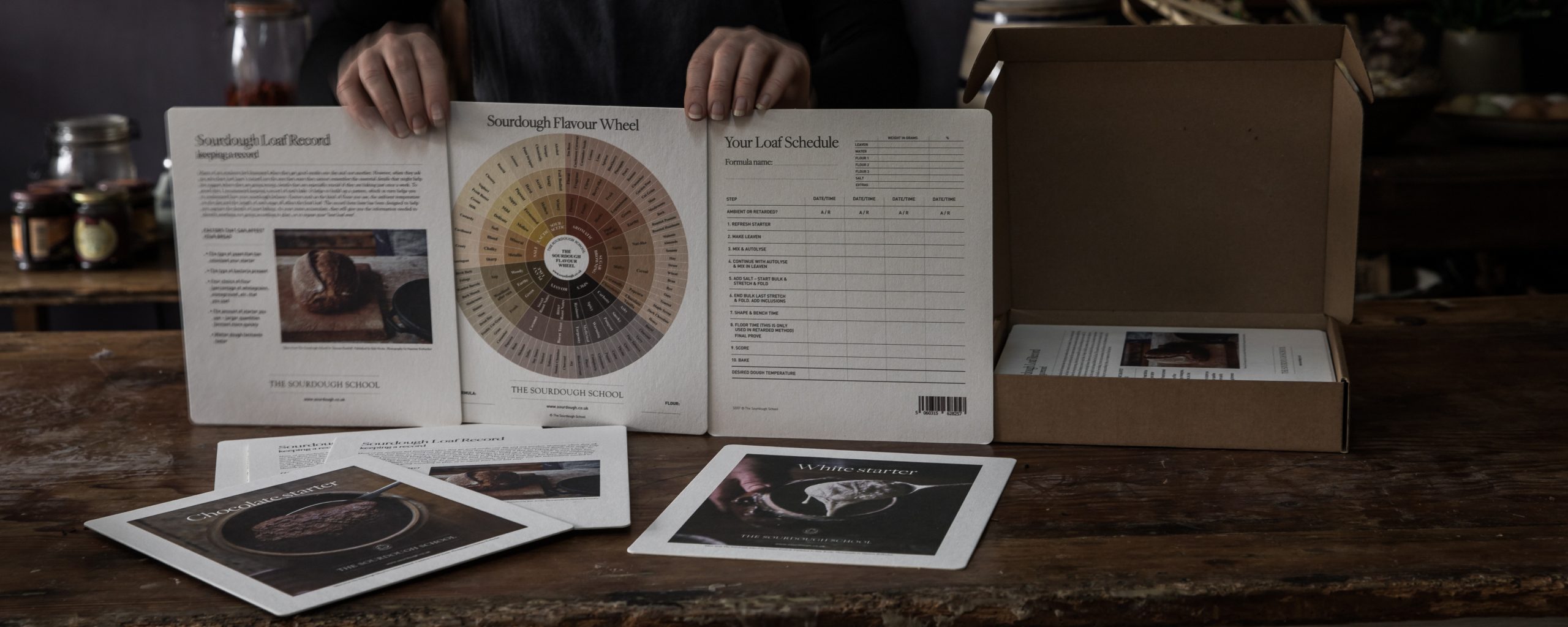 Planning is the key to successful sourdough, and I can't emphasis enough that five minutes planning is the key difference between bakers who make incredible loaves consistently and bakers who are a bit hit and miss. I recommend in my books that all sourdough bakers wanting to improve to keep a record of each bake; it helps to build up a pattern, from which you can better understand how your sourdough behaves. Factors such as the kind of flour you use, the ambient temperature on the day, the length of each stage all affect the outcome of the final loaf.
With this kit you can do just that – plan, schedule, record, analyse and taste.
Designed to be used with any sourdough recipe, not just my own, but also to accompany both The Sourdough School and The Sourdough School Sweet Baking recipe books, along with all the sourdough bread recipes on the Sourdough Club website.
Contains:
1 x White Sourdough Starter card
1 x Chocolate Sourdough Starter card
13 x Loaf Schedule cards
13 x Loaf Record cards
13 x Flavour Wheel cards
It is not just about bread. Our philosophy as a business is to work with and support other small or artisan companies. The cards in this kit have been printed on specialist wood-pulp board from FSC certified sources using vegetable based inks, and the cards are 100% recyclable after use. They have been manufactured for us by one of only two genuine beer mat printers remaining in the UK. Thirsty's Bespoke Beer Mat Printers is a family-run litho-press printing company based in Northampton – we need to help sustain and safeguard the skills their small workforce has. These things matter, the small decisions we make every day have a big impact and form our world.
With this kit you can:
Plan your bake with the Loaf Schedule
Keep a record of the specific details with the Sourdough Loaf Record
Analyse the flavour of each loaf with the Flavour Wheel to discover which bakes you enjoy the most
You can then use the cards as a reference point, from which you can stand back and analyse your sourdough.  The detailed notes can then help you re-calibrate your next bake so that you can make adjustments to the timings and temperature to improve your baking every time.
An invaluable gift for any sourdough baker.
I hope you enjoy using them or gifting them!
Vanessa x
If you would like to learn how to bake sourdough online with Vanessa please do come and join the Sourdough Club
Loaf Record Kit REVIEW via social media:
Vanessa! Thank you for the voice message, and share! I'm loving your Flavor Wheel and Planning Kit so much as a tool- but also as ART! It's beautifully designed and clearly well thought out (baking time AND Slice time?! Expert level!) Artistically speaking, the texture of the mat paper is really unique to hold at this large scale: as if watercolor paper had a baby with a marshmallow. Delightful.