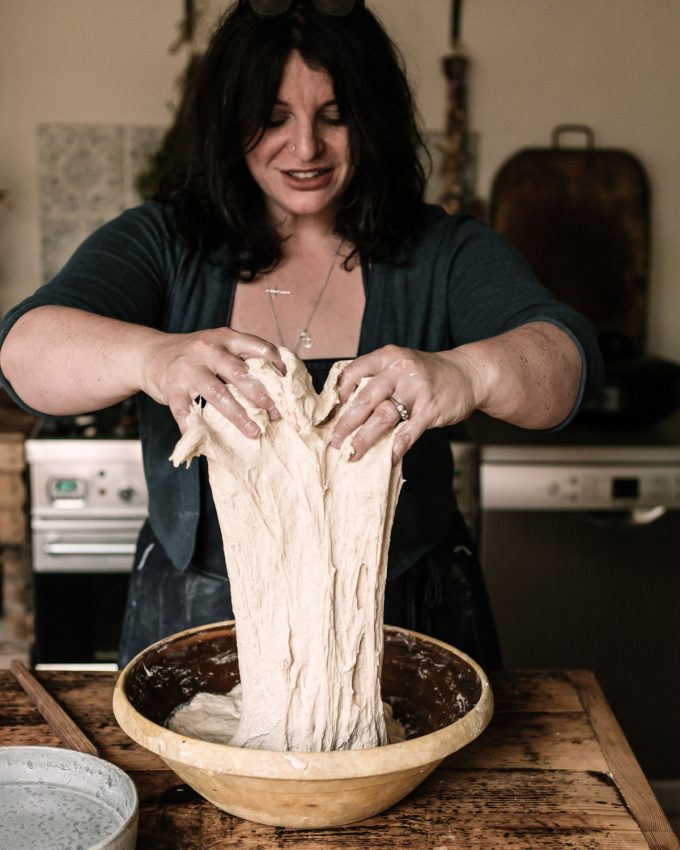 Sourdough is the way we always made bread, until the industrial revolution. It is flour that is inoculated with a culture, or in warm countries such as India left to ferment spontaneously. These are lactic acid bacteria (LAB) and wild yeast.
How does Sourdough work?
The lactic acid bacteria produce organic acids that acidify the dough and transform the taste, nutritional value and digestibility of bread.
The yeast produces CO2 that is captured by gluten when using wheat flour that creates air pockets, and makes the bread rise and excrete carbon dioxide and alcohol as byproducts, which contribute to flavour.
These microorganisms are found in many places. Lactic acid bacteria is found on bakers hands, in unrefined flour, and there is evidence that some of the lactic acid bacteria actually makes it's way from the soil onto the wheat and then into the starter.
The exact origins of each yeast are more of mystery but there is evidence that they can be found on the wheat, on fruit such as grapes and in the air around us, not least because they like to hang out where they might be able to find somewhere sweet to ferment themselves.
Certainly, in bakeries, it is fair to say that saccharomyces cerevisiae is abundant, which is likely where the yeast inside starters in many bakeries originate from.
We capture and cultivate these microorganisms in a pot of flour and water and with regular nourishment, warmth and water they increase in numbers. It is called a starter and learning to replenish and maintain these microbial communities and encourage the microorganisms to reproduce means we can inoculate flour and water and use the fermentation process to make bread. One of the best bakers I know, Richard Hart, once told me that he thinks of a pot of starter as a microbial farm.
For most people, the science of sourdough and kinds of wild yeast and lactic acid bacteria are a mystery. They just know that they flourish when maintained, and they make great bread, but different kinds of lactic acid bacteria produce different acids and the balance of these is one of the contributing factors that affect the final flavour, textures and nutritional profile of each sourdough loaf. Some bacteria produce more acetic acid, others more lactic acid.
Flavour and texture also depend on the kind of flour, the dough temperature, and length of fermentation you use to make your bread.
Click here for our online course, with detailed video tutorials on how to make sourdough