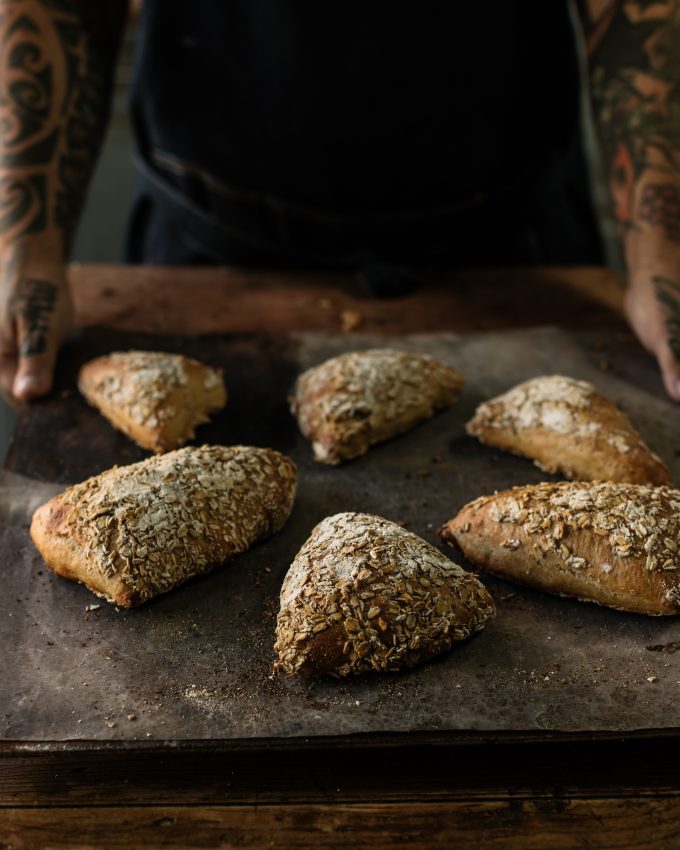 Bakers play a central role in the community, and can lead the way in encouraging people to think about what we eat and how we are connected.
The fact that you are reading this means you already understand that it is you and not me that will make a difference. Hold on to that feeling you have right now. It is not easy to raise funds, but it does mean that you have understood that baking sourdough is a form of activism; you are already more than halfway to making a difference with this realisation alone.
Do I have to use the Seeds for Solidarity Porridge?
You don't have to use the Seeds for Solidarity Porridge recipe in your bakery to raise funds, but it has been specially developed to create a deeper understanding of the complexities of the current situation. I would like to encourage bakers and bakeries all over the world to use it as a means of visual protest on their social media, but also to take this recipe and method as a way of using your voice to raise funds and support the hundreds of thousands of people who have been devastated by this invasion within your communities.
The message behind the Seeds for Solidarity Porridge coupled with some basic facts will help you to communicate why we must support peace.
My 7 top tips on using bread to raise funds
One of the best ways to reach a large group of people quickly is through social media. Remember to include the date, opening times and venue.
Remember that this humanitarian crisis is just beginning. Consider a longer-term way to incorporate raising funds as part of your approach.
If you are going to bake from home, please be very clear on your duty of care when it comes to allergens and hygiene rules. If this is something you want to do regularly, then consider asking your local pub or restaurant if you could borrow their kitchens and perhaps pay them in bread.
If you are a professional bakery, then consider using the porridge in a loaf that is not necessarily your best seller. You still have overheads, and there are hidden costs in raising money. At this time, your base costs of electricity, ingredients and staff will be increasing.
You will make more money if you make smaller items, such as pocket breads or rolls. But the boules are beautiful.
I appreciate our human connections, but please try to look very carefully at supporting through an official charity. Take time to look carefully at who gets help on the ground and try to ensure that your funds do not go into a top-heavy admin charity.
Consider having a charity pot clearly visible. Sometimes people are happy to just make a donation.
Why we will all be impacted by this conflict
The cost of war to bakers and why we must keep calling for peace.
I have had messages asking why we need to act. Aside from the absolute horror of what is happening in Ukraine, I believe that baking is activism, and offers us a way to communicate with and connect to each other. The events that are unfolding right now will impact each and every one of us, and it will certainly impact our bread. We must each do all we can to support peace, end violence and support the millions of people impacted by this horror.
If that is not enough, then look at the longer-term implications below. It is clear we are all far more connected than people might imagine.
1. The cost of energy will further increase. We are dependent on Russian natural gas shipments, which accounted for 43 per cent of the EU's total gas imports in 2020. Small businesses across the UK, including bakeries, will bear the brunt of the national energy crisis on costs.
2. Russia and Ukraine are both major producers of wheat. This crisis will exacerbate inflation pressure in the food aisle. In 2020, Russia produced 86 million tonnes of wheat, second only to China and India. However, both China and India consume their product domestically; Russia the biggest exporter of wheat by a significant margin. UK inflation is forecast to hit 8 per cent in April, and we face a cost of living crisis in the UK. Remember, animals are fed on wheat and a price increase for this essential grain impacts the cost of almost all our food.
3. It's not just British or European bakers who face global food prices approaching record highs. These price rises threaten the world's poorest. When you look at the poorest counties, who import the majority of Russian grain, it is clear we are facing an event of catastrophic proportions. Hunger leads to social unrest on a widespread scale, and has historically been linked to the rise of extremism – which is also linked to an increase in oil prices.
Our worlds are not separate. We are one world, and our survival depends on embracing diversity. War distracts us from finding a solution to the global impact of climate change on our food systems. We must call for peace.
Who to support?
It is not my job to tell you this. It is my role to provide you with the means to create and communicate. Use your own voice to lift up those that matter. It is up to you to how you choose to support Ukraine and call to Russia for peace. I will be adding more suggestions, but time constraints are on me, so if you have a suggestion, please comment below to share.
One of the best and fastest ways we can help people in Ukraine is by offering financial donations.
One off financial help allows those on the ground to make informed decisions about where and what help is needed in the short term. Whereas a regular donation can help provide long term and sustainable support to those affected by this conflict. Charities often say that at the start of a crisis, there is a flood of money and support, which slows over time. Regular donations help charities plan for the future – could you consider a monthly donation?
There are lots of organisations across the UK and internationally who have launched appeals, and you may wish to donate through these organisations instead. There are some simple steps you can take to ensure your money is safe and being used effectively:
Check the charity's name and registration number using the search the charity register tool
Most charities with an income of £5,000 or more must be registered, which means they are regulated by The Charity Commission
Make sure the charity is genuine before giving any financial information
If in doubt, ask the charity or organisation for more information
For more information about making safe donations see the government advice here.
If you want to donate to help those in Ukraine today, we have made a list of suggested places where you can do that:
Amnesty International – the world's leading human rights organisation, campaigning against injustice and equality everywhere. Here is their Protect Civilians in Ukraine campaign page
Red Cross – are preparing to provide shelter, basic aid items, and medical supplies for displaced people. They are also ready to provide first aid and psychosocial support when needed. We are aware that the Red Cross, and some other very large organisations has a high percentage of administration costs perhaps compared to some other smaller charities.
Disasters Emergency Committee (DEC) – an umbrella group of UK charities which coordinates and launches collective appeals to raise funds to provide emergency aid and rapid relief to people caught up in disasters and humanitarian crises around the world.
UNICEF – is working with partners in Ukraine to reach vulnerable children and families with essential services including health care, protection, education, water and sanitation.
The UN Refugee Agency – The United Nations High Commissioner for Refugees has launched an emergency appeal to send more resources, staff and aid to Ukraine's neighbours, who are taking in hundreds of thousands of refugees.
Polish Humanitarian Action (PAH) – are providing humanitarian aid including food and other forms of support to people who had to leave their homes. Their actions include people affected by conflict both internally displaced as well as refugees coming to Poland.
United Help Ukraine – was created in 2014 during the geopolitical events around Russia's annexation of Crimea. Its main focus is getting emergency kits and supplies to Ukrainians who are still in the country as well as those who are trying to flee.
Sunflower of Peace – is mobilizing support and aid for Ukrainian orphans, internally displaced persons, and those most affected by the current situation by providing medical assistance and other necessities.
Razom – which means "together" in Ukrainian, is a volunteer charity organization that was founded in 2014 to support Ukrainians after Russia annexed Crimea. They are now organizing and providing medical supplies and humanitarian aid during this current crisis.
There are many more, but these are some suggestions. Again if you have any further recommendations, please do leave details in the Comments box below. Thank you.
A choir
A choir is full of many voices, and all voices count. When we pull our voices together, I hope we will drown out the voices of violence and aggression. I ask that whatever charity you choose, it is one that supports peace and is anti-violence – that it does not support the continuation of violence in any way. This is a bake for peace on every level, to support activism and to show solidarity – to make our voices heard as one community: the sourdough community.
I will remind you, however, that there are many, many brave bakers, including some of my own team in Russia right now, who are living under the threat of an autocratic megalomaniac who is controlling and suppressing the thoughts, speech and actions of his people with the same hand that is invading Ukraine. Be compassionate – it is a complex and dangerous situation for more people than you might realise.
The thing that really matters? To make a difference. The hashtag we will be using as we bake for peace is #SourdoughSolidarity