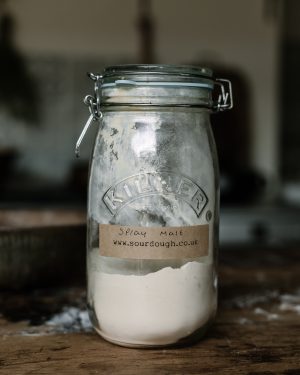 Malt is a key ingredient in baking. It is grains that have been soaked in water, allowed to germinate, and then dried out. This process helps develop special enzymes in the grains that are good at turning the starches in the grains into sugars. These sugars feed the yeast which makes the dough rise.
Malt comes in different forms which can be used in different ways in baking. Malt can be diastatic or non-diastatic. The enzymes in diastatic malt convert starch in flour into sugars to feed the yeast and help to give a better rise and browner crust during baking. Non-diastatic malt has been malted and then processed to deactivate the enzymes. Since it has no enzyme function, non-diastatic malt is used mainly to add flavour and colour to bread products.
We use malt syrup in our Panettone and spray malt in our Malted Sourdough Fig Rolls.