One of the things we enjoy in the summer here are naturally fermented beverages.
The syrups for both the kombucha's and the kefir are best made when the products are in season, and they become more precious as the season ends. Preserves are a promise that you see the sun again, and a glass of sweet bubbly kefir is like a beautiful memory that sustains me through to spring in the darkest winter months.
Water kefir is also known as sugar grains, tibicos, tibi, or Japanese water crystals. It is a fermented drink made by adding water kefir grains, which are a polysaccharide grain that acts as an inoculum, to a mixture of flavoured water, and sugar. The polysaccharide grains are actually a matrix, created by the bacteria, and acts as a culture for various strains of bacteria and yeast.
After a few days of anaerobic fermentation at room temperature, you get a sparkling, fruity, acidic, slightly sweet, aromatic fermented drink. I brought my most recent batch of grains back from San Francisco, but water kefir grains are available all over the world. There is not allot of research on kefir and the real origin of the water kefir grains is unknown.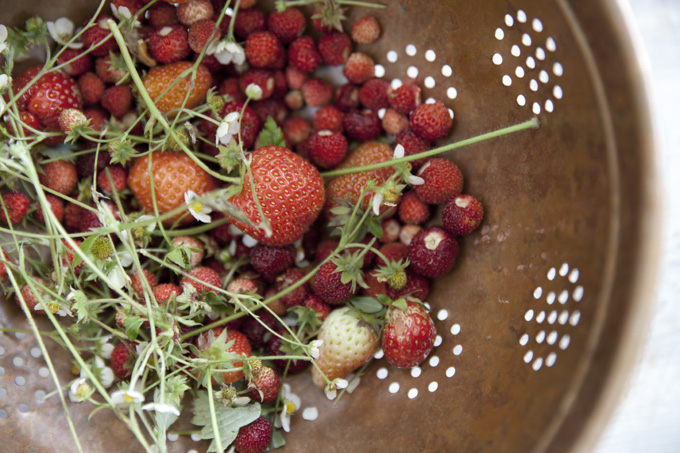 Wild Strawberry, Elderflower & Rose Syrup
This pink, floral, slightly tart yet sweet syrup makes a superb flavour for a very floral summer flavour water kefir.
Makes 1.5 litres
Prep time 25 minutes
Cooking time 20–30 minutes
Suitable for freezing? Yes, but steep the flowers in hot water for 24 hours and freeze, then defrost and add the other ingredients.
30 pure-white elderflower heads
two large mugs of crushed wild strawberries
8 heads red/pink scented roses
2kg caster sugar
1-litre water
Juice and rind of 2 lemons
75g citric acid
Give the flowers a good shake to ensure there are no remaining insects hiding among the petals. Trim any stems and leaves. Remove the petals from the roses and discard the stems.
In a large pan, heat the sugar and water, stirring until all the sugar has dissolved. Allow this to cool, and when the water is 'hand hot', add the elderflowers, strawberries and rose petals, lemon rind and juice and citric acid. Stir well, cover and leave for 24 hours, stirring occasionally.
Strain the syrup either through muslin or an old clean cotton tea towel placed in a colander, ensuring none of the bits get through. Decant into sterilised bottles and seal.
Keep in the fridge for up to 6 weeks, but I freeze mine to use later in the year.
Tips
Use only pure-white elderflowers. Brown ones will taint the flavour.
Citric acid should be available from a local chemist or from brewing and winemaking shops or online. In this recipe, it does two things. Firstly, it acts as a natural preservative, and secondly, its sourness counteracts sweetness, which in turn allows the elderflower – not the sugar – to be the first thing you taste. If you find this syrup too sweet then add some more lemon juice to balance the flavour. You do need the sugar as this feeds the kefir as it ferments.
Instructions for Making Water Kefir.?
Do sterilize your equipment. This is a live fermentation and you don't want to ferment anything other than the good bacteria and yeast.
I recommend doing the second ferment.  Of course, you can drink the kefir after the first ferment, and suggest tasting it at this point so you can alter the acidity .. but it is flat.  The second ferment brings all the carbonation and sourness I love.
You must "burp" your bottles during the second ferment.  Gas builds up quickly and you don't want any explosions!
Equipment?
A glass jar
A Sieve
A muslin cloth
Scales
A bottle with a lid
Ingredients
1 litre of elderflower syrup diluted with 25% water that has been allowed to stand for a couple of hours to dissipate any chlorine.
Juice of 2 lemons
A tablespoon of sugar
Initial Fermentation??
Use 1 Tablespoon kefir grains to 1 litre of diluted Elderflower and rose syrup mix. Cover your jar loosely with a lid, or with cheesecloth secured with cooking twine to allow air in but to prevent anything dropping in and spoiling your water kefir. Allow the water kefir to ferment for 2 to 3 days
Secondary Fermentation?
Strain and transfer into a sterilized bottle, add the juice of 2 lemons and a level tablespoon of caster sugar. Close the lid and leave again on the side for 24 – 48 hours hours. Open the bottle carefully over the sink, as gas will have built up inside the bottle.
The longer it is left the more sugar will be used by the Kefir grains, and the fizzier your water will be. Transfer to the fridge to store, and use within a week.
Make sure that you reserve the water kefir grains which can be immediately re cultured or which can be stored in water in the fridge for up to 1 week.
Reference:
Microbial Species Diversity, Community Dynamics, and Metabolite Kinetics of Water Kefir Fermentation
David Laureys, Luc De Vuyst
Appl Environ Microbiol. 
2014 April; 
80(8): 2564–2572.  
doi: 10.1128/AEM.03978-13