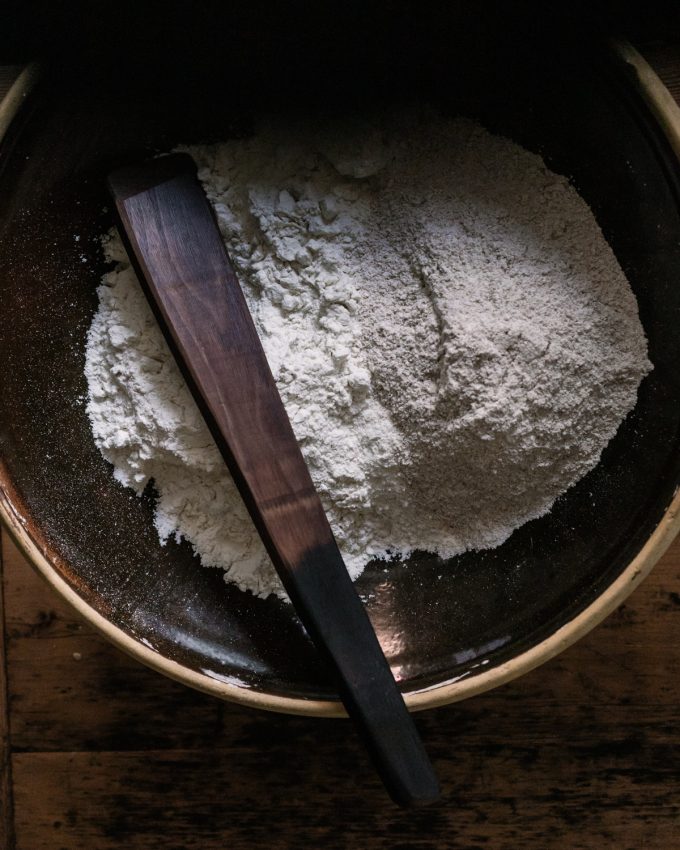 There's one question I'm often asked by nutritionists, psychiatrists and dieticians… 'why aren't all your recipes 100% wholegrain?'
Well, the truth is that in an ideal world we would only ever eat bread and baked goods with 100% wholegrain. It's the most nourishing grain. But, from a nutritional point of view, 100% wholegrain is only part of the story.
Here at The Sourdough School, I encourage people to increase the diversity of ingredients they bake with. At the same time, I've been trying to increase understanding of how monoculture is a part of the problem with the way in which we bake. The most accessible flour to bake with is milled from bread wheat, predominantly Triticum aestivum. 100% wholegrain is still often milled from the same single grain. My aim is to encourage people to move over to milling a diverse range of grains, flowers, herbs and spices – a whole meadow in fact, when they bake. I do this through our Botanical Blends. – You can buy this blend to mill yourself here.
A shock to the system
The second thing to consider is that when they come to baking sourdough bread for the very first time, many people have to adjust significantly. They may be used to eating sliced white bread, and to come across to a 100% wholegrain, sourdough fermented loaf the first time they make bread is too big a leap. Often we find that people then reject sourdough on two counts. Firstly, there is a big change in terms of flavour and texture when you begin baking with 100% wholegrain. It takes adjusting to and is not to everyone's liking immediately. So, we recommend that you start slowly by beginning to bake with our 20% wholemeal recipes. For example, our 20% sourdough boule or the 20% pizza base recipe. The other reason is the way your body reacts to 100% wholegrain bread. Although sourdough is slow fermented and broken down, your body still has to get used to it and your gut microbes need time to start increasing in numbers. So, again, we encourage people to start their journey with our 20% recipes and gradually increase the percentage of wholegrain until they reach the level which they prefer. By doing this you are getting the best of all possible worlds, because you're beginning to move away from the refined white flours and fast bread making processes, while increasing the nutritional value and digestibility of your loaves.
A Lighter Crumb Structure
Like it or not, roller milled white flour provides the gluten structure for many classic recipes for Viennoiserie, so to incorporate wholegrain we blend as much as we can without compromising the lightness of the recipe.
Gradual Change.
We know from experience that you can really put people off if you insist on 100% wholegrain from the outset of learning to bake sourdough to nourish the gut microbiome. Over many years of teaching we have discovered that a gradual change is the most successful way to get people take that step into both sourdough fermentation and incorporating wholegrain. It gives everyone time to learn and adjust to appreciate the flavours and texture of wholegrain, and for your body to get used to wholegrain a little bit at a time. Our hope is that people will keep on increasing the percentage of wholegrain in their baking and the sourness of their sourdough. In terms of sourness, we suggest people start with an ambient bake, which is sweeter and less sour, and then move on to retarded bakes.
So whist out aim is for people to be eating a much longer, slower, overnight retarded and more sour bread (which brings benefits for both nutrition and digestibility) a gradual approach to incorporating wholegrain and sourdough fermentation is really important.