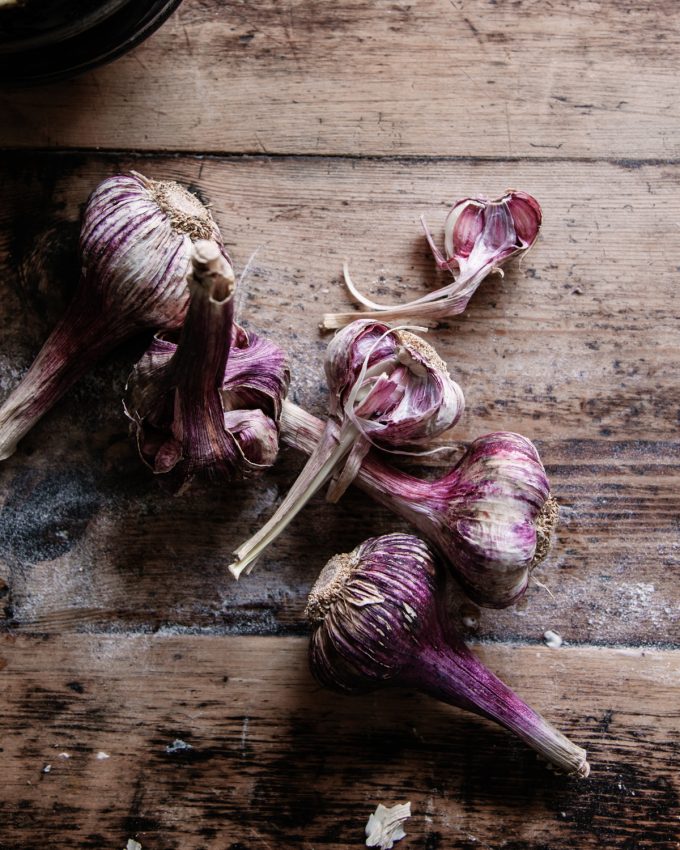 As well as being delicious, one of the key things about onions and garlic is they have a really positive effect on the gut microbiome, nurturing your gut microbes because onions contain inulin which is a sweet, naturally occurring prebiotic called fructooligosaccharides (FOS). So Onions act as a prebiotic by promoting the growth of beneficial Bifidobacteria in the gut.
I love the word relish… it's exactly what people do when they eat this, they relish it. This is another technique rather than a recipe. I'm not going to give you exact measurements, but generally, I use 3 or 4 large red onions and about 4/ or 5 large cloves of garlic. I choose red onions because they are naturally higher in polyphenols. Whenever there's a choice – like between red or white onions, I always opt for the one with colour, because it's naturally going to have more antioxidants.
To make the relish, I slice the onions and garlic to get fine onion rings. Using finely sliced onions really has an effect on the texture, the mouthfeel, of the end product. I think it also affects the caramelisation – for some reason the thinner, finer slices seem to be sweeter. The finished relish should have a soft texture in your mouth, and the finer slices give it a more refined feel. If you're going to eat this relish with a chunky slice of sourdough and a hunk of cheese, you want to make sure it complements them and doesn't dominate. The relish should accentuate the flavours, and not be just large clumps of onion.
The technique to master here is caramelising the onions to bring out their natural sweetness and flavour. In order to do this you need to be generous with the fat. I use different fats depending on how I'm feeling. Sometimes I use a good heaped tablespoon of ghee, other times a large tablespoon of coconut oil. Once you have your fat and onions in a pan, it's really a matter of patience… just very gently allowing them to caramelise with time. I stand and just gently move the onion slices around the pan, allowing them to caramelise without catching on the heat. As they caramelise you will see them become darker, softer and sweeter. The heat brings out the natural sugars in the onions. After about 10 minutes, before the caramelisation process is completed, I add a tablespoon of fresh garam masala. I sometimes also add a little fresh chilli to taste. And I'll stir in a good tablespoon of soft brown sugar, and some salt.
Now I'd like to be able to tell you how much salt to use, I'm not going to because really you need to salt to taste. I think predicting how much salt is very difficult because it depends on the balance of the sugar and the spices. So the best thing to do is add a little salt, stir and leave the onions for a moment to let those flavours mingle. Then have a little taste. If it needs more salt, then add a little more and taste again.
Once the onions and garlic are caramelised and the seasoning is just right, I pack the relish into a jar whilst it is still hot. I then leave it to cool completely before putting the jar into the fridge. The relish keeps for about a week in the fridge, although to be honest, I have kept mine for longer. And I guess the more sugar that you add, the longer it will be preserved for. But it's so delicious, it rarely lasts long in our house.