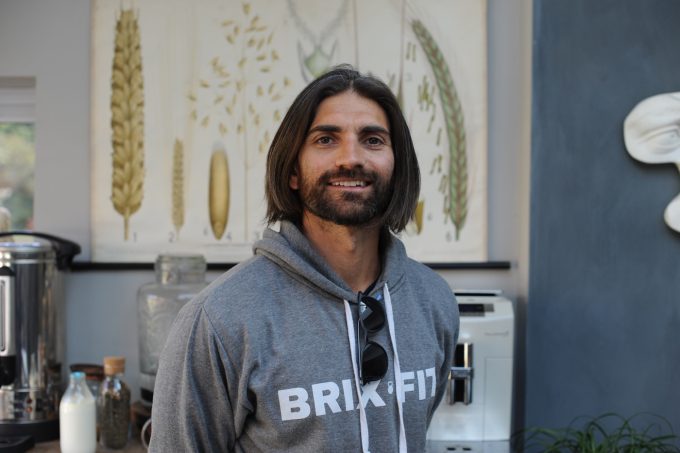 Introducing you our trainer Lee.
One of the questions we often get asked by students is "why do I need to bring trainers and waterproofs on a bread baking course?" The simple answer is that we firmly believe in teaching how to incorporate sourdough into your lifestyle. And if that lifestyle involves delicious and nourishing food, it should also include a healthy approach to exercise and wellbeing. We are lucky to live in a truly beautiful part of the country, and we like to make the most of this by getting outdoors whenever we can during the courses. While we often have great weather here, and enjoy some fantastic walks in the sunshine, there are times when it can be wet and muddy. That's when the trainers and waterproofs come in handy.
To help us make the most of these walks, we have a sports and holistic health therapist working with us here at the school. Lee Robinson has a wonderfully encouraging and inclusive approach to physical activity. His goal is to help as many people as possible enjoy the benefits of exercise. I've known Lee for over nine years now and love his generosity and enthusiasm. He tells me that "everyone can get a benefit from walking and enjoy it at the same time."
Lee has been working in health and fitness for more than 20 years. His approach has evolved over time, becoming more holistic, and he now considers balancing nutrition and physical activity as essential for wellbeing. Lee also loves travelling. Over the years, he has fitted his work around opportunities for travel, adventure and experiencing different cultures whenever possible. "This was the starting point that struck the spark for holistic approaches to health and wellness," he explains.
I have felt for a long time that getting out of the kitchen for a while and into the fresh air is really important, especially on a full week course. When you're on a course you will be absorbing a lot of information, and getting outdoors gives you a chance to connect with the countryside – it's about taking a break and resetting your brain. With Lee as part of the team, we can learn from his passion for physical activity and use these breaks to get our heart rate up and work our muscles in a gentle but beneficial way. Exercise has been shown to help with brain function too. Lee explains "it's been proven through numerous studies that footfall and increased circulation is going to help thinking. It's like when if you're in a deep conversation on the phone, you stand up and pace about you have better thought flow."
Lee is now developing an interest in gut health and its role in wellbeing and overall health. We're hoping he will be joining us as a student on one of our courses exploring sourdough and gut health very soon. Like me, Lee is always looking to find out more and questions everything to ensure that he has the latest and most relevant information at his fingertips.
But the main thing about having Lee here at the school is that he is genuinely a great person to walk and talk with. "When you come into a group of people you don't really know, sort of limited information on them, walking is a great introduction" he says. I love that we can use these breaks from baking not only to get some exercise and fresh air, but as a chance to get to know each other as a group of students better. The countryside around the school gives us lots of options for beautiful walks, whatever the time of year. Lee tells me that being outdoors in nature, "it's better than being in a gym, or within your own concrete space at home." And the physical activity he takes us through, with lots of encouragement, is the kind of thing anyone can do. Under his careful guidance we get our heart rates up, do some gentle stretching, and really just enjoy ourselves. We hope that through Lee's tutoring, Sourdough School students will find a form of exercise they love and can incorporate into their daily routine.
You can chat on Lee on his Instagram