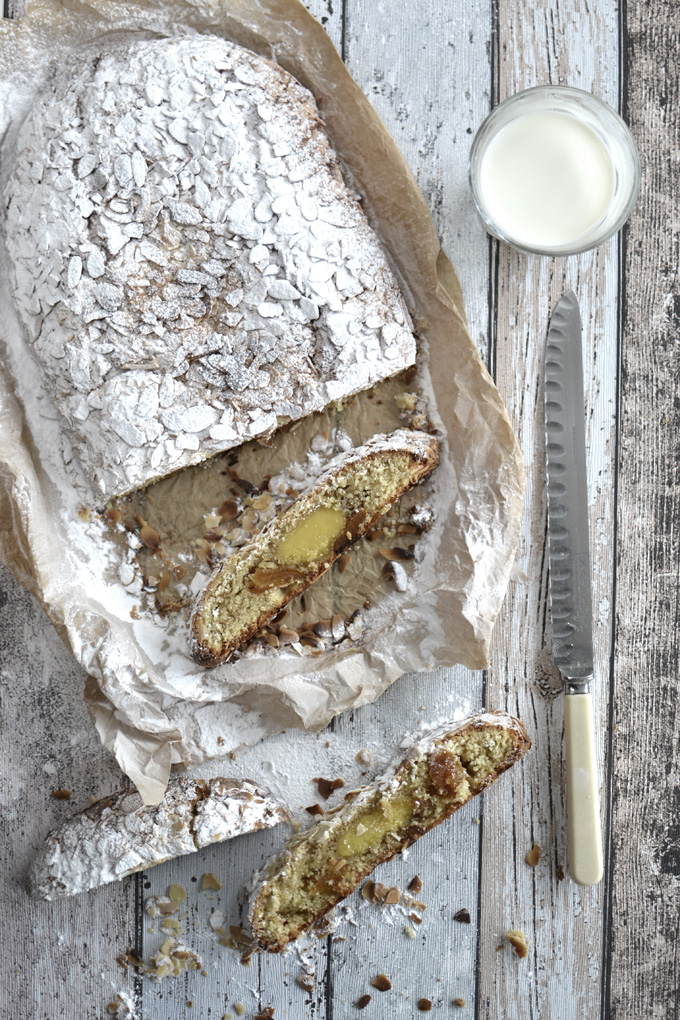 Stollen is a German Christmas cake made with made with chopped dried fruit, nuts and spices Traditionally it is slathered with melted unsalted butter and rolled in sugar as soon as it comes out of the oven, and as a result this cake s a much better keeping than other cakes as it is a much moister product, but occasionally I find that Stollen gets just a little bit too stodgy, so instead of using the melted butter method this recipe uses a clean cotton tea wrapped about the cake  as it cools, which keeps the cake moist without the fat. The flaked almonds give it a terrific texture; as you bite there is a crunch before you meet the soft-spiced orange and apricot marzipan interior. I love the crunchy on the outside, soft in the middle. It's the addition of cream that really enriches the bread, and the addition of a sourdough starter gives this festive classic superb depth of flavour.
Serves: 8
Prep time: 10 minutes
Cooking time: 45 minutes
Equipment:  Stand Mixer
150g unsalted butter
175g Fairtrade caster sugar
Bitter almond essence
Zest of an orange
1tsp Ndali Fairtrade vanilla powder
1 tbs Fairtrade mixed spice
½ tsp fine sea salt
1 large free range egg
175g double cream
100g sourdough starter
300g plain flour
100g ground almonds
175g chopped apricots
200g marzipan
75g flaked almonds
 Icing sugar to dust.
Pre heat your oven 170C (160C fan-assisted)/325F/gas mark 3
Place the butter, sugar, Bitter almond essence, zest, vanilla, mixed spices and salt into a large bowl and beat until smooth; mix in the egg and the sourdough starter. Add the flour, ground almonds and, and mix gently to a soft slightly sticky dough. Stir in the apricots.
Using icing sugar to dust your work surface pat out to an oval shape about 25cm long x 15cm deep. Roll the marzipan 20cm long, and place into the centre of the dough. Fold the dough in half and place the sealed side down onto baking tray lined with nonstick baking paper.  Brush the top of the stollen lightly with water and sprinkle the flaked almonds over the top. Bake in at moderate temperature ( see above) for 45 minutes, until golden.  It is important not to over bake. The almost should be lightly toasted,  if you press with your finger there will still be a slight give in the dough.
Test by inserting a skewer- it should come out clean.  Leave your stollen on the tray and whilst is still slightly warm wrap in a clean tea towel. This keeps it moist as it cools. The Sourdough flavour develops over time so once your stollen is completely cool wrap in grease proof paper and then again in a fresh cotton tea towel and leave to mature for 24 hours. Before serving dredge with icing sugar