THE SOURDOUGH & PICKLE EXCHANGE
SATURDAY 17th JUNE 2017
When we invited Sandor Katz, the renowned fermentation revivalist and author of The Art of Fermentation, to teach a course here at the Sourdough School, we hadn't appreciated just how popular it would be. In all honesty we could have filled it five times over.
We've often talked about exchanging ideas. About sharing information and about a community of like-minded people, so we've decided to cross our fingers for some sunshine and hold a fermentation festival. A garden party, with tickets that are affordable to everyone and the profits to go to charity.
Sandor Ellix Katz is a self-taught fermentation experimentalist. He wrote Wild Fermentation: The Flavor, Nutrition, and Craft of Live-Culture Foods (Chelsea Green, 2003)–which Newsweek called "the fermenting bible"–
Sandor's philosophy is to share the fermentation wisdom he has learned with everyone and demystify home fermentation.
He has taught hundreds of fermentation workshops across North America and is known as a "fermentation revivalist."
The Art of Fermentation, is a book that includes a decade more experience.  This is a unique opportunity to find out from Sandor about fermentation practices. He will be on hand  to answer questions, and sharing a more in-depth exploration of the topic. I would certainly suggest buying a copy of The Art of Fermentation, as Sandor will be signing copies.  There will be a limited number of copies on sale here.
There will be lots of other delicious things going on around the pickling, including:
Japanese miso fermenter Bonnie, from MisoTasty who will be doing a tasting about Miso https://misotasty.com
Kombucha tasting from Love Kombucha
Beer tasting from our local brewer
Wine tasting from Fleurfields
Cultured cream and jam with home made scones in the afternoon…and some exquisite tea from around the world supplied by Nothing But Tea.
We have live music…
Guests will need to bring a loaf of sourdough to exchange with another guest
Guests will also need to bring with them a chopping board, knife and 1 litre sterilised jar to put their pickles in.
We will provide all the vegetables.
 Lunch is provided
The pickle making slots with Sandor  are as follows: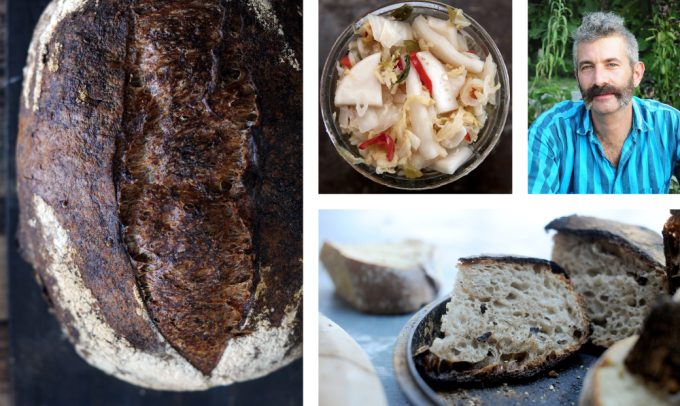 You will need to email after your booking to confirm your time slot. Please email bookings@sourdough.co.uk with your name, contact number, if you are vegetarian, details of any allergies,  and to request the time slot you require (we cannot guarantee the slot you want but we will do our absolute best to accommodate).
All profits from the day will go towards the school fees of a gorgeous young lady called Collins, who I met in Uganda so that she can continue her education.
Guest are welcome to stay for the evening…we will have live music and no doubt there will lots of conversations and fermenting… everyone will have a lovely day, and go home with a belly full of fermented food and drink, and a head full of ideas.
Vanessa
x
PS please make sure you email us with your time slot, contact number and indicate if you are vegetarian or have any food allergies please.