This is a recipe that I use as an alternative to a Christmas cake. It's moist, sweet, orangey, and there is nothing quite so lovely as making your own candied orange peel.
Makes 1 loaf >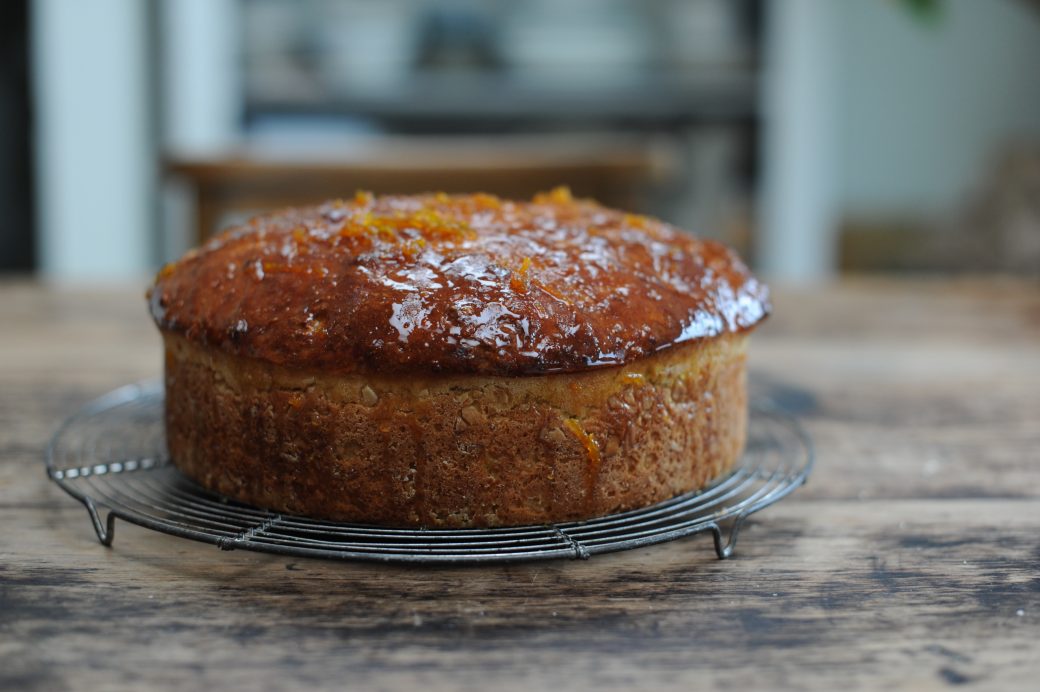 Flours
The brand of flours used in this formula
Timings
Bake Temp
170C / 150C
Bake Time
45 minutes
For The Leaven
20g starter
240g milk, at room temperature
10g caster sugar
For The Dough
125g golden granulated sugar
60g unsalted butter, melted
2 eggs, beaten
1 egg, separated (yolk in the dough and white to use as egg wash)
juice of half a large orange
1/4 teaspoon ground mace
Equipment
Small bowl
Wooden spoon
Large bowl
Scraper
24cm x 5cm tin / 9 x 2 inch round tin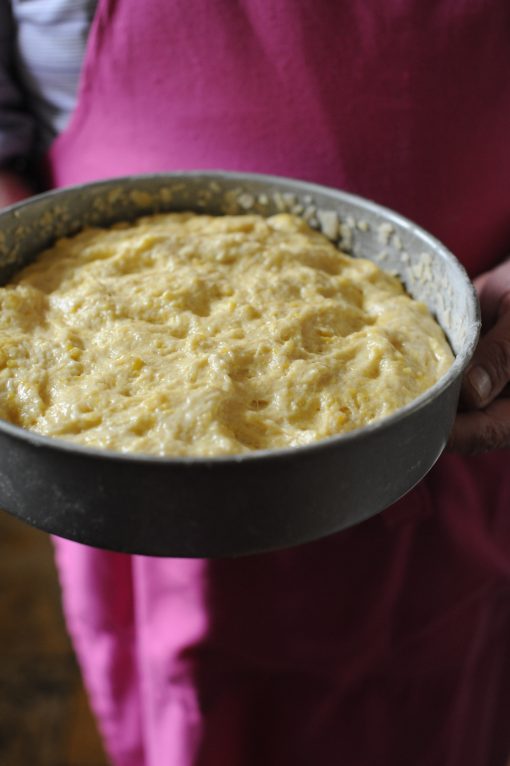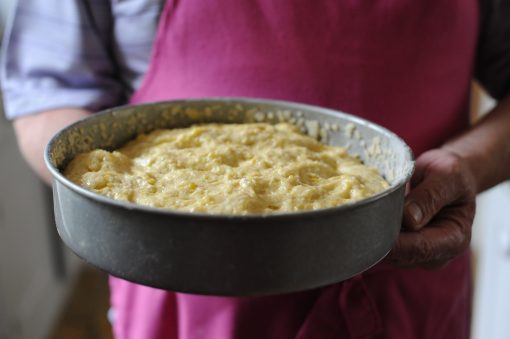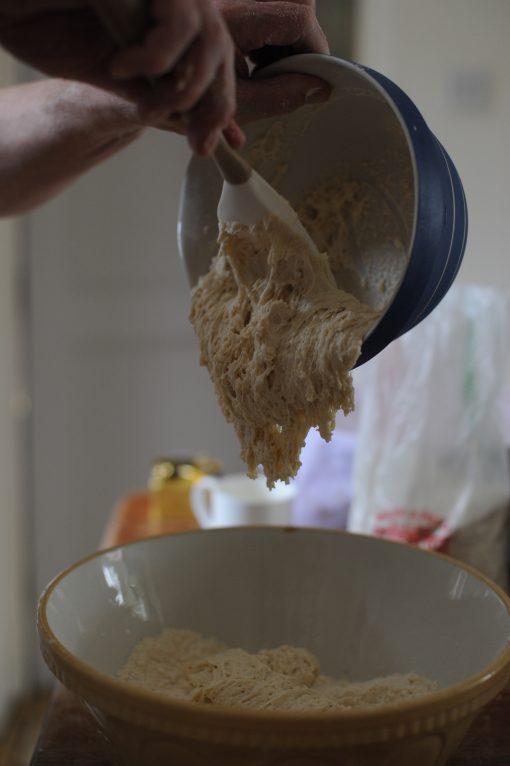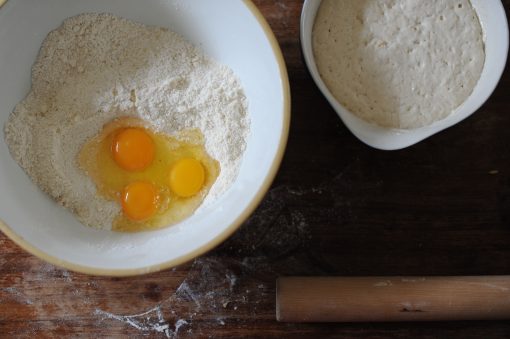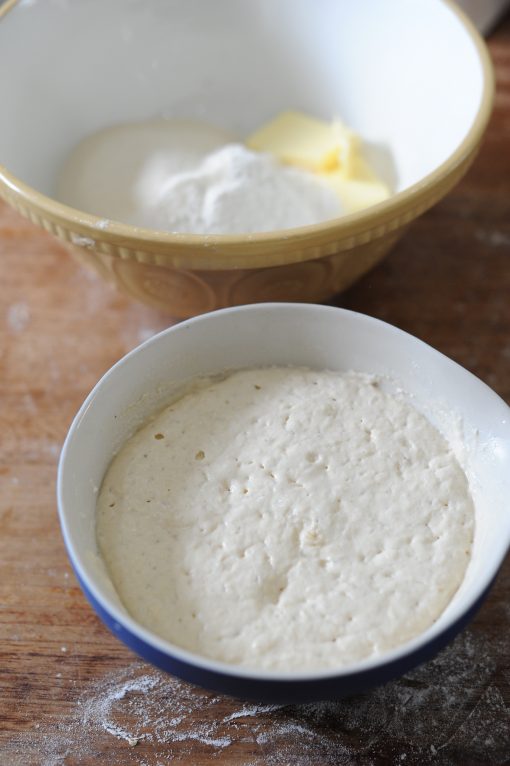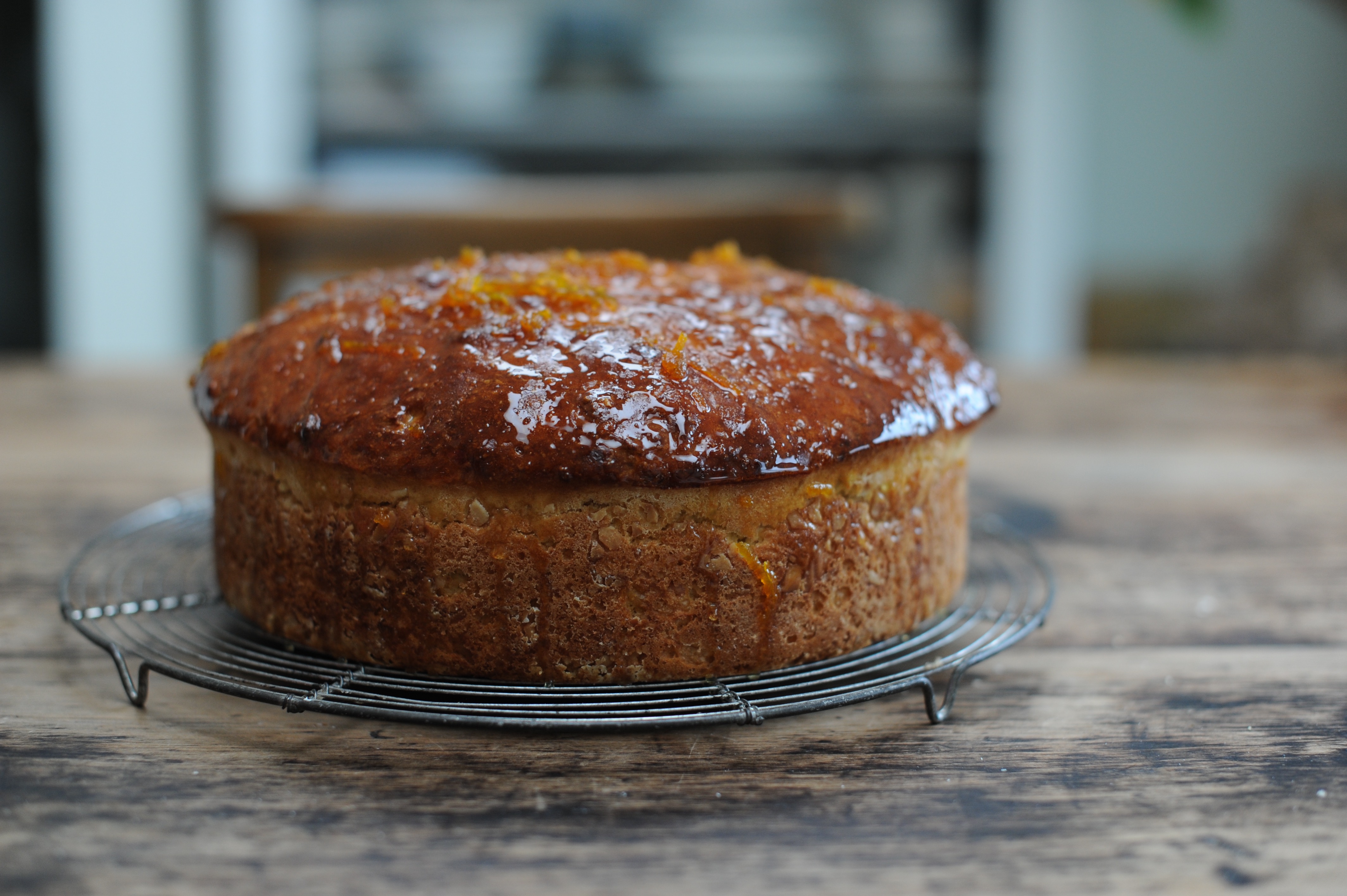 Sourdough Festive Cake[/caption]
For the tin:
12g butter
30g flaked almonds
a heaped tablespoon of flour
To make the candied orange peel:
fine strands of zest from one orange
450ml water
100g granulated sugar
Serves 10
11pm the day before you are going to bake, make your enriched leaven. Whisk starter, the milk, flour and sugar together.  Cover the leave on the side until morning.
The following morning, about 8am, make the dough. Mix the leaven, sugar, butter, beaten eggs and egg yolk, and the orange juice together. Add the flour, salt and mace, and mix to combine everything thoroughly.
Butter the tin, being nice and generous with the butter.  Sprinkled the almonds and then dust with the flour.  Very gently knock the excess flour out, being careful not to knock out the almonds.
Gently transfer the dough into the tin evenly.  Cover and leave for 8 hours, until double in size.
Preheat your oven to 170C and bake for 25 minutes. After this time, turn the oven down to 150C, cover the loaf with foil and bake for a further 20 minutes, until it is golden. To check it is fully baked, insert a skewer into the centre of the loaf – it should come out clean, if not bake for another few minutes and retest.  Leave in the tin for 15 minutes then transfer to a wire and allow to cool fully.
In the meantime, whist the bread is baking you can candy the orange zest. Put the orange zest and the water in a small pan, bring to the boil and gently simmer until there is about 60ml of liquid remaining.  By this time the orange peel should be tender. If not add another 50ml of water and continue to cook until tender.  Once soft add the sugar and bring to the boil to reduce the liquid until it is syrupy. The syrup should coat the back of the spoon.