Level: For Any level
Tutor: Sandor Katz
Saturday 10 June 2017
Time: 10 - 5 Sat & Sun
Location: Northampton
Availability: Fully Booked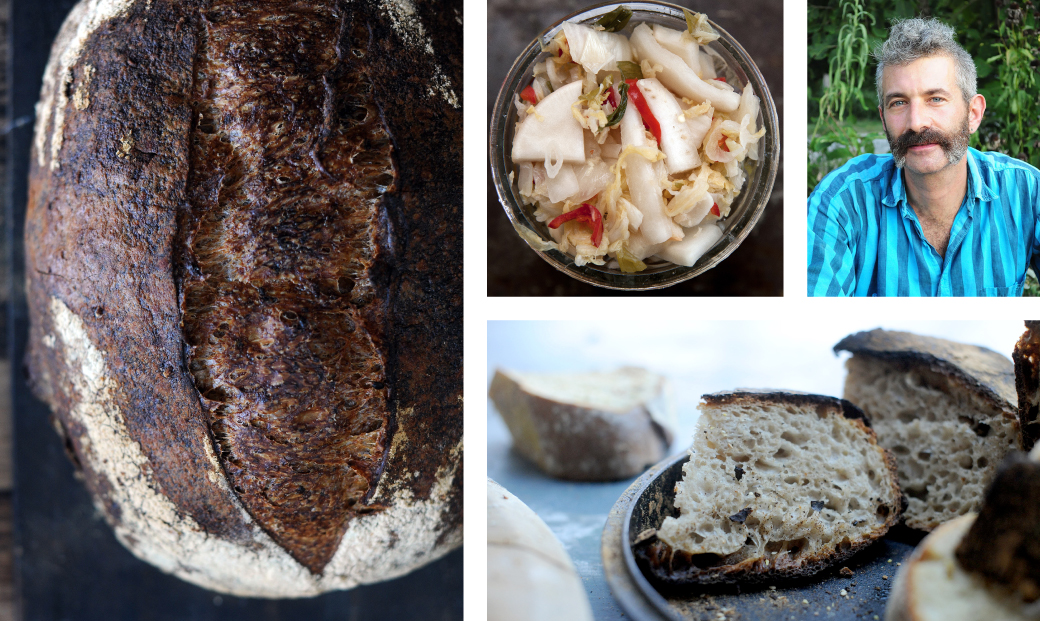 Meet Sandor…
We are so excited to have fermentation revivalist Sandor Ellix Katz here for the weekend. We often tell people about Sandor's books, Wild Fermentation (2003) and the Art of Fermentation (2012) , and Sandor has taught hundreds of fermentation workshops around the world, helping to catalyze a broad revival of the fermentation arts. A self-taught experimentalist who lives in rural Tennessee, the New York Times calls him "one of the unlikely rock stars of the American food scene."
The Art of Fermentation received a James Beard award, and in 2014, Sandor was honoured with the Craig Claiborne Lifetime Achievement Award from the Southern Foodways Alliance.
We'll be baking sourdough, culturing butter, and making a wide range of delicious seasonal fermentations.
To be perfectly honest, I have no idea exactly what we will be fermenting, because it will depend very much what is in the garden and what is in season, but it is June and the garden will be brimming with vegetables. We'll have some kimchi's, and sauerkraut and milk kefir and water kefir, as well as some really special long slow fermented rhubarb brioches. There will be a mixture of hands on and demonstration, and we will provide all the necessary ingredients, but feel free to bring some home grown produce if you want to!
Recipes and techniques will be taught from Sander's book The Art of Fermentation, so we recommend that students have it to hand. 
You will only need to bring a few essentials, your favourite apron and a basket to take some bits and pieces home with you. Everything else is provided. Eating sourdough and local cheeses for lunch, and enjoying a glass of award-winning wine from the local vineyard.
SMALL TUTORIAL GROUPS  –
We keep to small tutorial size classes.
There is continued support when you get home.  Students automatically become members of The Sourdough Club for students to share their sourdough bread success, and discussion on. It's a fantastic way to keep you inspired with a monthly sourdough challenge, exclusive recipes, tips, techniques, articles and an interactive Facebook page so students are supported with learning resources, and you become part of a community and this keeps on encouraging you to bake sourdough long after you have finished the course.
At the end of the of the weekend you will be confident with all the knowledge you need to get fermenting.  It is a fun weekend of information and practical and demonstrations that you get involved in.
What Next? 
Once payment is made, your place is booked and an email will be sent to you – confirming your place on the course. You may need to book accommodation ASAP as there are summer events in the area…we also have a list of places to stay locally that we know well.
http://www.sourdough.co.uk/about/bed-and-breakfast/
An email containing a map and directions will be sent to you on booking.
Please note that you must be over 18 to attend the workshop.
Questions? Just write us an email and we'll happily answer any questions
Bookings@sourdough.co.uk
For more information about Sandor check out his website www.wildfermentation.com.