Level: For Any level
£949 - Monday 25 September 2017
Time: varies
Location: Northampton
Availability: Last few spaces available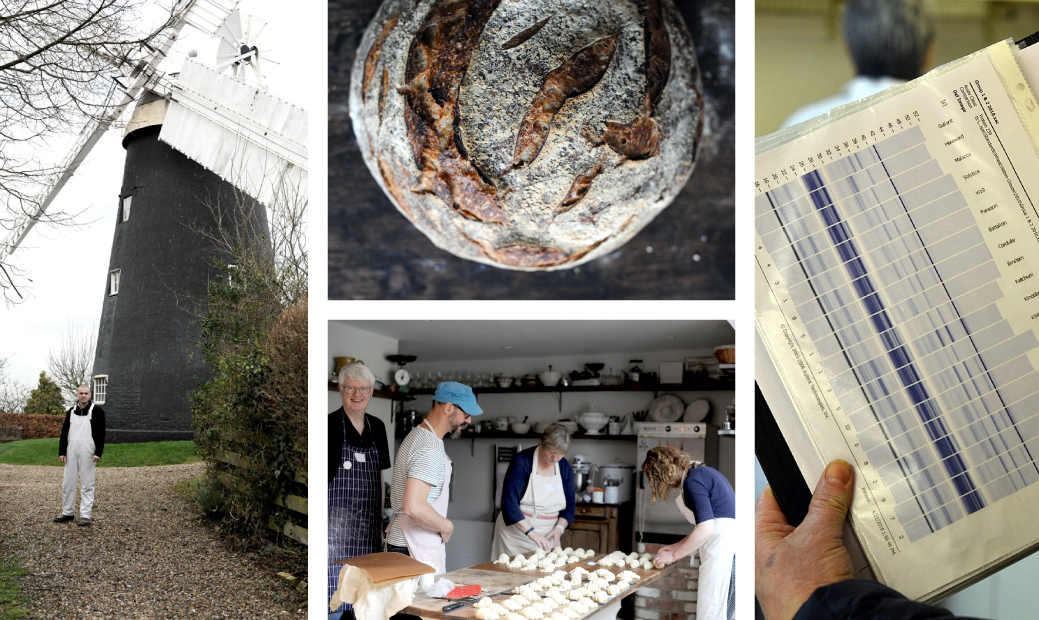 This is our very special Sourdough Diploma course. The Course will be taught by Sourdough specialist Vanessa Kimbell and award winning baker Emmanuel Hadjiandreou, and will aim to give sourdough bakers a really in depth understanding of the principles of sourdough, flour, digestibility, gluten, shaping and understanding maintenance of a sourdough starter.  We will cover every aspect of sourdough including baking sweet sourdough and making sourdough croissants.
The course includes a certificate for attendance, but we are also able to award a level of ability according to our observations and subject to a written test on understanding.  These will be pass, merit and distinction, awards are subject to the tutors discretion.
Sourdough Diploma Course
Monday
Demystifying sourdough – Vanessa explains the different methods you can use to make sourdough. Learning to shape the dough.
Prep overnight sourdough, Vanessa will cover all the theory of sourdough, starters, leavens, microbiology and digestibility, understanding gluten, the role of salt, uses of left-over sourdough starter and we will bake some sweet sourdough carrot cake.
A tour of the vineyard  – just a mile from the school 6pm
Tuesday
An early start ready to start making bread at 8 am sharp…
French Sourdough Day Method
From start to finish students will bake their own sourdough, and we will bake the overnight sourdough's from the previous day.
Pub Lunch
Late finish 6 pm
Wednesday
An exceptional day – students will have exclusive access to two mills. The day is about understanding flour and will include a visit to the UK's largest flour mill – that mills 20% of the flour in the UK – where you will be able to see a working laboratory and understand some of the tests carried out on flour. Followed by a visit to a restored 18th century working flour mill in Cambridgeshire.
Opportunity to buy the flour from the mill.
A late Finish.
Thursday
Sourdough Croissants taught by Emmanuel
How and why the ingredients you choose affect the croissant
How to laminate your dough to get a flaky airy crumb
Prep leavens
Friday
Students will need to take the Diploma Test
More sourdough baking of course
Time to relax, and look at the extensive bread history collection at the school and cover any final questions that students feel they would like more information about.
Emmanuel Hadjiandreou is renowned for his passion for artisan bread, originally trained as a baker in South Africa, and has a unique international outlook on baking due in part to having a Greek father, who lived in Egypt and an Argentinean mother, with a German background. Emmanuel is well known for having a really in depth knowledge of Continental breads, having worked in Germany. Whilst working at Daylesford, the award-winning organic farm shop in Oxfordshire, Emmanuel's bread also won a Soil Association Organic Food Award.
In order to be awarded diploma a straight forward test will need to be taken and will be scored as attended, pass, merit and distinction – the test is designed to ensure all the key information has been understood, but will also take into consideration students levels of sourdough skill.  (Students who do not want to take the test can opt to just receive an attended certificate.)
We will be:
You will only need to bring a few essentials, your favourite apron and a basket to take some bits and pieces home with you. Everything else is provided. Eating sourdough and local cheeses for lunch, and enjoying a glass of award-winning wine from the local vineyard. We will provide transport for the visits to the vineyard and mills.
SMALL TUTORIAL GROUPS  –
We keep to small tutorial size classes.
With Vanessa's courses there is continued support when you get home. There is home work to do and Vanessa gives feedback. Students automatically become members of The Sourdough club for students to share their sourdough bread success, and discussion on. It's a fantastic way to keep you inspired with a monthly sourdough challenge, exclusive recipes, tips, techniques, articles and an interactive Facebook page so students are supported with learning resources, and you become part of a community and this keeps on encouraging you to bake sourdough long after you have finished the course.
At the end of the of the week you will be confident with all the knowledge you need to bake your own home made artisan loaves yourself. It is a fun week of information and practical and demonstrations that you get involved in.
What Next? 
Once payment is made, your place is booked and an email will be sent to you – confirming your place on the course.
You will need to book accommodation ASAP as there are often events in the area… we have reserved some spaces, which will be kept available until late July…we also have a list of places to stay locally that we know well, but if you need transport to and from the school then please contact us and we will book for you to stay in the accommodation we have reserved. We will then help you to arrange shared transport. If you will have your own transport please do book any of the options listed here:
http://www.sourdough.co.uk/about/bed-and-breakfast/
An email containing a map and directions will be sent to you.
Please note that you must be over 18 to attend the workshop.
Questions? Just write us an email and we'll happily answer any questions
Bookings@sourdough.co.uk