Level: Intermediate & Advanced
Tutor: Vanessa Kimbell
£195 - Saturday 2 December 2017
Time: 10am -5pm
Location: Northampton
Availability: Spaces available
Sourdough Clinic –
Making sourdough bread: Beyond the basics demonstration and discussion day with Vanessa Kimbell.
You've been dreaming about sourdough bread.  Dark sweet crusted, open crumbed tender sweet long slow fermented bread.  You've read the books, been on a course, practiced and yet your sourdough isn't quite what you want it to be. There really is nothing more frustrating than not quite getting sourdough quite right.
If you have had a go at baking sourdough and had some success and yet things still aren't quite as great as they could be then you will want to know where you are going wrong and what you can do to improve.
In this workshop you will learn to be able to see and discuss what is going on at each stage. You will enjoy a lively conversation about sourdough and look at every aspect of sourdough baking in detail. Vanessa will discuss every aspect of making well risen long slow fermented sourdough, including idea's and tips on how to use up your left over starter in some delicious ways. The aim is to send you home understanding each stage of the process so you can really improve your own home made artisan loaves that you make yourself. A delicious organic home-made lunch with a glass of our wild fermented wine from the family vineyard is included.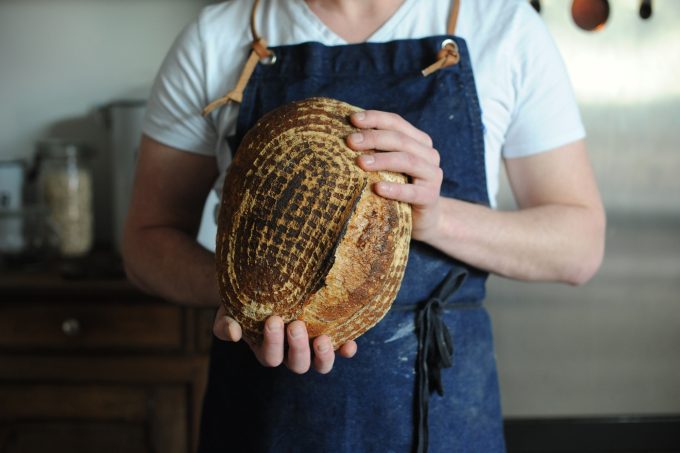 We will
Examine each person's sourdough and see what could be improved
Examine refreshment and maintenance of sourdough starter in detail
We will explore why the type of flour you use makes a difference to your loaf.
Discuss how to control the sourness of your sourdough
Look at kneading techniques
Look at the role of salt and how this affects the rise
Understand how water and various hydration levels affect your bread
Look at the role flour has on the finished bread in detail
Understand the point at which the bread is proved
Test your starter
You will also be offered one of our starters to take home (if you want some).
*Please note: This is not a course suitable for beginners, and you will not be making any bread on this workshop – it is a clinic to diagnose and advise on the bread you already make and to discuss sourdough techniques to improve your techniques and is therefore only suitable for people who are already baking confidently and have baked for 6 – 8 months or more. The techniques will be demonstrated by Vanessa
&
That you absolutely MUST bring with you BOTH an example loaf and your starter (some people freeze a loaf and bring it with them)