Our aim: To educate in the art and science of sourdough bread making and fermentation.
Whether you are a complete beginner and looking learn to make a basic loaf, to a PhD student wanting to delve deeper into nutrition of bread as part of your research, The Sourdough School specifically concentrates on teaching all  aspects of bread baking and the science and nutrition to all levels.
We particularly focus on providing recipes and formula's for people looking for a bread that suits their particular requirements, and run specialist workshops for specific issues such as IBS and Diabetes. It's not just bread, we also teach sweet bakes using wild yeast and lactic acid bacteria to leaven every day bakes such as cakes croissants and pastries.
We are located in Northamptonshire, the school is set in the beautiful gardens of sourdough  baker Vanessa Kimbell. It is home. Classes are small tutorial size groups at the kitchen table in a rustic French Kitchen classroom. We have an online subscription for people to learn to bake sourdough at home, and we run a small number of  workshops and tutor small groups in the art of fermenting bread & we are RCGP accredited for our nutrition and digestion of bread diploma.
The Sourdough School, which was featured in the Sunday Times in the top courses in the UK and in The Telegraph top ten baking courses in the UK, and in the Evening Standard top course in the UK.
We occasionally have guest sourdough bakers tutoring from all over the world. Classes sizes are small tutorial size groups, set in a purpose built classroom, taught on a old French table with a battered sofa to relax on. It is set in the grounds of the beautiful Victorian home in Northamptonshire, where you can wander around and feed the chickens.
Class dates are limited to a few dozen a year and are mainly run by Vanessa Kimbell, a French trained baker who specialises in naturally leavened bread. Vanessa, who has a keen interest in the digestibility of bread, is also the in house baker at Bakerybits, an award winning author, a regular BBC radio 4 Journalist, and unsurprisingly as 4th generation baker and is of Italian decent, known for her warmth and as Diana Henry once noted her " inimitable humour."
.Students can expect a wonderful day, with fresh baked sourdough bread, jam from the fruit garden, home made butter and fresh garden flowers on the table, and enjoy wandering about in the garden, weather permitting.  Everyone is encouraged to pick the herbs, fruit and vegetables  or collect the eggs from the chickens to use.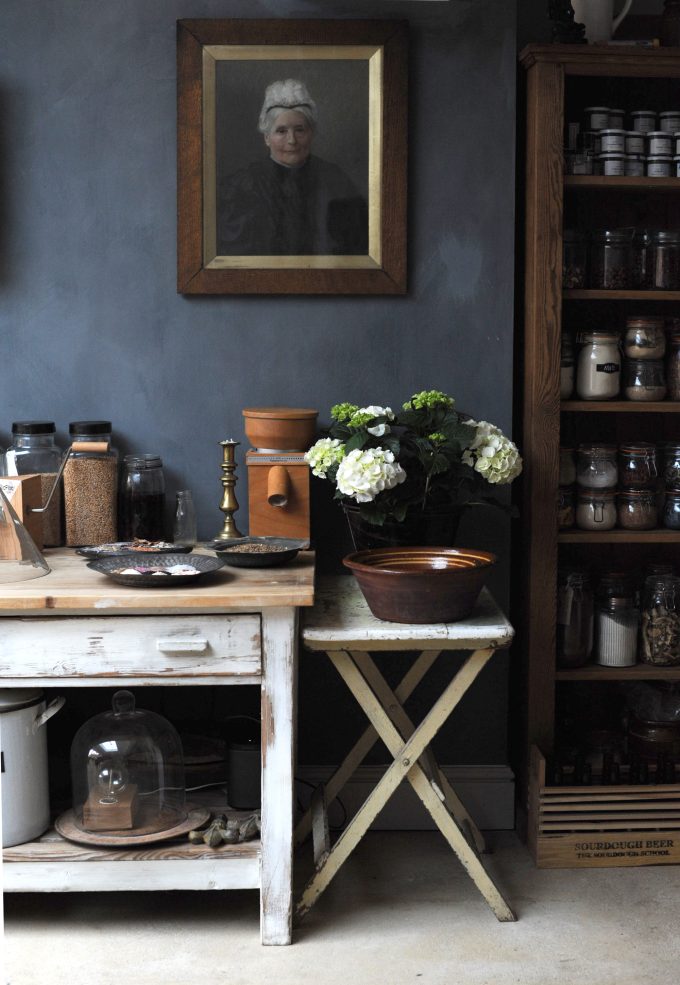 Vanessa's story  …. 
When Vanessa was nine, her parents bought a house in rural south-west France, just 60 yards away from the busy village bakery. The bakery supplied all the bread for miles around and was right the heart of the community. She fell in love with everything French – the wine, the cheese, the fresh fruit and vegetables, the farmers, and the local markets, but most of all she fell in love with the bread, and spent every spare moment of her childhood working in the village bakery. It was in this rural community that she really connected to farmers and the land, and the relationship between food and family and community that was right at the heart of French living. Aged 18, she qualified as a baker and a chef in the UK, but there were no 'real' bakeries.
Returning to France, she worked in a restaurant in Paris for a summer and then as an apprentice baker in the Dordogne. Vanessa worked in hotels and restaurants for a further six years, and completed a degree in Psychology. For a number of years she worked outside the food industry, heading up a large company with over 700 staff.  It was during this time she became poorly
In 2009, with three children to consider Vanessa decided to return to her original love of baking and writing, when she set to writing her first book Prepped, which was published in May 2011, and then her next book Food for Thought. her 3rd book The Sourdough School is due out this March 2018.
Coming from a long line of female chefs and bakers, her Italian mother was a senior chef at Keele University and both her English grandmother and Italian great-grandmother were bakers, so a fourth generation baker of Italian descent was always going to have a love of food. Vanessa has been baking sourdough since she was just 11 years old, so unsurprisingly her specialist subject is sourdough and baking with wild yeast. Vanessa's most recent book is Food for Thought,was recently The Telegraph Book of the week ,and is published by Kyle Cathie
The Sourdough School is based in Vanessa's beautiful French style kitchen. Classes are small tutorial size groups, so you can expect a small friendly, fun hands on day learning to bake beautiful sourdough bread.